5 Minutes With ... Lowell Spangler
The Kawasaki Race of Champions is one of the biggest events of the year on the East Coast. For years, one of the most sought-after accomplishments for East Coast amateurs has been to win the Iron Man Classic and go home with a free motorcycle. The Iron Man consists of the top ten in the Motocross B, Lites B, +25B, and +30B classes all throwing down for six laps at the end of the day for a brand-new KX250F. This year's winner was Lebanon, PA's Lowell Spangler. Lowell has been making quite a bit of noise on the amateur scene all year long, posting top-fives and top-threes at every amateur he attended.
Lowell closed out the summer with two titles at Ponca City and a hard-fought podium in the mega-competitive Motocross Lites B Stock class at Loretta Lynn's. The 17-year-old emerging talent is enrolled in Pennsylvania's homeschool program and is focused on giving his all to become a professional. The hard-charging Team Green rider was looking forward to flexing some muscle in front of the Kawasaki brass who were in attendance at Englishtown, and he won all three of his classes and went home with an extra bike in the trailer.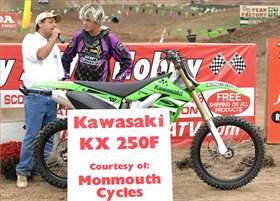 Lowell Spangle won a brand new KX250F.

Racer X: First off, congratulations!
Lowell Spangler: Thank you. Everything worked out good this weekend. Englishtown is one of my favorite tracks for sure. I mean, I only get to ride there about three times a year, which sucks a little, but I'm always pumped to ride there when we get to.
So you won all of your classes and the Iron Man event. Tell us how that went.
It all went really smoothly, actually. I crashed on the start of one moto and got second but won everything else. Some guys hung with me for two laps or so, then I pulled away. Then the Iron Man went well and I won that too.
What are you going to do with that brand-new bike?
Well, I just got a Chevy Silverado 2500, and I'd really like to sell the bike and use the money to trick it out a little. I'd like to put some wheels on it and some stuff.
Good for you. You've been on it all year long, but you haven't really dominated until later in the summer. We were blown away at your speed at the PA State Championship race at High Point. You won every moto by a mile.
I felt like I rode pretty good at all of the races I went to in 2007. I'm not as used to the tracks in Texas and the World Mini as I am on these East Coast ones. I love High Point. That place is so much fun.
What's up with #427?
Well, I've had so many different numbers that I finally just went with one that was different. That's my birthday, so there it is.
Do you think you east coast guys get as much publicity as the West Coast bunch?
No, they get a lot more press. On the other hand, there are a lot more fast guys out there. I mean, we have fast guys back east, but there aren't as many of us. The East has to step it up a little!
You guys had a stacked class in 2007. When are you moving up, and who do you see taking control of the A classes in 2008?
I'm going to try to go down to the Winter Olympics and win a couple more B titles, then I'm moving up. As for next year, heck, man, I don't know. I'm not going to name anybody in particular because the whole top 15 next year will be fast. It's going to be a tight group.
What are you doing to prepare yourself for next year?
I began working with Robb Beams with Motoendurance.net at the beginning of this year and things have been great. My program's great. I ride three or four times a week, then do road biking and the gym in between times.
Who's been helping you?
Dave with Team Green has been awesome, and Rob from Shift. All of my sponsors are great and I'm really lucky to have them. JM Racing, Scott, EVS, Moto Graffics, Cernic's, Monster Energy, Ogio, Maxima, Twin Air, Boyesen, Renthal, and everyone, thanks.