5 Minutes With ... Andrew McFarlane
Talking to Australian Andrew McFarlane at Glen Helen last month, he was ready to move on to 2008. In 2006, he was one of the revelations in the AMA Motocross Lites class. After finishing second overall in the 2005 World Motocross MX2 (Lites) class, he became a perennial top-five finisher in his first year as an AMA pro, eventually finishing seventh overall. Moving to the newly revamped Rockstar Suzuki Team for 2007, the 30-year-old's season started with an injury, setting the tone for his entire summer. Hoping for a fitting farewell to his team, and 2007, Andrew was set to make a statement at the Motocross of Nations as a member of Team Australia. Unfortunately, his day ended early with a helicopter ride to a nearby hospital.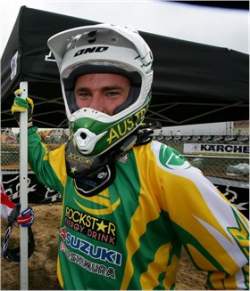 McFarlane would like to forget the 2007 season.

Racer X: Andrew, let's begin with your MXoN weekend. What happened?
Andrew McFarlane: My weekend at the MXoN actually started out pretty well. I felt good on Saturday in the practice session, and my qualifier race was good. I finished sixth, but Australia had the 30th gate pick, so it was pretty tough to get a good start with that. With two small crashes during the race I managed to still get up with the front group of riders – I think that without those two crashes, I could have gotten top-three. In Sunday morning practice I again had some good lap times and was feeling great for the motos.
For the first moto, Australia had the fourth and twenty-fourth pick of the gate, and we chose to put the 250F [McFarlane] on the inside in the hope of two good starts. I got a decent jump out of the gate, but then Ryan [Villopoto] just came across in front of me and hit my front wheel. I lost my balance and veered across in front of Cairoli and Swanepoel, who had no where else to go. Swanepoel hit me in the back going wide open, and that was the end of the MXoN for me. I was then airlifted to a Washington D.C. hospital where they took X-rays and an MRI, finding out that I broke my L1, L2, L3, and L4 vertebrae in my lower back. In medical terms, they call it fractured transverse processes. I stayed in the hospital overnight and flew back to Florida with the Reeds, as the flight there was only one and a half hours – with the pain I was in, though, that was enough. So I spent the week with Reedy doing some therapy to feel well enough to get back home to SoCal by the weekend – thanks again, Ellie and Chad!
It seems a frustrating end to a frustrating season.
Yeah, it was just overall a tough season in a lot of ways, and one of the few that I would like to forget. I started off the preseason testing, and everything was looking good, but then I broke my arm and sat out three months. After I came back to riding I had a mechanical problem with the bike and injured my back. So I missed the entire supercross season and struggled with bike setup when finally I did return to racing.
With 2007 behind you, let's hear about your 2008 plans.
Well, I'm looking forward to next season, to a new Kawasaki team and new people, so I am definitely excited. We will work closely with Mitch Payton at Pro Circuit, and I believe that the bikes will be very good. The owner is Bobby Hewitt, who comes from Kawasaki's Team Green program, and the team manager will be Bill Keefe, who managed the Motosport Outlet Kawasaki team this past year. I am not exactly certain of the team name at this point as we're waiting on some outside sponsors, but the riders are Tommy Hahn, Kyle Chisholm, Phil Nicoletti, and me. I'm especially excited, as I made the decision myself, and made the change strictly for good results. At this stage I am not sure when I will be on the bike, bit I will be ready for 2008!
Continuing on with 2008, what do you want to accomplish?
As I said, next year is a new season, so I will start fresh and charged up to prove to myself that I can have a successful supercross season, likewise for motocross. You will see me in the top five in 2008.
Wrapping up, Andrew, who deserves a shout-out?
I would like to give a shout out to my team this past year, and to Suzuki – thank you. Also a big thanks to my wife and daughter for sticking by me, and the Reeds and Byrnes for being great friends. Thanks, guys!