Bench Racing Ammo: Brand Un-Loyalty
Did you check out the Racer X Film of Jeff Alessi that Simon Cudby shot yesterday? It focuses on the younger Alessi testing his new 2008 Honda CRF450R in preparation for the AMA Supercross series. Jeff's riding looks great, and he admits that he's already faster than he was on last year's bike.

We all know that Jeff was riding a KTM last year, and that got us thinking about the bike brand merry-go-round that he's been on throughout his racing career. In the past we've bench raced about the amazing brand loyalty of some riders like James Stewart, who has been with Kawasaki throughout almost his entire motocross career, and Travis Pastrana, who bleeds yellow. But how about a rider like Jeff Alessi?

Throughout his career, Jeff Alessi has ridden almost every brand. He started in the 50cc class on a Yamaha PW, and then switched to a KTM50, then to a Kawasaki in the 65cc class, then a KTM in the 65cc class! He was back to Kawasakis in the 85cc class, sponsored by Team Green, and moved over to Yamaha. He and Mike then switched to Hondas at the end of their minicycle careers, and stayed with Honda throughout their ascension of the amateur ranks in the Intermediate and Expert classes.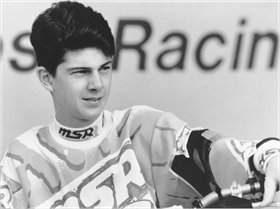 Ezra Lusk in his early years.
photo: Courtesy of Suzuki
Upon turning pro, both signed with the Austrian manufacturer for a few seasons, and now they're both turning a new leaf as both brothers are switching back to Japanese equipment. But this marks the first time that the brothers will be on different brands, as Mike will be aboard a Makita Suzuki, and Jeff will be riding red.
Another rider who sticks out with brand un-loyalty is Ezra Lusk. "Yogi" started his pro career on a Suzuki and moved on up through the 125cc ranks, winning the 1994 Eastern Regional Supercross championship aboard an RM125. After that he jumped ship to Team Yamaha, then to Team Honda, Chevy Trucks Kawasaki and finally back to blue, for the Mach 1 Yamaha squad. All said and done, Lusk retired from the sport with seven 125cc SX wins, 12 250cc SX wins and three 250cc motocross victories. He also won those 250 SX's on blue, red and green bikes. Not bad for the Bainbridge, Georgia native.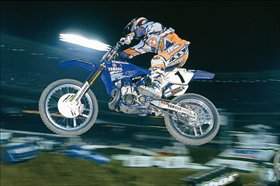 MC aboard a Mazda/Chaparral Yamaha
photo: Courtesy of Moto Verte
Jeremy McGrath played the game, too. He started on a Team Green Kawasaki as a privateer, then switched to Mitch Payton's Peak/Pro Circuit Honda team. After back-to-back 125cc SX crowns out west, McGrath embarked on the most impressive 250cc SX career ever with Team Honda. He then made the shocking switch to Suzuki in '97, then went to Chaparral Yamaha in 1998. He made another dramatic move at the end of 2002 when he went with Bud Light KTM, but that didn't last too long—he retired on January 2, 2003. When he decided to come back out for fun a few times after that, he went back to Honda, who he remains with to this day.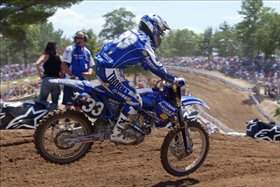 Kelly Smith as a Yamaha of Troy rider.
photo: Steve Bruhn
I remember watching Kelly Smith at Loretta Lynn's in the A class in the mid-90s, as he was one of the only KTMs in the field! He parlayed his amateur success into the pro ranks, and was one of the first full-factory KTM riders in the U.S. He delivered them their first 125cc outdoor national victory here as well (
High Point
– 2000). After that Kelly dropped to privateer status with the EZ-Wider-supported Yamaha team, but after pulling countless holeshots and putting in some solid results he was picked up by Yamaha of Troy. He then moved on to the Motosport Outlet Honda team, and then over to Rockstar Suzuki. For 2008 Kelly is again switching, rumor has it he might be riding red bikes in Arenacross.
Finally, one of the most un-loyal riders in the history of American motocross is our own David Pingree. The Montana native started his career on a privateer Suzuki, then he got a big break and signed with Splitfire/Pro Circuit Kawasaki. After that the order gets a bit confusing, but we do know at one time or another he was a member (sometimes in the same year) of: FMF Honda, Plano Honda, Primal Impulse Suzuki, Red Bull KTM, Motoworld Suzuki, privateer Yamaha (retired), the fictitious Chinese Sky team, and now Troy Lee Designs/Red Bull Honda in the AMA Supermoto Lites class. But as you probably know, he is currently sidelined with two broken arms after a hard get-off last weekend in Oregon.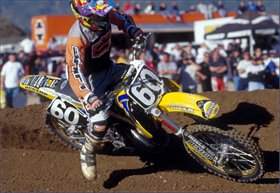 Ping on a Primal Impulse Suzuki
photo: Chris Hultner
Get well soon, Ping! There are more teams out there for you to work with!