5 Minutes With ... Eric Peronnard
The first AMA/Maxxis Endurocross Series kicked off last weekend in Denver with a few surprises, though the winner—past Endurocross winner and current GNCC points leader David Knight—was everyone's favorite to win. The series, which moves on to Guthrie, OK, this weekend, is bringing off-road indoors—a specialty of series co-founder Eric Peronnard.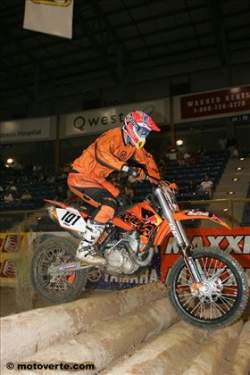 Red Bull KTM's David Knight won the opening round of the Maxxis EnduroCross Series.

Racer X: Eric, off we go, the first EnduroCross series is off and running!
Eric Peronnard: The first event was fantastic, we had a soldout building in Denver, a great crowd and great racing. Surprisingly, tough trial riders took everybody by surprise.
How big was the arena in Denver compared to the original venue at The Orleans?
It was bigger, and the one we're in this weekend is even bigger. So, we've been elevating the obstacles to a point where the trial riders may be superior. I think it's just something we're learning and we want to have a good, fair track for everybody for the next couple rounds.
I know Geoff Aaron has participated, and his buddy Nick Mantzoros was sort of the underdog star at the EnduroCross in Las Vegas, but who is this new kid that showed up?
Keith Wineland is actually one of Geoff Aaron's protégés, and he's been an exceptional trial rider all his life, and he's about 20 years old and he beat five national riders. So that gives you an idea of how talented he is. I was reminding everybody that was concerned about the trials riders going fast is that you have a guy that is a top-five national-level rider. It's not something to discount. The fact that he is on a trials bike could be an advantage in some places, but the guy is just a magician on a motorcycle.
That was my next question, what was he riding?
He was riding a Montesa four-stroke trials bike, the same bike that Lampkin is using to be world champion. It's the same bike as Geoff Aaron, too—with a CRF250 Honda engine.
For anyone who has been following off-road in the U.S. for the last year and a half, it should be no surprise that the winner was David Knight.
Absolutely. David was unbelievable. Trials bike or not, he was just plowing through the track like it was a freeway.
He's a big boy.
Yeah he is, and Kurt Nicoll told me he could go even faster on a trials bike, so hopefully he'll stay on his KTM! [Laughs]
As far as the crowd goes, was it as enthusiastic as the crowd gets in Vegas? They tie it in to the AMA Awards Banquet in Vegas, and everybody goes there and knows what's going on, and it's almost as much of a party as it is a race. Was Denver different in that regard?
The crowd was great in Denver, but you don't have the electricity like you do in Vegas. Like you said, it's just different. We had a really good "normal" crowd, not a "Vegas" crowd.
Tell me more about the event. I know the first time you did the EnduroCross in Vegas you were pulling in tree logs and tractor tires. Denver probably made it a little easier to find obstacles.
Denver was really easy for rocks. It was a great place for everything. We had the help of David Clabaugh. He's a very talented promoter and we couldn't of done it as good without him; he brought a lot to the table.
David was the one who kept a collar on Jonathan [Beasley] at the MXoN, and that turned out to be a fantastic event, too. So, did you have a quad race with this one?
No we didn't, but we'll have one this weekend. We know quads need space, so we decided to do it only in the biggest venue we have, in the Laze-E-Arena in Guthrie, Oklahoma.
What happened to John Dowd—he didn't make the main?
John was maybe just a little intimidated by the track. There were a few sections that didn't make him comfortable, and he was still charging and he got a really fast lap time, but it was the beginning of the season. I'm expecting him to do really well this weekend for some reason. I just think he was surprised by the EnduroCross. David Knight was ready and John wasn't 100 percent last weekend.
Were there any other surprises?
We have another great trial rider, Phil Smage. He's the older brother of the best trial rider in America right now, who is Patrick Smage. These two boys are terrorizing the trials world. And funny enough, Phil Smage won one class at the Mini-Moto. So he's really a great kid with unbelievable talents.
Obviously Ryan Hughes was not there, but Damon Huffman was…
Damon Huffman did a great job for his first EnduroCross. He was on the podium and led for a while. I think he'll be a lot more prepared this weekend, and I expect both him and Dowd to be up front.
What was Damon riding, and what was David Knight riding?
David Knight was riding a KTM450 four-stroke, and Huffman and Dowd were riding 250cc two-strokes. The EnduroCross is still a two-stroke world, much like the GNCC series.
But it's a wake-up call when David Knight shows up and wins on a four-stroke. Then again, David Knight is the size of a tractor.
[Laughs] You said it!
A very sleek and powerful tractor!
It's funny, David was talking with the KTM people, and David would've rather been on a 250 two-stroke, but he's racing a 450cc four-stroke right now at the GNCCs, and considering he was flying back and forth for these two races, it wouldn't have been very smart to be switching bikes in the middle.
Good point. To step off the bike on a two-stroke Saturday night and on to a four-stroke Sunday might have been a bit much, but whatever it was, he did have better luck on Saturday night then he did on Sunday at the GNCC in North Carolina. Fortunately he does have a points lead with two rounds left. So, is the event in Guthrie sold out, or where can people get tickets?
It's not sold out yet, but we're expecting a very good crowd. For tickets, people can visit www.endurocross.com.
So Knight needs to sweep these races to win the triple crown?
Yes, he is in charge. If he wins the Triple Crown he'll win $50,000 for the Motorcycle Mechanics Institute Triple Crown Bonus.
From what we've seen from David, I hope MMI has their checkbook ready. Thanks for your time, Eric.
Thank you, Davey.