5 Minutes With ... Robie Peterson
There's a lot of pressure when you grow up in a family that has been so successful in sports. Imagine being a kid and watching your dad win five world championships, and knowing that others expect you to follow in his footsteps. We've seen this with the father/son combos of Richard and Kyle Petty, Mario and Michael Andretti, and the two famous Dales with the last name Earnhardt.
But with the pressure comes more opportunity. Famous dads can open doors that might never have been visible to their kids, and they can of course, pass on lots of experience. Still you need talent to win championships, and that's precisely what Robie Peterson did this past year. He won the 2007 Hillclimb World Championship in France and has been a major force in the Racer X / Suzuki / N.A.H.A Pro Hillclimb Series all season long. He's achieved something very rare and we recently tracked him down to find out what's going on with the speedster from Yorba Linda, California.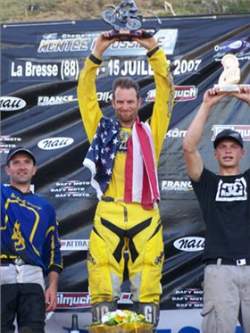 Robie Peterson

Racer X: What's it like growing up with a legendary guy like Kerry Peterson as a father?
Robie Peterson: Pretty much wide open!

What was it like winning the World Championship in France?
Definitely a dream come true! To me there's nothing like racing for your country in the sport that you love. And being atop the podium, continuing our winning tradition as a team, is a feeling that is second to none.
What's the biggest misconception about hillclimbing?
People really don't understand the difficulty of the sport. There are a lot of things that factor in to winning a hillclimb. You get to walk the hill before the event, but you don't have any practice on the actual course. We draw out of a hat for our running order, which is huge with the changes that occur on the hill throughout the day. Along with that you have to have the bike set up with the right length, gearing and wheel combo to try to get you a win in just two attempts. So you need to bring all your experience and everything you did practicing in between climbs to the table, and let it rip.
How have you done in the series so far this year?
The Open Exhibition class has been a hit and miss with working out the bugs on the new KTM 950, but by winning over in France it shows that there is great potential for the bike once it's dialed in. Things have gone really well this year for me in the 450 and 700 classes. I've got a couple of wins in each class and have been right there in the top five at each event. I'm tied in points with last years World Champ Jason Smith and have the opportunity for two more titles going into the last event, so I can't complain. We have one more round this weekend in Indiana and I'm pretty excited.
How did the first-ever N.A.H.A. HIllclimb turn out at Glen Helen this past May?
The event at Glen Helen was pretty incredible. It was the first Southern California hillclimb in 20 years, and to have the opportunity to bring it back to a great facility like Glen Helen was almost too perfect! Kurt Caselli came out to try his luck at his first climb and put in some impressive rides. We sparked a lot of interest for the sport and it has created a lot of opportunity for the future. Winning two out of three classes was sweet too!
What's your favorite memory of your career so far?
I would have to say the ride over the top in France this year for the World Championship; emotions were running high after that run. I think my Dad was more excited than I was when I came off the hill.
Who is your favorite rider of all time?
I admire a lot of riders in different forms of racing, but I got to go with my boy Dave Watson for my favorite of all time. He has been a huge part of my success the last three years and just a great inspiration for me since his injury.
What's it like competing against your younger brother Bret?
There's eight years between us, so I think that racing against Bret is really good for me; he keeps me on my toes. Being on the same team together is a huge benefit for our race program by being able to test together and compare notes. Plus if I have to get beat by someone I would rather have it be my brother than some other guy.
Team Peterson just bought a semi for 2008. How did that come together?
Well my Dad is always trying to take things to the next level on what ever project he is working on and he put together a package for a four-rider team for next year. We acquired support from KTM Racing and will be adding two more riders to our team with an additional corporate sponsor to be announce in December. There's buzz around the pits that there are two other teams working on similar deals for 2008.
Tell us about all of the things you do to your bikes to make them competitive at this level?
I can't reveal all of my secrets, but here's a few: They are all extended six inches or more over the stock length. On my 450 I just have some motor work done and an exhaust, because that is all the class allows. My 700-class bike is a little more radical with a Boondocker nitrous system and some Factory cylinders. We have been able to adapt some of the Supermoto technology to our Hillclimb program to get a lot of HP out of the motors. Anything goes in the Open Exhibition class and my 950 is highly modified. Compared to you normal KTM Adventure or Superenduro models, we have a Hilborn fuel injection system that runs on 50 percent Nitro Methane. Race Tech dials in all my suspension and all the bikes are set up with multiple wheels/tires for different hills and conditions.
We hear there is a television deal in the works for next year. Is that true?
Yeah, we have a couple different corporate sponsors interested in the series for next year and the TV coverage is coming right along with it. It's not my position to announce it at this time, but it looks very promising for next year.