5 Minutes With ... Ricky Carmichael
September 28, 2007 9:11am
The greatest AMA rider of all time, Ricky Carmichael, retired from first class motocross last weekend in Budds Creek, Maryland. The multiple AMA Motocross and Supercross champion walked away from the sport with a classic victory against the best riders in the world. Finishing with 3-1 results, Carmichael helped Team USA win the biggest prize in motocross, the Motocross of Nations. Here is what he thought about his weekend.

Racer X: Ricky, how did your Sunday go?
Ricky Carmichael: I didn't make it easy on myself. I came back and rode good, it was hard for me and there are reasons. I would have liked to have come in better prepared, I made it tough on myself and these guys stepped up to the plate. Timmy rode his butt off and stepped it up; nobody can say anything (bad) of him. Ryan won both his motos, I am excited for him and also for myself. Timmy gave me the inside for the second moto and I got the holeshot. I got a good start in the first moto, but we came into the second turn and two guys stopped and I stopped and got rear ended by somebody and my bike stopped and by the time I got going the leaders were gone. I put my head down and in this race funny things happen. It was a long race for me. At first I was confident I could get to second, but Reedy held me off; I spent some energy early and was tired at the end. I could see it was hard to get past guys, but as the race went on I just wanted to get on the podium. I could see Ryan was leading, so I knew we were safe.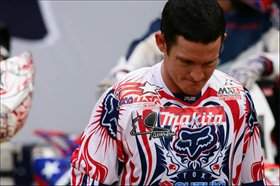 RC prepares for his last motocross race.

photo: Simon Cudby

What about your teammates, they were so strong.
First of all I want to say good job Timmy; there was some stuff being talked about him. I don't miss that about this sport and they say you are only as good as your last race, but he beat me heads up a few years ago at Budds Creek. I think he shut everybody up. As for Ryan, he stunned everybody. Cairoli is the world champion, but he isn't racing over here and our guys are beating third place by a minute plus. Cairoli is a great rider, but the pace over here is so different and when you race fast guys you get faster. Everyone is going to be scared to death of him [Villopoto], and they should be, because he has that something special. I wasn't at my best and I want to say sorry to the team, I could have easily lost it for them, but I did everything I could have done.

So it's all over now, no major events for you anymore?
This is the last race where I had to really perform; I have some races I have to do (U.S. Open and Bercy). My schedule I had to do this year has tired me out, but I can't run these guy's pace anymore (referring to Ryan Villopoto). I am so proud of my teammates today.

There was a nice atmosphere in the crowd. What did you think?
We made the European guys feel good (the American supporters). I like to say thanks to the American fans, and also the European fans. I think since everything happened in 2001 (9/11), I think this race is back like in the DeCoster and David Bailey days and it's back on its feet again and I like to take some credit for it.

How was it winning in front of all those people and it being your last race?
It was tough. I got a little choked up there, it was a great win, the only time I got like that was in France in 2000 when we won, so it was a good reason to cry. Same thing this time; it always feels good to prove critics wrong. I know I was hard on the track for the National, but that was the way I felt. The track was much better this time; I don't know who did it, but it needed to be better and it was much better.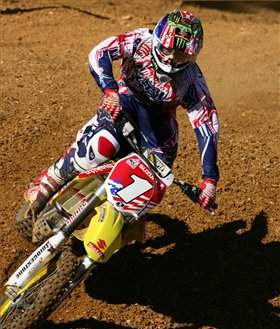 RC quickly found his form.

photo: Simon Cudby

How was your Saturday race?
I had a great start. We drew number three gate, so we had a good gate pick. I made a mistake at the old finish line, I just tipped over and recovered fast and made a pass on the same lap I crashed. I made that crash probably because I hadn't raced for some time. It takes some time to get back to your race speed.

Were you interested to see how quick Grant Langston was? Did he surprise you in that qualification race?
You know I was kind of interested to see since he is the national champ and he was riding good, he won the Motocross championship, so he can ride a motorcycle. There were some areas I could have been better, to make it easier for me. It is tough to ride their pace after being off. I have to say the track was really, really good, it's a lot better now, with multiple lines and I knew if I was behind I could find a line to pass.

What did you enjoy about being back?
The biggest thing is I get excited in the semi, that is fun, and when I get into a battle, I enjoy that. The only thing I don't enjoy is not racing for a long time. I put in some good laps, though.