Sign of the (Lap) Times: Red Bull Motocross of Nations
September 25, 2007 9:12am
What is there left to say about the 2007 Red Bull Motocross of Nations that hasn't already been said? I like how
Blogandt
summed it up: "This was a magical weekend, a celebratory weekend, a unique weekend, an awesome weekend and an unforgettable weekend and a weekend that--how rare is this–-clearly exceeded any amount of hype that you could have possibly made for the race."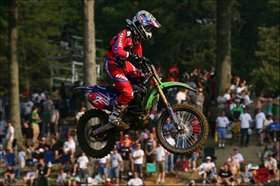 RV's fastest lap was a 2:08.691, which came in Moto 1.
With that being said, let's get down to the nuts and bolts of the races: the lap times. Results are one thing, but the lap times sometimes tell a completely different story. Many people were probably not that impressed by the performance of the MX2 FIM World Motocross champion, Antonio Cairoli, whose best moto finish was a 14th. But if you look at his best lap time in the second moto—a 2:11.196—it's actually faster than
Ricky Carmichael
's fastest lap time of the day. Unfortunately for Cairoli, mistakes and collisions in traffic cost him any chance of showing a wheel to Team USA's hero,
Ryan Villopoto
, who was clearly the fastest rider all day long on his KX250F.
RV's best time of the day came in the first moto when he logged a 2:08.691—over three seconds faster than RC's first moto best lap. But while
Ryan Villopoto
had an open track in front of him, RC was busy weaving his way through the international field of riders, and with a slightly bent bike. RC was the second fastest rider in that moto, and the third fastest lap time came from Spaniard Jonathan Barragan, who logged a 2:12.557 on his KTM.
Australia's
Chad Reed
was next, as his 2:13.049 helped him on to an impressive second place in the moto. At the checkered flag,
Ryan Villopoto
—who even crashed in the moto with Chile's Jeremias Israel and spent a good 10 seconds on the ground—had a gap of 15.616 seconds over
Chad Reed
.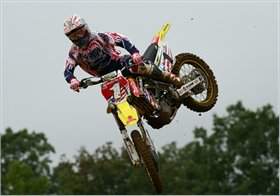 RC's fastest lap was a 02:11.357.
Moto 2 (MX2/Open) again saw Villopoto way out front, recording the fastest lap of the moto—a 2:09.606. The next best time came from Belgium's Ken de Dycker, who ran a 2:12.682 on his Honda CRF450R. Team USA's Tim Ferry came from the back of the pack to fourth place and could only muster a 2:16.185.
Villopoto's gap over second place this time was amazing—1:05.559! That's just insanity!

The third and final moto saw Team USA's leader, Ricky Carmichael, grab the holeshot and check out. He made it look easy out front, and Tim Ferry had to battle his way up to second place, giving Team USA a 1-2 punch. RC was the fastest rider in the moto with a 2:11.357, and Tim Ferry was second fastest with a 2:13.241—his lap times besting that of both the newly crowned AMA Motocross and FIM MX1 World champions. Carmichael's advantage at the finish was 11.748 seconds over Tim Ferry.


Below you can check out the lap times of the top 20 finishers in each of the three motos on Sunday.
Moto 1
| | | | | |
| --- | --- | --- | --- | --- |
| Pos. | Best Lap Time | Nationality | Rider | Bike |
| 1 | 02:08.691 | USA | | Kawasaki |
| 2 | 02:13.049 | AUS | | Yamaha |
| 3 | 02:11.910 | USA | | Suzuki |
| 4 | 02:13.847 | FRA | Sebastien Pourcel | Kawasaki |
| 5 | 02:12.557 | ESP | Jon Barragan | KTM |
| 6 | 02:13.101 | ITA | David Philippaerts | KTM |
| 7 | 02:14.578 | EST | Tanel Leok | Kawasaki |
| 8 | 02:14.531 | BEL | Steve Ramon | Suzuki |
| 9 | 02:14.142 | GBR | | KTM |
| 10 | 02:15.303 | FRA | Nicolas Aubin | Yamaha |
| 11 | 02:14.761 | GBR | Billy Mackenzie | Kawasaki |
| 12 | 02:16.681 | SUI | Julien Bill | Honda |
| 13 | 02:17.282 | RSA | G. Swanepoel | Kawasaki |
| 14 | 02:18.615 | ESP | Carlos Campano | Yamaha |
| 15 | 02:18.921 | POR | Rui Goncalves | KTM |
| 16 | 02:20.068 | CAN | Colton Facciotti | Yamaha |
| 17 | 02:18.520 | CAN | J.S. Roy | Yamaha |
| 18 | 02:19.451 | POR | Paulo Goncalves | Honda |
| 19 | 02:20.562 | SWE | Andreas Hultman | Honda |
| 20 | 02:19.724 | IRL | Martin Barr | Yamaha |
Moto 2
| | | | | |
| --- | --- | --- | --- | --- |
| Pos. | Best Lap Time | Nationality | Rider | Bike |
| 1 | 02:09.606 | USA | | Kawasaki |
| 2 | 02:12.682 | BEL | Ken De Dycker | Honda |
| 3 | 02:17.036 | GBR | | KTM |
| 4 | 02:16.185 | USA | | Kawasaki |
| 5 | 02:17.396 | FRA | Pierre Renet | Honda |
| 6 | 02:17.216 | FRA | Nicolas Aubin | Yamaha |
| 7 | 02:16.463 | ESP | Carlos Campano | Yamaha |
| 8 | 02:20.191 | JPN | Yoshitaka Atsuta | Honda |
| 9 | 02:17.993 | IRL | Martin Barr | Yamaha |
| 10 | 02:19.915 | BEL | J. Van Horebeek | KTM |
| 11 | 02:19.629 | GER | Marcus Schiffer | KTM |
| 12 | 02:20.854 | CAN | Colton Facciotti | Yamaha |
| 13 | 02:19.706 | POR | Rui Goncalves | KTM |
| 14 | 02:11.196 | ITA | Antonio Cairoli | Yamaha |
| 15 | 02:21.865 | ITA | Davide Guarneri | Yamaha |
| 16 | 02:22.778 | JPN | K. Masuda | Honda |
| 17 | 02:23.584 | LAT | Lauris Freibergs | Yamaha |
| 18 | 02:23.305 | BRA | | Honda |
| 19 | 02:18.344 | RSA | Wyatt Avis | KTM |
| 20 | 02:23.162 | SUI | Arnaud Tonus | KTM |
Moto 3
| | | | | |
| --- | --- | --- | --- | --- |
| Pos. | Best Lap Time | Nationality | Rider | Bike |
| 1 | 02:11.357 | USA | | Suzuki |
| 2 | 02:13.241 | USA | | Kawasaki |
| 3 | 02:14.443 | RSA | | Yamaha |
| 4 | 02:13.861 | BEL | Steve Ramon | Suzuki |
| 5 | 02:15.142 | EST | Tanel Leok | Kawasaki |
| 6 | 02:17.426 | ITA | David Philippaerts | KTM |
| 7 | 02:17.908 | JPN | Yoshitaka Atsuta | Honda |
| 8 | 02:16.509 | GBR | Billy Mackenzie | Kawasaki |
| 9 | 02:17.437 | FRA | Sebastien Pourcel | Kawasaki |
| 10 | 02:18.377 | SUI | Julien Bill | Honda |
| 11 | 02:17.240 | BEL | Ken de Dycker | Honda |
| 12 | 02:19.026 | AUS | | Suzuki |
| 13 | 02:18.167 | GER | Maximilian Nagl | KTM |
| 14 | 02:21.188 | FRA | Pierre Renet | Honda |
| 15 | 02:18.733 | CAN | J.S. Roy | Yamaha |
| 16 | 02:20.498 | ITA | Davide Guarneri | Yamaha |
| 17 | 02:20.775 | GER | Marcus Schiffer | KTM |
| 18 | 02:21.118 | ESP | Alvaro Lozano | KTM |
| 19 | 02:20.847 | SWE | Andreas Hultman | Honda |
| 20 | 02:22.118 | LAT | Lauris Freibergs | Yamaha |