With the 2007 FIM Red Bull Motocross of Nations finally upon us, Racer X Online plans on spending the whole week looking ahead to the big race at
Budds Creek
. With that in mind, we're asking our readers to have a look around their houses for cool Team USA/Motocross of Nations collectibles and send a photo in so we can share them with the rest of our readers. Just send it to:
Online@racerxill.com
We'll start out with this from Russ Stratton of the M2S Agency:
"Saw your pit pass from the US MXDN in '87 in
Racerhead
and it reminded me that I still had my 'civilian' ticket from that event. It was truly an epic day for American motocross and couldn't have been more dramatic if it had been scripted in Hollywood. After that I knew I was going to be in love with the sport for the rest of my life."
Also, check out this bumper sticker from the notorious 2002 "Motocross des Not Happening" from Competition Park in San Jacinto, California, from Eric Johnson's collection. EJ was the motocross reporter who broke the story when the Indians padlocked the front gate a week before the race and said "It is finished." That marked the end of a particularly embarrassing chapter in the rich history of both the Motocross of Nations and U.S. motocross in general.

A 2002 MXoN sticker.
And finally, here's one DC's most prized possessions: It's a "Presse" pass from the 1971 "Moto-Cross des Nations" at Vannes, France. It came from the annual auction at the Indy Trade Show of the pieces in the Joe Parkhurst Collection and DC earned it with a high bid (with a little push over the top from Larry Little and Corey Eastman from
Cycle World
). It sits on his desk, right below the framed cover of the Oct. 1974
Cycle World
cover that featured Roger DeCoster (thanks again, Corey!) and a 1955 Budweiser poster print of Remington's "Custer's Last Stand" (seriously).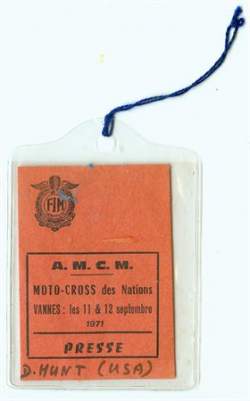 1971 "Presse" credential
So what's in Your "MXoN" Collection? Send it in and we will post more tomorrow!
Online@racerxill.com