5 Minutes With ... Cody Cooper
September 13, 2007 12:43pm
"You have to go talk to this guy," said an industry member the Racer X crew hangs around with. "I watched him race in Texas and he's really good. He's been in the U. S. for a few weeks riding with Ben Townley and getting ready for the Motocross of Nations." So we marched on over and there he was, sitting in a lawn chair beneath an awning placed up against a blue Pro Circuit box van. Next to him, up on its stand, was his #902 Honda CRF450R. Cody Cooper was biding his time before the mandatory riders' meeting the morning of the Glen Helen National. In America at the invite of countryman Townley and with the 2007 Australian Nokia Motocross Nationals over and done with, Cooper decided to ride the last two AMA Toyota Motocross Nationals. And after going 7/6 for a rock-solid fifth overall at the Freestone round, Cooper was pretty happy to be on the AMA circuit, even if only for the final curtain.
Racer X: Cody, first off, what are you doing here in the United States?
Cody Cooper: I came over for the des Nations and to do some riding with Ben [Townley] and to get acclimatized to the heat and then I thought I might as well try and do a few AMA rounds and see what they were like.
How did this Pro Circuit ride you have for the two rounds come about?
Obviously, Ben talks with Mitch and he sorted it out and stuff and they [Pro Circuit] ended up building a pretty good bike. They gave me some good suspension and I think Honda and Honda New Zealand bought me two stock 450s. And they sent one to Florida that has stock suspension that I practice on and this one here, obviously, stays at Pro Circuit and they try and figure out how to get it to the race.
How long have you been in America?
Exactly two weeks.
What were your expectations going into Texas? You had not raced the Nationals before, correct?
No, that was my first AMA outdoor. The only thing I could use to get an idea of where I was at was at Ricky's [Carmichael] farm. When I first went there to ride with Ben and those guys, I felt like they were just pulling away. It was my first day and I was hot, but I slowly got up there. My speed felt good. Sometimes I'd do some good laps — as good as Ben — or I'd do some laps that were a second off. I sort of got an average thing going, but it didn't really matter. I was just going to go to Texas and do what I could do.
What did you think of the Texas track?
I loved it. It was sort of like Aussie tracks. Ben and I were taking and we both agreed it was like an Aussie track. It was good for us, I think.
In what ways?
Just the layout, I think. I think most Aussie tracks are sort of one-lined; Texas was sort of like that. I liked it.
How did practice and qualifying go for you?
In the first practice I was just sort of getting used to the bike and the suspension felt hard. And the tracks here are so long — like two minutes and something. In Australia, our tracks are a minute and fifteen seconds. So it took me a little while to get used to know where I was going and stuff. It's the same here at Glen Helen. It's even harder here.
How did you feel in the first moto at Texas?
Well, I started at the wrong end of the field. I just kind of kept going until the end. I didn't really know where I was. I wasn't really looking at the pit board. When I saw that we were at the 20-minute mark, the heat had gotten to me by then and I was like, 'Oh no!' I was pretty buggered after that race.
You ended up seventh in the moto. Were you happy with that?
Yeah, when they told me I was surprised. But like I said, I was buggered. I went over to Ben's motorhome with the air con wide open. I felt like I wanted to faint. But I recovered pretty well.
How did the second moto go?
When I lined up I felt all right. I felt pretty good. I thought I was going to get a better start than I did. Me and [Grant] Langston got blocked in with a number of other people and got boxed in pretty bad. I came out of it pretty far in the back.
But you got back up to sixth. Were you happy?
I was pretty stoked. Surprisingly, I wasn't as drained as I was in the first race. I felt like in both races, just over the halfway point, I felt like I was just riding around. It was weird to me. Nobody was passing me and I was still passing people. I was pretty surprised that nobody was pulling on me.
What's your goal today?
To go out and do another top 10 qualifying position and in every moto try and push more than last weekend, I suppose. I'd like to try and finish in the top 10 overall, for sure.
Backing up a bit, where did you race this year?
We started off with supercross in Australia and I ended up fourth overall. I live in New Zealand and fly over the weekend to do the Australian thing. We don't practice supercross at home. I just do motocross and fly over to Australia to do supercross then fly back home.
How did you do in the Australian Nationals?
The first round was crappy. Things didn't go my way, but that stuff happens. In the second round I got second and in the third round, I won. In the mid-period, things didn't seem to go right, but then I got on a good sort of training program and won the third to last round. I got second in the first to last round and then at the last race, I won the first race and DNFed the last race, so that put me from second to third in the championship.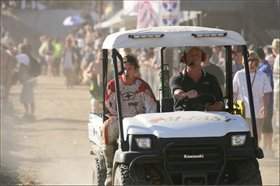 Cody's day at Glen Helen ended early after a crash in the second moto.

We've been hearing a lot about Dan Reardon who won a number the Australian Nationals. Can you race with him?
Yeah, we did. It's hard to say, you know? Everyone goes out to race and win, I suppose. He had a big lead in the championship, so you never know at the end of the year if he was just riding smart. But I did feel like I raised my game up near the end of the season and was competitive with Reardon.
Okay the big question: What would you like to do in 2008?
Definitely to race in America, for sure. I've always dreamed of racing here. I watched the Steel City round and rode that last round and just loved it and loved the environment.
So your open to looking at offers here?
Yeah, for sure.
How do you feel about the Motocross of Nations? If Coppins had not been injured, you guys would have had a very realistic shot at getting on the podium…
Oh, I know. There are a lot of people going out, huh? That's not good. But Daryl Hurley, he's got the pace, as well. So he's coming over to replace Josh. He rides the 450 pretty good.
So you guys might do well, huh?
Yeah, hopefully. I think our main thing is to try and get on the podium at the moment. We'll see what happens, really.
So where to after the Motocross of Nations?
I fly home the day after the des Nations, I have to ride for Honda of New Zealand in the last New Zealand nationals. That finishes in November.
Good luck Cody.
Thank you.
(At Glen Helen, Cooper ran a solid seventh in the first moto after qualifying second fastest of everyone. Second time out, one of the huge jumps bit him and he cartwheeled out of the race.)