Racer X Holeshot Award
September 11, 2007 6:45am
The final motos of the 2007 AMA Toyota Motocross Championship presented by FMF finally took off on Sunday at Glen Helen in San Bernardino, CA. There were still two titles up for grabs, which only added to the drama. Plus Glen Helen has the longest, fastest start in motocross, which always makes it interesting and exciting. $250 per moto were up for grabs, courtesy of Racer X and Mototees. Here's who got the checks:

Anyone watching the Lites class all season long knows that the Monster Energy/Pro Circuit Kawasakis look and sound like they are just plain faster than any other bikes out there. So it was no surprise when the two titles contenders, #1 Ryan Villopoto and #101 Ben Townley, flashed across the line first and second, in that order. BT101 would take over the lead shortly thereafter and then stay out front for the next 10 minutes. Then Villopoto went past and rode off for the win.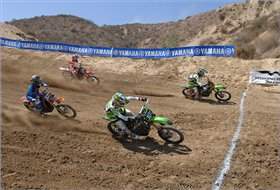 Lites - Moto 1
The second time out, it was again a green bike out in front, only this time it was
Townley
. The New Zealander's chances for the title were extremely thin -- he was 22 points back going into the last 30 + 2 -- but he rode wide open, just in case, all the way to the checkered flag. But Villopoto was second, and the championship was his for the second year in a row.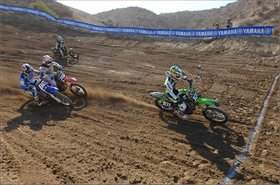 Lites - Moto 2
At the drop of the gate in the first AMA Motocross moto, three Hondas led the way:
Andrew Short
,
Kevin Windham
and visiting Grand Prix rider
Mike Brown
, with Short taking the $250 in Mototees money. A ways back rode points leader
Grant Langston
on his #8 Yamaha. Within 25 minutes, the cool-as-ice Langston was out front and headed for yet another late-season win.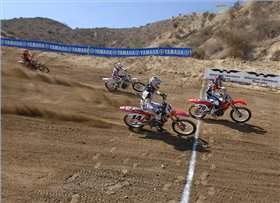 AMA Motocross - Moto 1
The next time out Red Bull KTM's
Mike Alessi
grabbed one his patented GH holeshots, with a huge gap on
Kevin Windham
and the 38 other riders coming out of the first turn. But this was Windham's moto, as the charismatic and popular veteran put in his best ride of the year to run off and steal a small piece of the limelight from the soon-to-be-crowned champion
Grant Langston
!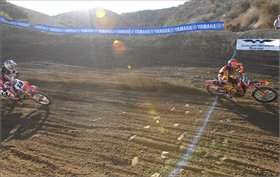 AMA Motocross - Moto 2
Special thanks to Carl Stone for shooting the evidence photos for us all year long, plus Mike "Paintin' Linez" Farber for painting most of the lines, and finally the Mototees crew for helping back the holeshot bonus. Here's a look at the holeshot recipients throughout the 2007 season:
Hangtown

Lites
Moto 1: Josh Grant Moto 2: Ben Townley

AMA Motocross:
Moto 1: James Stewart Moto 2: Davi Millsaps

High Point

Lites
Moto 1: Ryan Dungey Moto 2: Josh Grant

AMA Motocross
Moto 1: Davi Millsaps Moto 2: Davi Millsaps
Lites
Moto 1: Ryan Villopoto Moto 2: Ryan Dungey
AMA Motocross
Moto 1: James Stewart Moto 2: Ricky Carmichael
Lites
Moto 1: Josh Grant Moto 2: Ryan Villopoto
AMA Motocross
Moto 1: James Stewart Moto 2: James Stewart
Lites
Moto 1: Josh Grant Moto 2: Ben Townley
AMA Motocross
Moto 1: Mike Alessi Moto 2: Mike Alessi
Lites
Moto 1: Ryan Dungey Moto 2: Ryan Villopoto
AMA Motocross
Moto 1: Mike Alessi Moto 2: Davi Millsaps
Lites
Moto 1: Chris Gosselaar Moto 2: Ryan Villopoto
AMA Motocross
Moto 1: James Stewart Moto 2: James Stewart
Lites
Moto 1: Ryan Dungey Moto 2: Ryan Dungey
AMA Motocross
Moto 1: James Stewart Moto 2: Kevin Windham
Lites
Moto 1: Ben Townley Moto 2: Trey Canard
AMA Motocross
Moto 1: Kevin Windham Moto 2: Gavin Gracyk
Lites
Moto 1: Austin Stroupe Moto 2: Ryan Villopoto
AMA Motocross
Moto 1: Mike Alessi Moto 2: Gavin Gracyk
Lites
Moto 1: Broc Hepler Moto 2: Ryan Villopoto
AMA Motocross
Moto 1: Andrew Short Moto 2: Andrew Short