Things To Do In...Glen Helen
September 5, 2007 11:13am
Well, it's here: The 12th and final round of the 2007 AMA Toyota Motocross Championship presented by FMF at Southern California's Glen Helen Raceway Park in San Bernardino, CA. And what a season it has been, as the championships in both classes are still undecided, and will both likely go down to the 24th and final moto in each respective class. So as this series concludes, we have one final installment of our "Things To Do in…" feature, which will hopefully help you out with your visit to San Bernardino, CA this weekend. For more information on the facility, check out www.glenhelen.com.
There's no question that it is going to be hot and smoggy this Sunday at Glen Helen. The quickest way to get out of it is to head to Big Bear Lake. This small town in the local San Bernardino National Forest isn't exactly Aspen up in the Rocky Mountains, but it does get you out of the blanket of smog down in the valleys. Big Bear offers mountain biking, fishing, boating and most importantly; cooler weather. Google Big Bear Lake, California.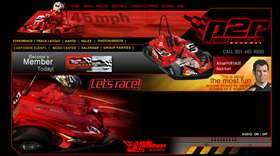 Go check out Pole Position Raceway!
Hit Pole Position Raceway while you are in town. This indoor carting facility is amazing and can be enjoyed by all ages. The carts are electric so there are no exhaust fumes or loud engine noises. P2R also has video games and a lounge to keep you entertained between races. Located in nearby Corona, this should be at the top of your list of things to do.
www.racep2r.com
Now, you could lose a limb somewhere dangerous, like at any dive bar in Fontana or Chino, but why not play it safe this weekend? Head over to the Burlesque Hall of Fame in Helendale. They have photos and memorabilia of burlesque stars dating back to the 18th century. Of course, if you go without your wife you could end up losing a limb when you get home, so, it's your call. Visit
www.burlesquehall.com
.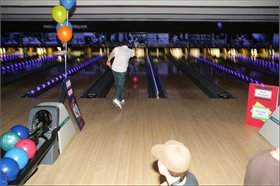 Check out MotoBowl tomorrow night!
photo: Simon Cudby
If you're in town early, be sure to check out the 4th Annual MotoBowl, which is held at the Concourse Bowling Alley in Anaheim, CA. In fact, there are still a few auctions open where you can bowl with some celebrities. Click
this link
to check them out!
I'm sure you've heard the name, but have you ever visited Chaparral Motorsports? If you haven't, do yourself a favor and check it out. It's like Wal-Mart for motorcycles.
www.chaparral-racing.com