5 Minutes With ... Tony Miller
Freestone County MX
www.freestonemx.com
All eyes will be on Tony Miller this weekend. As owner of the Freestone County MX track, the circuit's newest addition since Thunder Valley, he's got his hands full this week with final preparation. We called up Tony to get the low-down on this weekend's inaugural event.
Racer X: Start from the beginning. How did you get started in motocross?
Tony Miller: I got started in motorcycling by riding street bikes in '93 - Harleys. From there the Harley dealer asked me if I'd be interested in helping him with a road racing team in '95. Our first rider was Tom Shields and he did the local club-racing circuit. The CMRA and the WERA series. And we decided in '96 to put together a full team and go ahead and do the nationals. Mark Black, out of Austin, Texas, was one of our riders and he finished fourth that year.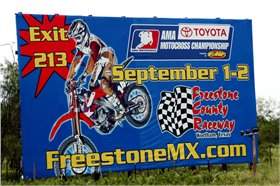 photo: Tim Wallace

What class was he in?
That was the 883cc Supertwins class. Harley 883cc Sportsters is what they used for that particular class. From there, in 1997, Eric Bostrom was our rider, and he won the national title. He won the AMA national championship then he won the Harley World Finals at Daytona.
How did you branch out from there?
We then took the same bikes and did the 883cc Flat Track series and won the national title there. Our rider was Jess Roder. In '99, Shaun Russell was second in the national class. Then in 2000, we decided to go motocross and built the track.
Did you already have the property to build your track?
Yes. This is ranch land that I've owned for 30 years. It's been in my family since 1853. Our family settled here in 1850 as early Texas pioneers.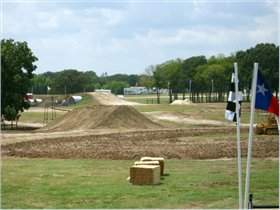 A view from the tower.

photo: John Ayers

Being successful at flat track, how did you decide to just go ahead and build a motocross track?
My son, Clayton, had started racing motocross in '96. He's 25 now. He's riding the nationals this year. While we were doing flat track and road racing, he was doing motocross. And we decided we wanted to concentrate on what he was doing and build a motocross track.
Did the track start off as a practice track or did you want to build a national-type track from the start?
Well, we already built a practice track near where the national track is now. We built an amateur and night track in 2000. It's the home of the Texas Winter Series. And the national track is new.
Do you have other events there?
We have another series called the North Texas Night Series. Next year will be the 8th annual. The Winter Series will also be the 8th annual.
As far as the national track, do you have races on that?
No, this will be the first time we've run on it.
Is there any short, easy way to describe how you got your own national?
Well, we were marketing ourselves nationally to develop a stronger presence in racing and somewhat accomplished that and that attracted the attention of Tom Hurd, owner of Broome-Tioga. Tom was ready to sell his event. He came down to look at our facility, discuss terms, and we decided to purchase the event from him.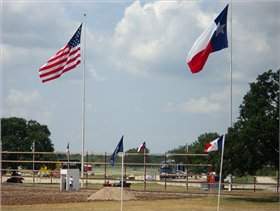 AMA Motocross is returning to the Lone Star state.

photo: John Ayers

Is running the track your full-time job?
I'm and electrical contractor in Houston. I've been in the electrical construction business for 36 years.
What's the best way to describe your track to someone who's never been there?
We have moderate elevation change and sandy-loam dirt. The track is situated on a hillside, so there are great viewing angles from the top and bottom.
How has Tom Hurd helped you in planning for this weekend?
The Hurd family were very open and very helpful in getting us the criteria for getting ready to do this event. In fact, Tom's been here since the weekend. His whole family is here. They're been very generous and helpful; and it's been a blast working with them. They're a great family.
David Clabaugh from Thunder Valley was the last new kid on the block; has he given you pointers as well?
Oh, yeah. Being part of the NPG, the National Promoters Group, gave me the opportunity to visit with all the track owners and operators to bounce-off information and get some guidance. David has been very helpful. We went to his facility all three years it's been open.
What makes your track different than the rest?
Some of the other tracks have much greater elevation changes to them. We don't have that, so that means we have to do things on the ground that make the track interesting. So, the biggest difference is the elevation. He also have good loam dirt. It's going to develop and become rugged and rough. We also have a fair amount of shade trees covering maybe half the track. There are going to be shaded areas to get a break from the sun.
The rumors on the message boards say that your track could possibly be the first night track. What do you think?
[Laughs] Well, that direction would have to come from the AMA. I wouldn't mind doing it. I think that would be a fun thing to do. It would take a lot of work to do it. Lighting the national track would be a pretty massive job.
Any sponsors you'd like to thank?
Yes. Monster Energy and our two presenting sponsors, Yamaha and Berkey's Plumbing. Also, Gary Stiles Contracting and Hull and Associates.
Check out the weather for this weekend right here.