5 Minutes With ... Austin Stroupe
Mitch Payton has yet another hot prospect under his awning for the foreseeable future in Austin Stroupe. The kid from North Carolina blew our minds yesterday with a wild start in the first moto, then held on to finish a historic second in what was his first-ever pro moto or main event—a finish equal to James Stewart's first SX back in January 2002. By the end of an eventful day, Stroupe, who was also fastest qualifier on Saturday, had made quite an impression on the field and the Steel City fans who saw his first race.
Racer X: It's the end of the day at your first pro national—what are your thoughts?
Austin Stroupe: It went awesome, I thought. Everything with the team was great. We put a lot of hard work in the last three weeks, and I got a second in the first moto. In the second moto I crashed a couple times and came back to 12th. I had good lap times too, so we're all very happy with a fourth overall.
And I understand you had some bike problems the second moto?
Yeah, I didn't have a front brake! So I was happy to have done that well without that.
What was your goal coming in to this race?
Top 10 was the goal coming in.
You actually got the holeshot in your first moto as a pro. That had to be cool.
Yeah, I got it from the outside. Ryan and Townley and I kind of all hit, but I came out good. I then came around and slid out but then got around Tommy Hahn and just stayed in second. I knew Ryan was coming and he was pushing hard, but it was a good race.
What were you thinking when you were out there in second place?
[Laughs] I wasn't really thinking much. I wasn't breathing or anything, I was just riding stiff and trying to get it through my head that I should just ride.
What was your mechanic giving you on the pit board?
Just to breathe. He could tell I was riding tight and he told me to loosen up a bit.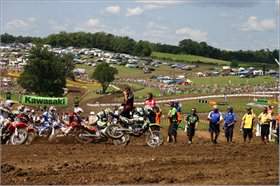 Stroupe grabbed the holeshot in his first moto as a pro

photo: Billy Ursic

Who was your mechanic for this race?
Aaron Johnson. He's been with Mitch for awhile, and he's helping me through the last three.
Have you been practicing 30 minute motos and do you feel you were prepared for this race?
Yeah, Ryan and I have been doing moto Tuesday through Thursday together every week, so now it's cool that we're here racing on the weekends. He helps me out, so it's really cool.
How's your relationship with your other teammates?
Brett [Metcalfe] rides a lot with me and Ryan. Ben stays in Florida and he's not out in California with us, so that's a bummer. But he's a very nice guy.
Was this track what you expected?
I thought it was good. We have some pretty rough tracks in California, but this track is awesome. The dirt was really good and tacky and the ruts were good, so overall it turned out awesome.
You grew up in North Carolina, so you're probably used to this type of soil.
Yeah, I'm only five hours from here, so it's very similar to what I grew up riding on.
Your amateur rivals—Trey Canard and Nico Izzi—they chose to start their professional careers a couple weeks earlier at Millville. Why did you choose Steel City?
I had some trouble prior to Loretta Lynn's and I didn't think I was 100 percent. I really put my head down and trained hard and came out after Loretta's and tested with the team, and that's when I felt ready to go. So, I think the extra two weeks I gained from not racing Millville really helped out a lot.
Was this the first time you rode your race bike?
Yeah, yesterday. It's a killer bike. It's all fresh. But I've been riding one of their test bikes, so it's pretty close.
What are your thoughts on Mitch Payton thus far?
He's awesome. He'll do anything for us, and we went 1-2-3-4, so he's a very happy guy today.
A fourth-place today; what are you gunning for in Texas?
I want to be up there again, but I definitely want to be more consistent with my starts. My second moto start was terrible.
Since your pro career officially started, looking back, who would you like to thank for such an amazing amateur career?
Dave Gowland from Team Green Kawasaki to get me here; Bobby at Xtreme Team Green, and my mom and dad.