Hello, everyone, and welcome to the Rev Up. Now it's time to circle the wagons and get nasty! With three rounds remaining in the 2007 AMA Toyota Motocross Championship presented by FMF, we arrive at a fairly substantial cross roads in the championship for both divisions. The title contenders better be eyeing this weekend carefully because once past here we run to the new event in Texas, which is going to be a huge question mark, then Glen Helen, in which nobody will beat Grant Langston and Ryan Villopoto.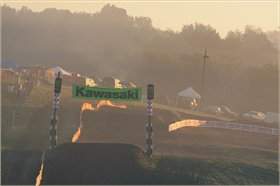 photo: Simon Cudby
But more than that, big things always happen at
Steel City
. The place is a haven for the bazaar and the spectacular. You know me; I always like to reflect on the past, so let's go over some of the insane things that have happened at the Delmont, PA facility. My first memory of
Steel City
was watching Motoworld and hearing Larry Maiers run through the highlights of the 1989 500cc national. "And Ron Lechien goes down hard!" One of the worst endos ever. Several years later I pulled my Cycle News out of the mailbox and saw that #593 won the 125 class with an unheard of 6-1 moto tally. On came the fisticuffs between Doug Henry and Ryan Hughes. Then I recall Hughes pushing it across the finish line when his chain fell off on his #9 PC ride. How about when The Fro pulled out the stops and banged two holeshots over Jeremy McGrath to nail down the 1996 250 title? Then one of the most peculiar weekends ever in 2001 when RC dusted off the 125 and Langston dusted his rear wheel handing the title to
Mike Brown
.
Steel City has a penchant for the dramatic, and ladies and gentlemen, this weekend has all of the signs to be completely off the frame. I don't really need a reason to be pumped, I'm kind of perma-pumped anyways. But this weekend has me shadow boxing and taking it around a little more than normal. It's time to reinvent the steel and get Revved Up for Steel City, baby!
Lites
Bad Billy says that Hepler is going to walk these guys this weekend. While he may be a tad on the biased side, with he and BHep claming D5 brotherhood, if you were there last year, you saw #60 open a 24-ounce can of whoop ass and obliterate the field. The Iceman knows how to get around Steel City and he could very well be ready to blast out of his cage and remind everyone that he can win. Whoa, boy, does he have a mountain to climb to do it, though. Crap, Ryan Villopoto has been simply crushing it. He is riding like he is pissed off at the track and the dude is relentless. Although, he hasn't been very stout in his first two visits to Delmont and as a track that once hosted the USGP, this might be a track that Ben Townley has his number at. Remember High Point? And how about the rookies, guys? The youth gone wild brigade of Trey Canard, Nico Izzi, and now Austin Stroupe will be ready to throw down for sure. How about Stroupe? One thing is for sure, his bike won't suck, and every time a rookie makes his debut he takes a little extra juice around the track with him.
And, ahem, where the hell has Jason Lawrence been? Come on man, you had everybody pumped and then kind of disappeared. Pull out the Hessian Aggression and make something happen! Tommy Hahn, Brett Metcalfe, Josh Hill, Kyle Cunningham, Josh Grant – damn right. It's on.
Motocross
How about these cats? Everyone will be bowed up when the gate drops for the first moto in this division. Is Bubba going to race? Man, it isn't looking like it despite the rumors and the chatter and that is truly a bummer. Ah, but look at what his absence has created; A beautiful mess! We're locked up between Andrew Short and Timmy Ferry with Grant Langston throwing on the charge. Zulu has had some sour days at Steel City, but he's been fast. A win would make things really, really interesting. Although, Red Dog had a pretty frustrating weekend last time out at Millville, and I think with he being the cagey veteran that he is, he will be ready to get it done. As for Shorty, I don't know, the pressure has to be tremendous. Honda hasn't won an outdoor title since RC left and before that you have to go all the way back to McGrath's 1995 title. Pretty gnarly backpack of bricks to carry.
photo: Matt Ware
And hold the phone,
Tyler Bowers
is at long last going to make his debut. It will be interesting to see how this young buck fairs. Quite the little ball of controversy surrounding him, but the kid can ride a motorcycle. I wouldn't put a top five out of his reach at all. How about the others? Well,
Ivan Tedesco
has actually been riding strong lately. With only a couple more races for Roger DeCoster remaining, I have a feeling we will be seeing a little more of him at the front of the pack. Besides Hot Sauce,
Mike Alessi
is my other pick to put in a surprise ride. Hey, the kid stood on the steps here in his first visit, and with the big boys at that. Could be a holeshot or two out of #800 and another podium finish.
Ok, everybody grab a knee and listen up. Every single round of this year's outdoor series has been phenomenal. It's been a little wet around these parts but the forecast is looking sweet for the weekend. Both classes are in a dead heat for points supremacy and there has never been a more exciting time to be a motocross fan. I want everybody to get it up right now. Really. Close your eyes and think about that moment right before the gate drops. Feel the sunshine and try to hear your heartbeat over the drone of the pounding battalion of throttle-twisting gladiators. It's all going down this weekend. First time ever for a four-wheeler national and that could actually be pretty wild, man. Ashley Fiolek is making her debut during halftime on Sunday. What else do you need to put a little trot in your walk? Come check out the boys and I at the Racer X trailer. Bet your ass I'll have a high five waiting for ya! It's all metal this weekend, doctor. An iron curtain is about to descend over outdoor motocross. Roll your neck, shake out those arms, and throw a couple claps. Steel City is here.
Thanks for reading, see you next week.