5 Minutes With ... Tim Ferry
In 1992, a young kid from Florida named Tim Ferry was announced as the AMA Motocross Rookie of the Year. A presumed portent of things to come for the kid from Palm Beach, it was the beginning of what would become a 15-plus-year-long Odyssey through the sport. Astonishingly, in a discipline of motorsport not regarded (not by any means) for its longevity, Ferry is still at it, and performing at unprecedented levels. Ferry proved this on Sunday, July 29, 2007 when the Team Kawasaki rider — hired on by the lime green marquee at the last second from the modest Moto XXX Honda team, for whom he had delivered into the top 10 year in 2006 — won his first AMA National in well over six years. In fact, the last time Tim Ferry won a National was on May 13, 2001, when, by riding to 2-2 moto scores, won the opening round of that year's series at Glen Helen Raceway Park in San Bernardino, California.
Then came the 2007 AMA National at Washougal, Washington, and, strangely, Ferry yet again used 2-2 moto scores to win his fist National since Glen Helen in 2001. It is now the late summer of 2007. Thus far this year, Ferry has placed third in the 2007 AMA Supercross Series, he was just invited to join the 2007 U.S. Motocross of Nations, and now, with just six motos left to be run, he's leading the 2007 AMA Toyota Motocross Championship. All these things considered, it's no great stretch to say Tim Ferry, the consummate professional, is having a dream season. Today, Racer X spoke with him about it.

Racer X: Tim, what do you have going today?
Tim Ferry: After I'm done riding I'm heading to my chiropractor. I got run over in the first turn at the last race and I've been really sore since. My back muscles really bothered me. I went down at the start and someone, I'm not sure who it was, went right into me and I ended up with some pretty serious deep bruises.

Okay, nine of 12 Nationals have been run and you're leading the AMA Motocross National Championship. Did you ever expect to find yourself in this position?
No, I wasn't quite expecting to be in the position I am at now, for sure. In the first race [Hangtown] I got third behind Carmichael and Stewart and was happy about that. Since then, I've been getting a little better at each race. The last race was tough, though (Note: Ferry went 8-6 for sixth overall at Millville)

Backing up a little bit, how did your Kawasaki deal come together?
It all happened pretty quickly, in a sense. I heard they were interested and I was interested, too! We talked and I said, "Bring me a contract." It's funny. I didn't really know what I was getting into. I didn't really know about the money or anything like that. I just knew that the bike was good and the team looked good from the outside. I knew that at this point in my career that I wanted to be on really good equipment. They brought me a contract and it was a done deal.

You ended up third in the AMA Supercross Series. Were you pleased with how it all went?
I was. I think what I was really happy about was that I got through a whole supercross with no injuries. I was happy I made it through with no injuries and that I was real consistent. That was my main goal. Other then maybe three or four races, I felt really comfortable. I had no close calls. I never felt like I was going to crash. That was the first time I've felt like that.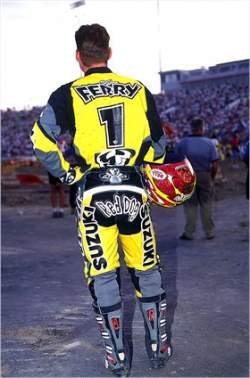 Tim is the 1997 Eastern Regional SX Lites Champion

photo: Courtesy of Moto Verte

Did you feel good about everything heading into the Nationals?
Yeah, I was real happy. I felt like I closed the gap — speed-wise — on Ricky and James a little bit. I was real happy with the third at Hangtown and how the season got started. I really did think things were going to go well. I think that in my mind I thought that since I had such a good supercross season that my outdoor season would be even better. I felt more comfortable. I didn't expect to be leading the points like I am. I've put pressure on myself going into the outdoors because I wanted to match it to my supercross season. As far as leading the championship, you know I didn't really do anything different. The circumstances just worked out. I was in the right place and had solid results. I guess the biggest thing has been that when James got hurt, everyone else started riding differently. Langston came alive, Alessi started to out in good results, Kevin Windham won a National. It's like everyone rose up to me and got to where I'm at. Some guys have stepped it up and now the pressure has been put on me. But I'm not going to change anything. The media has been trying to put pressure on me, but I'm not going to let it get to me [Laughs].

How did it feel to win a National again? It had been six or seven years. Did you think you would ever win one again?
You know I have to say not really. I didn't. I'd been through a couple of tough years and things were going downhill. I was thinking, how can I get back to the front again? When I won at Washougal, I was almost in shock. It didn't really set in for a few days. It was unbelievable. I mean after a few rounds of the outdoors I thought it could happen and I could feel that I had some momentum going. I guess I also have to thank Ricky Carmichael for not racing all the Nationals.

What's your master plan for Steel City this weekend?
Getting a start is the most important thing. I have to get a good start. I know I have the speed and endurance won't be a problem. I'm not going to change anything. I know I'm going to race harder than the last race. In my mind I wanted to leave Millville with the points lead, now I want to do that at Steel City.

Have you been to the new Freestone County Raceway circuit in Texas?
I've never been there. I've only seen two pictures of it. I guess it'll be a mystery to everyone. It's exciting to go somewhere new and different. Just like with Lakewood. It's a really good race and it's fresh and new. I also like how Lakewood is close to a big town and it doesn't take three airline connections to get there. Plus I think it'll be hot in Texas and that'll play into my favor.

Do you like the Glen Helen circuit?
I have mixed emotions about Glen Helen. The hills are a little too big and too steep. It's like we're not even racing on them. It's more like we're just trying to stay up. I like Glen Helen for the National, though. When they put water in it, it's good.

Word has it that you will replace James Stewart on the Motocross of Nations team if he can't ride. True?
I've been asked to be a replacement if James does not ride. I've heard — maybe on Mototalk — that James might be back on the bike this week. It's not official, but if I'm asked to be on the team, I'm up for the job.

A dumb question, but what would winning the 2007 AMA Motocross title mean to you?
You know, I don't know. It's hard to say. It would be so much bigger than the 125cc title I won (Note: Ferry won the 1997 AMA 125cc East Region Championship). I guess if I won it, I would be beside myself. I guess it's an accomplishment I've felt slipping away for some time now. If I win it, I'll let you know how it feels.

Tim, you've been at this for over 15 years. Would you say 2007 has been a dream season for you?
Yeah, I definitely would. This championship, whatever happens with it…. Whether I do the Motocross des Nations… All this great stuff aside, it has been a very successful season. The team and my sponsors have been real happy with how I have done. No matter what happens with the championship or the Motocross des Nations, this will go down as my best season ever. I'm 32 years-old and to do this well this late in my career means a lot.