5 Minutes With ... Ricky Carmichael
If someone were to script a movie about the greatest of all time in SX/MX stepping out in his prime to completely start over in something else and work his way up from the local level, it probably would be too hard to believe.
No one is going to go from opening up a show with 70,000 cheering fans and international fame to a quiet local race, are they? That's exactly what Ricky Carmichael is doing right now.
RC was in one of the 15 car races he planned for 2007 just a week after waving goodbye to AMA national MX at Millville. The crowd wasn't so big, but the racing was real. He raced the Late Model class at New Smyrna Raceway Saturday night, starting on the outside of the second row, in front of a tiny crowd, but he's still the RC we all know. He went out there wanting to win.
As it turned out, he spun, lost a fender, and ended his race with the car taped up, and he was back out on the track until it finished to get seat time. That's RC's new life. He's gone from a sport he totally was in control of to one that resists anyone taking control. Let's see what he thought after the race.

Racer X: Ricky, no press conference tonight, huh?
Ricky Carmichael: Yeah.

What happened out there?
You know, it doesn't seem like I've had too much luck. I have always been a firm believer that you make you own luck. But I think the benefit of tonight was I qualified pretty decent. I learned a lot about just being aware about what is around you. My radio wasn't really working so it was a pretty chaotic night.
I had a decent starting point. In the first lap I got into single file and got to the bottom, so that was good, and I was third. At the end of the lap they had a caution. You had to complete one lap before a caution and we didn't do that. We had to start side by side again and that put me on the outside. We got in to turn 1 and I got a little loose and lost some momentum coming into 2. I had a guy try to tuck on the inside of me. Another guy that should have just rolled out and got behind me, he went to the outside and spun in front of me.
I got sandwiched when that guy should have rolled out. On these short tracks you don't need to be three wide. I was a victim of circumstances and it kind of went south from there. I had to go to the back and then after that, I don't think this one guy's spotter was working too well and he totally chopped me off coming in to turn one and I ripped my right front fender off. After that, I started having radio problems. We pulled in on a caution. In this kind of racing, it you pull in on a caution, you don't lose laps. You can sit in the pit area as long as you need to.

OK, so you got spun around, then your front fender is hanging off, now your mechanics are tugging on body parts and taping it back together!
Yeah! I got spun around and basically got cut off going into a turn when I had the advantage on the inside, then my radio quit working. I went back out and happened to get behind the leader and just sat in behind him the whole time. The speed and the ability is there. I just think I need to be better at the beginning of the race. That will come with time.

So as far as qualifying, your times were good right? So you know you can drive that thing.
Yeah, I was really fast in practice, and qualified pretty decent. I beat some good guys, and there are some guys that are normally aren't up there. My crew chief was really pumped about that. They do an inversion, that was seven cars tonight (a way of shuffling the fastest guys away from the pole to level things) so it bumped me from 6th - 3rd row outside to the 2nd row outside. I think I have started on the outside every time. I would love to start on the inside once.

This "make your own luck" thing you mentioned, is this sport tougher to "make your own luck" in?
[Laughs] Great question! These cars are a lot bigger than a motorcycle and the tracks seem very thin in them. So yeah, it's harder to make your own luck, if you will. We are going to be all right. My crew chief is happy. We tore some fenders up tonight. I hate doing that but they are easy to replace. We didn't mess the frame up so we are good.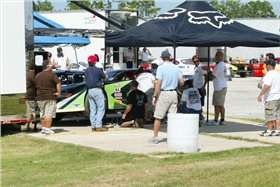 RC goes car racing just like he goes motorcycle racing, with a lot of attention and support.

No one in cars has stayed out of trouble to win like you have on motorcycles, but the top guys must be good at staying out of trouble too. Is that something you can work on?
Yeah, just being cautious, but at the same time more aggressive at the beginning of the race. It seems like those guys are a little more aggressive and I err on the cautious side too much. We need to do something to where I am better at the beginning. I don't know if that is going to happen on these tracks unless you are in the first or second spot.

What is different about this race day?
You get here about 3:00 p.m., do your tech and it's just fun. The atmosphere is fun. It's laid back, but at the same time it's competitive. It's competitive on the track. In the pits it's fun. Late at night we are BBQing and having a blast. That is what it's all about. It really is. I like that. It brings me back to the amateur days and local days at Dade City for me when I was a kid. Also, it was cool to see the young guy coming up, Adam Cianciarulo, here.

You said last weekend at Millville that the last day seemed surreal. I have to admit when you guys were out there for the introductions and you were the only one I knew, I said to Scott Taylor, now THIS is surreal! Do people from this level of racing come up to you or say anything?
You know, I am starting to think that the position I am in isn't making my life very easy. A lot of guys want what I have, obviously, and it has caused a little bit of a problem for me on the track.

You have all the attention, a top-notch crew, and on top of that your motorcycle guys are here.
Yeah, I got the deal going on. I have what everybody wants. Unfortunately, it works on the bad side for you sometimes. Once we get clicking we will be good. I have been in this position pretty much my whole life, where people what exactly what I have.
I am just having a fun time at this. I love what I am doing and I want to make it, I really do. We have some good plans for the future.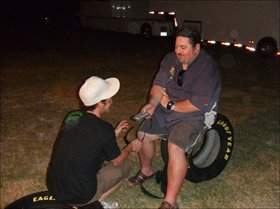 photo: Scott Taylor

You knew going in you can't just plan on winning like you did on bikes, but your crew said you really want to win anyway.
Yeah, I hope I can bring something to the local fans that they haven't seen, bring a little showmanship into it. I think I have learned with fans to get them in the game and to get them to have a good time. If you see me in victory circle, it is going to be well worth the wait - that's for sure.

Are you glad you did it?
Oh yeah. I am having a blast. It's frustrating because you want to do well, but there is always next weekend.

Thanks and we will let you get back to the BBQ!
Thanks, Steve. And thanks to all of the MX fans, I miss all you guys.