5 Minutes With ... Trey Canard
"Yeah, I'm really hungry. I'm happy. My dream is starting to come together. It's the start of a long dream and I'm only at the beginning. I sure want to do good when my professional career begins this summer."
This was Trey Canard talking during the late winter of 2007. The American amateur season was beginning to heat up and Canard, ready to dive head first into it, knew he was about to begin the final phase of his walk down the yellow brick road to becoming a professional, factory-backed motocross racer. Months later, at the 2007 AMA Air Nautiques Amateur National Motocross Championships, Canard aced the MX Lites A and MX Lites A Pro Sport Championships, snagged the highly coveted AMA Horizon Award — consistently proven to be a sign of a future champion — grabbed his gearbag and caught a flight to Minnesota to compete in what would be his first AMA National National. On Sunday afternoon, August 12, 2007 at Millville, Minnesota, Canard rolled his Team SoBe No Fear/Samsung/Honda CRF250R up behind the Spring Creek Motocross park starting gate and waited for it drop. When it did, a new chapter in his life began.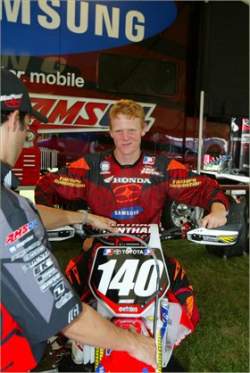 Trey was like a kid on Christmas morning at Millville

Racer X: Trey, what are you up to today?
Trey Canard: I'm just kind of relaxing. I hurt myself in the first moto at Millville and I've just been trying to do some easy training and heal up. I have a deep bone bruise and injured my shoulder. When I crashed, it kind of shocked everything.
Backing up a bit, how did you feel going into Loretta Lynn's?
I was really nervous. I knew it was my last chance to do good there. I felt like there was a lot of pressure on me to do good and I had also put a lot of pressure on myself to do good. In my very first moto, I started third, passed one rider and then passed Austin Stroupe and fell. From that point, for the rest of the week, I rode too cautious. I did not want to make that one mistake that would cost me a title.
But you ended up winning both of the classes you competed in…
Yeah, I got done what needed to be done. I can't complain.
While in Tennessee, were you thinking about Millville at all or were you trying to keep the National out of your mind?
Oh, I was absolutely thinking about Millville. I couldn't wait for the race. I had been looking forward to it forever. I knew it was only a week away.
When did you leave Loretta Lynn's?
I left Loretta's right after the awards ceremony and went right to Minnesota. I got there on Sunday night. I stayed in Rochester during the week and rode at some local tracks. There were some really good tracks in the area.
Did you feel relaxed?
Oh yeah, absolutely. I felt great. The team manager [J.C. Waterhouse] said to me, "This will be your last race without pressure and your first race with pressure."
When did you roll into Millville?
I went on Friday and watched amateur day. I wanted to check out the track.
What did you think?
It looked awesome. I really looked forward to riding on it. The hills and dirt and overall layout looked so good.
How did practice go?
At first it was super, super muddy and I was trying to hold on for dear life. I felt good, but I was disappointed with my lap times. I tried to enjoy it because I knew it was my last time of my first time of turning pro.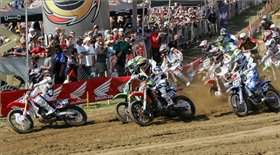 In only his second start, Canard pulled the Racer X Holeshot

And qualifying?
I qualified sixth, but I wanted to do better. [Ben] Townley was nine seconds faster than me.
How did you feel on Saturday night?
I was really relaxed, but it was hard to sleep. I was really excited.
Did you get any sleep?
I got a little bit, but I was really ready to go. I was so pumped. It was like Christmas. All I dreamed about was about to happen.
What were you thinking while waiting to choose your spot on the gate?
To be honest, I didn't know what to think. I was nervous, but it was just the typical pre-race butterflies. I was soaking it in. I had a huge smile on my face. I wasn't too nervous, though. I was not expected to do much. People don't expect too much from rookies.
Can you describe your first moto?
For the first moto, there was a wet spot in front of my gate. I got a good start — [Brett] Metcalfe and me were side by side – but I lost some momentum when I hit the wet spot. I was in about 13th or 14th place and worked around some guys and got into sixth. Broc Hepler was behind me and Brett Metcalfe was in front of me. I was concentrating on putting in solid laps. Right around the 10-minute mark, I crashed on the back part of the track and went shoulder first into the face of a jump. I thought I broke my shoulder.
Were you thinking, "This can't be happening!"
Oh yeah. I was pissed off.
Then what?
I went back to the pits and iced the shoulder up and did some exercises with my trainer to try and get some range of motion back. I wasn't sure if I'd be able to ride the second moto, but I'm glad I did.
How did the second moto go?
The second moto was good. I was happy to be there. On the parade lap I tested myself and everything felt good. When I lined up for the start, I felt it. The gate dropped and it felt awesome to come out of the first turn in first. I was so excited. Of course Townley and those guys went by me quickly. Those guys are on a whole other level. I wanted to be there with them, but there was not much I could do. I ended up fourth behind Ryan Villopoto, Ben Townley and Brett Metcalfe. I was happy, but I knew that I needed to work on my speed. I tried hard to run with those guys, but they go so much faster through the rough stuff it was incredible. I need to work on being able to do that.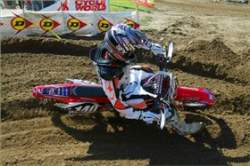 Canard rode to an impressive fourth in the second Lites moto

Looking forward to the next three races?
Oh yeah, absolutely. There is so much to be learned. You know what? I feel good about everything, but I'm bummed I was so far behind the top guys. I have a lot of work to do to step up and run their pace.
To be candid, did guys like Townley and Villopoto go faster than you imagined they would?
I didn't expect to be a minute behind. I wanted to be closer.
What's your goal for Steel City?
Going into Steel City, I'm going to treat it like Millville. I want to learn things that'll make me better. I want to check things out and work on getting better and better. I'm stoked. I'm learning.