5 Minutes With ... Josh Summey
You don't know Josh Summey. Don't feel bad, not a lot of people do. This 24-year-old rider from North Carolina has flown under the radar for a couple years now. He never got a lot of attention coming out of the amateur ranks, but he's slowly getting to be known. I was talking to a "Big Five" team manager, and when I told him that Josh got ninth overall in the Motocross class last year, he was shocked. This Moose Racing/Moto XXX rider has a big upside, and I'm not going to lie, I'm a big fan! I cornered him at Millville for this interview.
Racer X: Josh, how is your outdoor season going?
Josh Summey: It's kind of been okay; I've had some good races, more so in the middle part of the series up to now. The early part of the year I had some DNFs and a few other things go wrong. I'm sitting twelfth in points, and if I would have done better at the start, I might be in the same spot as last year. I'm pulling it together here now, though.
Just like Ross Pederson in 1987, you got a quiet ninth in the series last year, and you will not finish that high this year. Do you feel like you're riding better this year, however?
I think I'm riding better for sure. A little bit of bad luck has held me back, whereas last year it seemed that everything always worked out for me. I had some more solid finishes this year inside the top ten, whereas last year I was just very consistent every race. The bike was great all year last year and I didn't really ever crash in the first turn or anything. This year I've crashed in the first turn a few times, had some bike problems and stuff.
Do you feel that you're underrated a bit? There's not that much info about you out there.
I don't know really, this is my first full year in the 450 class indoors and out. I rode Lites class indoors before this, and with it not being a full year and me finishing fifth to tenth every week, it's hard for people to notice you there. I finished up supercross this year really strong, and you know, maybe I am underrated a bit, Matthes [laughs]! I just need to break into that top five a few times to get a little more spotlight on me like those guys. My Lites career went okay, I always did pretty decent in supercross but struggled in the outdoors a bit. I was always trying to get on better equipment, really. With my weight and that class being all about horsepower, I always felt like I was behind the eight ball versus the guys who were 130-140 pounds and me being 180. In supercross my first year I got a ninth and my second year I got some fourths and fifths.
What do you have going on for 2008?
Last Wednesday I signed with what they're calling for now Joe Gibbs Motocross, or JGMX. I'm not sure what the official team name will be, but that will be released soon. I signed up with them for one year to ride the 450 indoors and out, and I'm pumped. It should be a great move for me. We're going to be on Yamahas, and I'm not sure about any of the other sponsors right now. I think myself and Josh [Hansen] can decide on what we both want to wear and JGMX will try to make it work for us. I get a Toyota truck also for the year to use, so that's pretty cool.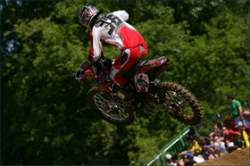 Summey will be riding Yamahas on the new Joe Gibbs MX team in 2008

You live right in the heart of all the NASCAR teams, and I'm sure JGMX has given you a tour of the shop.
It's unbelievable, really. I've been to some of the other teams' shops before. The two nicest ones are Hendricks and Gibbs Racing, I'm not just saying this because I'm riding for them next year, but Gibbs' might be a step ahead of the others just because they have so much effort into the training of their guys. They have a full gym for the pit crew; they also have a store inside like an Autozone or something! Not only do they have a big shop for the big three NASCAR cars, but down the road a bit they have another huge shop for the Busch series cars. Now they have added this supercross/motocross team and another shop for that. It's definitely a huge effort.
Is it sad to leave Moto XXX after a couple years of riding for them?
Yeah, it's too bad for sure. This team gave me a chance when no one else would and I appreciate that. Like I said, I rode Lites supercross last year, and I mentioned to Alan [Brown], the team manager, that I would ride 450s outdoors so that it would be easier on the team - they could just concentrate on one class, and it went pretty well. Not to say I used XXX as a stepping-stone, but I mean, they provide a rider with as good equipment as they get to push you to the next level. If a rider is really willing to work hard, they will help a rider out to move up. Look at Timmy Ferry last year - he's now on a factory team with the best equipment. I mean, obviously, he's a great rider, but I want to be like him also. He taught me a lot last year. At the beginning of the year we were close in speed, and he never held any information back. He would always help me out in any way.
In 2008, I'm supposed to have really, really good equipment straight from the factory, and there's some people over there with a ton of experience that can help me just like Alan did these last two years. Alan and I have more than just a rider-manager relationship, really - he lets me stay at his house when I'm in California, and we're friends first. I wish them nothing but the best, for sure.
After this interview, Josh got seventh overall at Millville, tying his best outdoor finish.