Kawasaki/Racer X Race Report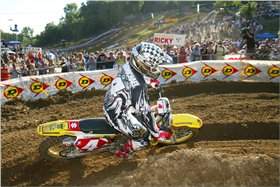 RC went 1-1 at his final AMA National
Ricky Carmichael
's career in AMA/Toyota Motocross didn't end with his biggest whips, his largest margin of victory or his most emotional speech. Carmichael has fed off of adrenaline and desire and heart his whole life, but it was clear by the end of this race, at
Millville
, Minnesota's Spring Creek, that the fire was about to extinguish. Where Carmichael spent the first moto with a huge lead and celebrated with a non-stop show of whips and fist pumps, he ended the second in more subdued fashion. It looked like it had all sunken in, and it was too overwhelming for Carmichael to celebrate in his classic "super pumped" fashion. He threw it upside down a few times, he smiled a bit on the podium, but in general, he looked relieved, tired, and emotionally drained.
He got one more lift from the fans, though, who jammed the podium in one last salute to the Greatest Of All Time, who had just notched his 150th career AMA pro win.
Fans in Minnesota had plenty more to cheer, too, as the championship fight in both the AMA Motocross and AMA Motocross Lites classes keep heating up. While the racing on the track wasn't quite as dramatic as the stuff we saw at previous races at Colorado or
Washougal
, numbers don't lie, and there are now four riders within 20 points in the Motocross class and the usual two-point spread between two dead-even competitors in the Lites.
In the Motocross class, Monster Energy Kawasaki had announced that series' points leader
James Stewart
was out for the weekend with a knee injury, and while no one knows his status for the rest of the season, it set up an obvious fight between four other competitors for the lead he was about to vacate. A motivated
Kevin Windham
grabbed the MotoTees Holeshot in the first moto, and KW led the first lap while Carmichael worked his way through traffic. Before long, RC was up to and around Windham to take the lead and stretch it to typical RC levels. The championship contenders then caught Windham, who stalled, allowing
Andrew Short
and
Grant Langston
to get around him. Then Langston worked on Short and made the pass, securing second for the moto, with Short and
Mike Alessi
following him home.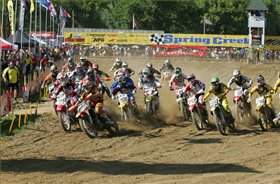 Red Bull KTM's Mike Alessi goes for the MotoTees Holeshot
The biggest shakeup in points came when
Tim Ferry
, expected to be the points leader at the end of the moto, crashed in the first turn along with
Ivan Tedesco
and about five other riders. Ferry methodically worked his way back to eighth, which was just enough to hold the points lead over Short going into the second moto.
Carmichael would nearly grab the holeshot in his last moto ever, but Short swiped underneath him to steal it. Ferry got another terrible start, and Carmichael went into the lead—only to be greeted by a red flag. Yes, the AMA didn't want him to retire, so they decided to start his moto again. Okay, kidding. David Vuillemin was actually down hard near the start on his MDK/Xyience Honda, but luckily he was just bruised and battered and not injured to scary proportions.
Carmichael didn't get the jump this time, and
Gavin Gracyk
nailed the start on his privateer Cycra Honda (with some backing from MDK). Alessi went underneath him to take the lead while Carmichael worked his way past Short, Gracyk and then Alessi to take off and win easy. The fans loved it.
Ferry had a second chance at a good start but he botched it again, starting around 15th and then working his way forward, this time to sixth. Langston was the real mover and shaker amongst the title contenders passing Alessi and Short to take second again, pulling within just 11 points of the lead. Short faded down the stretch, unable to get Alessi, he got passed by Tedesco and finished fifth. He and Ferry are now tied for the points lead, but as Carmichael pointedly said in the press conference after the race "The two guys who were leading the points, I wasn't impressed."
Carmichael was adamant that he would not comeback and take this championship, even though the math shows he could easily do it. "My heart is somewhere else right now," said Carmichael. "I'm on to a knew challenge, and to be honest, things have changed for me and it's just not there for me with motocross anymore." He made sure to thank everyone in his gang profusely, to thank the fans, and to enjoy the moment. But in some way, it looked like the Greatest Of All Time was already as gone from the sport as he was from the pack in that second moto.
Lites racing saw a role-reversal in the standard Ben Townley/
Ryan Villopoto
battle. Townley grabbed the Racer X Holeshot in moto one, Villopoto made the pass and pulled a small gap on lap one, but then Townley kept stalking him and closing. Then Villopoto just blatantly moved over and waved his teammate by, not wanting to deal with the pressure. Townley pulled away and won the first moto, a major momentum booster for the former World Champion.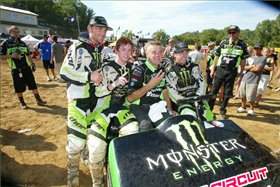 Mitch Payton's team occupied the entire Lites podium
Moto two looked similar as Townley took the lead from Racer X holeshot winner
Trey Canard
and pulled away. Villopoto did not start as well and had to work his way forward, finally getting Canard and his teammate
Brett Metcalfe
to move to second. Oddly, after not having Townley's pace in moto one, RV had it in moto two, and he caught BT101 and engaged in a huge battle. Finally Villo made the pass and went on to win the overall. Make that another 1-2 and 2-1 for these boys, which keeps the points lead the same as it was coming into the race—Townley with a two-point lead. Metcalfe finished third, giving the Monster Energy/Pro Circuit/Kawasaki team a podium sweep for the first time ever.
Villopoto said his team made a few bike changes between motos, and the track got better. Still, it was odd to see him move over for his teammate in one moto and then pass him and win the second.
Canard crashed out of moto one but held on for fourth in moto two, an very impressive performance in his first AMA National.