5 Minutes With ... Chad Reed
The last time Chad Reed competed in an AMA Pro Racing event was on Sunday, June 17, 2007. The venue was Budds Creek MX Park in Maryland, round four of the AMA Toyota Motocross Series. Reed rode well and his Yamaha's transponder put 3-4 moto scores up on the scoring monitors. Immediately thereafter, Reed packed his gearbags and suitcases and headed home to Australia for a vacation he was very much looking forward to. But now here he was back in America, sitting on a blue and white cooler in the pits of his L&M race team. The date was August 3, 2007, and with supercross practice for Summer X Games over and done, Reed had some time on his hands and was more than up for laying down a comprehensive interview. Relaxed and in good spirits, and as you're about to read, the runner-up in the 2007 AMA Supercross Series had a lot on his mind and a lot to talk about.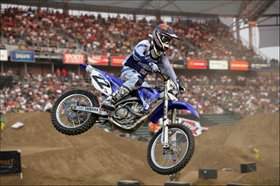 Reed finished fourth in X Games Moto-X

Racer X: Chad, we haven't seen you in a while. What have you been up to?
Chad Reed: Right after Vegas, the supercross, I had some commitments to fulfill and did. Then I went to Australia and did a race in my hometown. It went really well. The crowd pretty much doubled with me going back there. I accomplished what I wanted to accomplish which was to go there and have a good time. I think it could have been a lot bigger, but the promoter was being a d---head. Everything was kind of different than what it could have been and should have been. It was tough, you know? I was going back there and hadn't done a 30-minute moto in a long time. I also hadn't really been testing too much — maybe two or three times. Dan Reardon was there and he's been going real fast. I had a lot to lose, to be honest with you, and nothing really to gain out of the race at all. But I just really wanted to go there and race in front of my hometown and go home and hang out. The race was awesome. I had a great time. I went 1-1. I had a ball. The racing was fun and easy and it hasn't really been that fun and easy in a long time. So it was nice to go back there and play with Daniel a little bit.
I have also read up on the work you've been doing with the Australian Supercross Series…
Yeah, my trip home was to include a lot of things and that was one of them. One was to do the race I talked about and obviously to get some downtime and hang out with my family. I was looking at a bunch of houses to purchase and get a house back there. And also I've been working on a deal for the last two years to try and work with a promoter and help promote supercross in Australia and just try to bring it up and make it better. I think we achieved that. I signed a contract with the guys that are currently running the Crusty [Demons of Dirt] tour in Australia. It's awesome. Hopefully, we can, together as a team, take supercross to the next level in Australia and have some cool races and cool events.
There will be six races in the first year. Then we'll try to get to 10 by the third year, and for the first three years, I have to compete. So that'll be fun to go back and compete in my country. I won't really be on a retirement program, but it'll be more like just going back there and having some fun. The way I was envisioning it was that I was going to go back to Australia and pretty much retire after all this is good and done. But I feel that I'm only getting started here, so I think it's going to work out well. While I was down there I also went to a V8 Supercar race and I have a pretty strong interest in that.
You have the test with the TeamVodafone Falcon effort coming up, correct?
Yeah, yeah. Right now we're at the X Games and on Friday the 10th I fly back to Australia. Then, on Monday the 13th (of August), I have a Supercar test. It's going to be awesome. I can't wait. The actual car that I'm going to drive sat on pole two weeks ago. It's a good, competitive, fast car. It's a great bunch of guys. The drivers, the two lead guys (Craig Lowndes and Jamie Whincup) are going to be there to kind of help. They're huge moto guys and so are a lot of the guys on the team and they want to help, which is totally cool. For me, there's more to it then just going and having fun. I do have an interest in it and I do have maybe a long term of goal of going car racing, but when is kind of hard to say… It's one of those timing things that when it's the right time you have got to go, but right now I don't think it's the right time. But, yeah, right now I just want to get some seat time and have some fun in a car.
As we speak, where are you at with your 2008 motocross and supercross program?
Right after Budds Creek I came back to the U.S. and have been hanging out in Florida. It's been funny, you know, since Budds Creek I've only rode, maybe, four times and every time I've rode, it's been a blast. When it was with some of the top factory guys that are currently racing and winning races, I felt that every time I went out, I was faster. It was nice. It was nice to know that you've still got it and it's nice to know that you don't have the pressure of doing it day after day after day. Going to the races, for me, it's not about doing the work or anything like that. It solely has to do with the races. I just haven't had fun at the races and I don't enjoy the outdoor tracks that much.
What have you thought abut the nationals this summer? I mean Ricky Carmichael, in all honesty, had everybody beat, then stuck to his plan of going on break. James Stewart has been quite inconsistent. A bunch of guys have been able to win motos…
I mean the nationals thing is nuts… I mean, personally, I would like to touch on my reasoning for not going. A lot of people think I'm just ditching out and that I don't deserve a supercross-only contract and all that. But you know what people don't understand? I have a race team that only wanted to go race supercross and they found sponsors to let them go and do that and I was one of the riders they were choosing to have on the team. Supercross-only, at first, I was like, "This sounds awesome." But then right after Vegas, everyone was going racing and I didn't really know what was going on. I felt kind of left out a little bit. But I'll be straight-up honest: It's been the raddest summer ever. I've had a blast. I've done things that I've never been able to do my whole life. I've had time off. I've been jet-skiing. I've gone training when I felt like training. When I didn't feel like training, I didn't go training. It's been great. I've been doing this since I was three years old and I've gave it everything. I felt like I gave up a childhood. Not that I would ever change anything, but I did give up a lot. Right now I have a team that only wants to race supercross, sign me up. I'm on.
And to be brutally honest, when I go riding during the week, I'm still faster than everybody that I go riding with. The thing is, those guys work so hard and they show up on the weekend and they do what they have to do and then on Monday morning you talk to them and they're so pissed off and they're so bummed. And that's the thing: I honestly miss the racing, but I don't miss the bullshit. Monday morning when you're talking to them, all they want to do is just unload and vent. They're like, "Man, the track was shit. The track did this. And this guy did this." They're not having fun. They're just out there going through motions. That's why I like the results the way they are, because I think everybody is going through the motions. Everybody is over it. The tracks are the same every year, they get worse and worse. I've seen them on TV and I tell you my couch feels awesome compared to those tracks.
But you like coming to the X Games?
I love the X Games. X Games is a blast. It's so fun to come here. I mean it's fun to do something different, always. That's a given. But to come here and have the best of all athletes in the world of action sports is rad. Right now, you take a bicycle, and you go off. You go watch street skate. You go watch street BMX. Whatever you want. Freestyle. Everything. And they're all rad dudes. They're the guys who are the very best of their sort. I think it's a blast to be there. And all the people at X Games, whether they're security or whatever, as soon as they see your pass that has "athlete" on it, they're like, "Hello, sir," and off you go. I'm not really wanting to be treated like God or anything, but, hey, you know, I'm not dumb. I'm an athlete. I've been around all this stuff my whole life. I know whether I can cross this track or not or if I can go into this area. It's just kind of nice to come to a place and not be completely controlled by a bunch of idiots.
What do you think abut supercross being in the X Games? Do you think it's good for the sport?
As much as I love supermoto, to me, supermoto isn't extreme. I think supercross should have been here first. Supercross should have been here a long time ago. I'm totally stoked. I think it's so rad and awesome supercross is here. They changed up the schedule. It's going to be short and intense. I think it's going to be close. I think you're probably going to have some great racing. There are a lot of guys going fast. It'll be pretty cool to see how it all works out.
Are you surprised a lot of guys we thought were coming here to race supercross in the X Games dropped out?
No, I'm not because I've been on that schedule and I know that schedule and that schedule sucks ass. It straight up sucks! I mean it takes you so long to do the nationals. You race a couple of weeks and you have a couple of weeks off. You don't understand. You've got one weekend off, you can't just sit at home all week and go, "Oh my gosh, it feels so good to take a week off." You have to keep working and working and working and working. These guys are beat. On their weekend off they don't want to come out here in L.A. and race a race, in the long term, their manufacturers are really not seeing the advantages of it. I think that at this one event you get more TV time and better TV time then you'll ever get in a whole, complete national series. I don't blame anyone that pulled out.
How do you feel abut supercross in 2008? Have you started testing yet?
Actually, I've been out in California for two weeks now. To be honest with you, I would have loved to be doing a lot of riding and a lot of testing, but we were late on getting our new bikes. And I've just been hanging out, I guess. But the last two weeks have gone really good. The new 2008 Yamaha is a lot better. We can continue to work now. Right now I feel pretty fresh and am excited to start supercross testing. And like I said, two weeks ago we started testing and I think that's a huge jump on the rest of the field. Right now we have a much better starting base and I think it can only get better.
So will the battle for the 2008 Supercross Championship be between you and James Stewart?
I would straight up say that it's me and him that can run the pace. We're there every weekend. He was so solid in supercross this year. His bike was amazing. He was good and he was strong. He was there every weekend. That's a tough guy to beat when that happens. I think next year is going to be cool. We've got some Lites guys that are going into their second year of the 450 class. I think it's going to be fun. By no means do I think it's just going to be a runaway with me and James. I think there is going to be the odd guy who will jump up there and threaten for some podiums and some wins. I'm totally excited. I'm looking forward to it. The more guys, the better. It can only be good for our sport.
Do you have what you think you need to win the title?
I honestly do think I have what it takes to win the title. Right now it's all about finding the happy place that we were in 2004. A lot of people think that Ricky was out that year, but with all respect to Ricky, I truly think that was my year. My bike was unbelievable. It was so solid and so strong and I was so confident. I just felt so good on the bike. And at that point Ricky was struggling. He didn't have good equipment. His equipment was so bad that he was actually trying to go two-stroke/four-stroke and he got hurt. I think it was probably one of the best things that ever happened to him in his career. He got re-motivated and the dude came out swinging. He was strong. I really think that was my year that year and that's kind of what we're chasing now. We're chasing that happy feeling with the bike and I think we're getting close. And that's what it's all about. I don't think it's about training more or riding faster, it's just being happy and being comfortable on the bike. That's what makes the riders fast and faster. I mean, if I didn't believe I could win, I wouldn't do this. For me, for doing this for so long, getting seconds and thirds is not fun. It's not what I want I want to do. I don't want to work my butt off and working with a great bunch of guys like L&M Racing to go and be like, "I'm going to be second this weekend." That's not what it's all about. I have opportunities to go race cars and I would jump at that in a second if I didn't think I could win. I think there are a lot of number 22 fans out there that want me to win and I'm going to give it everything and not give up. That's what it's all about.
If you would have hung around and ran the nationals this summer, where do you think you'd be right now?
I mean, in respect to the other riders, I really believe I could have a very good, comfortable points lead. I think I proved that at Budds Creek. I came straight off the couch, pretty much, and went and put it on the podium. And I knew I could. Nothing changes overnight. Fast guys don't get slow, and slow guys don't normally get fast. I really believe that right now I could have a great points lead. I've been hearing a lot of, "Oh, man I wonder of he's bummed" or "Why didn't you stick in the nationals one more year?" But I will straight up tell you that I would take this summer over any title. That is the truth and how I feel. I was burnt out. I wasn't having fun. And this sport is so cut-throat that people would be talking shit if I had a points lead and I was there, they'd be saying: "Oh, this guy got hurt…" I don't miss it at all. It is what it is. I feel like my summer off is worth more that any championship bonus money could ever give me and my freedom has been awesome and I wouldn't change it for the world.