5 Minutes With ... Wil Hahn
One of the most innovative programs in motocross today is the Toyota Motocross 20, or "TMX 20." It's a nationwide program that searches out the best amateur candidates to "move forward" at the end of each season and join a satellite team with full factory support. The panel of judges (which included TWMX's Donn Maeda and myself, as far as magazine guys go) watched videos of the final 20 riders at Loretta Lynn's last week, checked them out of the racetrack and then voted on the rider who had the most to offer a team. With Trey Canard, Austin Stroupe and Nico Izzi already committed to teams for 2008, they were not part of the program. That left impressive youngsters like Chris Johnson, Kyle Keylon and Alex Martin for the judges to watch. After a week of motos, the winner of the Toyota 20 was declared: Wil Hahn. He's now set to join the Lucas Oils/Star Racing Yamaha team as soon as possible to begin prepping for 2008.
Racer X: Wil, when you went to Loretta Lynn's this year for the Big Dance, did you have any idea that you might leave there as a Yamaha rider?
Wil Hahn: Honestly, no, because I was expecting to go from there to Millville and racing my Loretta Lynn's bike (Honda) there, and just try and make the best of it to see what I could get for next year.
As it turns out though, your performance not only on the track but with the media and throughout the whole process gave you the final nod. Congratulations, you are now a Star Racing/Lucas Oil Yamaha rider for 2008.
Yeah, it's pretty awesome. I'm very proud to be a part of it. I have some good friends on that team already who are real happy with the bikes and team, and that makes you feel a lot better when you do the deal.
Have you ever spoken to or worked with Bobby Regan, the team owner?
I had last year one time. I did pretty good at Loretta's, and we talked a bit, but I decided to stay in the A class for 2007. I never really met him in person till this year, and we decided that was the thing to do, and we took the deal.
I know the Toyota folks were really impressed when, after they announced you as the winner, you told them you were going home and buying a Yamaha on Monday.
That's what we're doing right now! If I would've found a dealer that's open already I would've already bought one.
So how do you look in blue?
I don't know! I have never ridden one. I almost did when I was on 80s, but just stuck with Kawis and Hondas.
Well, on the floor of my office here at Racer X is the new Transworld which says "First Test: 2007 Yamaha YZ250F," and the new Motocross Action which says "Yamaha's YZ250F: So much new stuff we have to show you." You have got to go to Barnes & Noble and buy those magazines—and a Racer X, of course.
Yeah, I have to start reading up on it. I think everybody has got a pretty close bike right now, so set-up is going to be key.
The team has a clothing deal, so does that mean you're going to have to part ways with Fox Racing?
It does. Unfortunately I have a really close relationship with Todd Hicks and Sandra Eggers and everybody at Fox, and I've been with them for probably 10 years now, at least. It's kind of sad to leave them…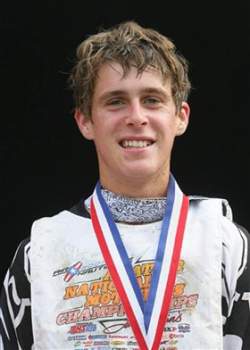 Wil is looking forward to riding blue

But at the same time, I'm sure Sandy and Todd know that this is part of their job—to get you to the point where you're taking on a factory job. And there's always the chance you'll come back around.
Exactly. My brother was gone for three years from them and now he's back with them. It just shows that once you have a relationship, you always have that chance to go back.
Speaking of your brother, what are the chances of him ending up on blue too?
Honestly I don't really know. I think his whole deal for next year is up in the air, and he's still on waiting on a few calls to come around, so I don't really know.
Two more things: 1.) We got to call you out on the Ivan Tedesco video. I heard you were telling everyone that you out-whipped your brother, but on the video I think Tommy got you.
[Laughs] I don't know. I think Simon set me up on that one!
The other thing: On the Loretta Lynn's, the GK Films' video crew caught you and Nico and Trey and Austin all talking about doing a goon trick off the tabletop at Loretta Lynn's on the first lap, and then you guys went out and actually did it! It's at the very end of the last day's film. I think that was one of the coolest things I ever seen in a race that big.
[Laughs] Right on. Everyone was just so relaxed on the gate. That was going to be our last time there for a really long time, so we decided to make it fun. We're all pretty close in speed, minus a few mistakes. We're all good friends and we all get along.
Well, by the time you guys come back, Kevin Walker will have 37 titles.
[Laughs] More than likely! He'll still be going, I'm sure.
Wil, congratulations. We'll all be looking forward to seeing you ride on a supercross track. That Toyota program, it's a pretty sweet deal.
Yeah, definitely! I can not thank Toyota enough for doing this, and also Bobby Regan for being in on it. I think it'll be a really good deal, and I look forward to showing them what I got.
So are you still racing Millville, or is that off?
It's off. But I'm going up there to watch and cheer on my brother and Trey Canard and Nico Izzi.