5 Minutes With ... Tyla Rattray
Although Tyla Rattray's past few seasons have been chronicled with many race victories, the Red Bull KTM rider also had several unfortunate injuries which have kept him from winning his first World Motocross Championship. Tyla came into 2007 with a more consistent focus of podiums and no injuries, and while he has been on the podium in virtually every moto, rival Antonio Cairoli has been both consistent and winning. Now third in the MX2 points chase behind Cairoli and Christophe Pourcel, Rattray is refocusing on race wins. With the recent announcement of the soon to be 22-year-old re-signing with Red Bull KTM for another year in MX2, I caught up with South African at his home in Belgium as he prepared to leave for the Czech Republic GP to get his take on the 2007 season.
Racer X: You're mid-season in the World Motocross Championships MX2 class. What are your thoughts so far, Tyla?
Tyla Rattray: It's okay I guess; I'm lying third in the championship, close to Pourcel, but quite far from Cairoli. I'm a bit disappointed with myself for letting Cairoli get away in the points like he has. The strange thing is that last year I won the most GPs of the riders in my class, but lost the championship because I wasn't consistent enough. So this year I concentrated on being more consistent and have had podiums at almost every race; which would have had me leading the championship at this point last year – but this year it is just not enough. I am not really thinking about the championship right now; I just focus on each race at a time – it's been a while now since I won a GP, so I want to win badly, very badly!
Cairoli has been pretty dominant, but you seem to be right there, especially as the motos near the end. What is the one thing that you feel you need to do to beat him?
The main things are the starts and the first ten minutes of the motos. I sometimes have just taken too long to get going after getting a bad start, then Cairoli gets away. That's what I have been working on, and it's getting better for sure.
Lets talk about Stefan Everts; how has working with the "legend" affected you?
Stefan is very experienced, so I think that all the KTM riders learn from him. He advises us in different situations and helps out a lot on the track with finding good lines and things like that.
In spite of many earlier rumors to the contrary, you re-signed with the Red Bull KTM team for MX2 again next year. Can you talk about that?
There were some good teams interested in me here for the World Championships in both the MX1 and MX2 classes. There was also a little bit of interest from two of the teams in the U.S. The best offers that I was getting were from the MX1 teams here, but I felt that my heart was still in the MX2 class – so that is what made my decision to stay. The KTM team over here is really a true "Factory" team, and I am very happy with the bike, and the way everything works here, so I didn't think that I needed a change. I was looking forward to coming to America, but I just didn't manage to get everything sorted out like I would have liked.
America is still in your plans though?
Jim, I think that if I could get into a really good and proven team with good bikes, then I would come. For two years now I have been thinking of coming over to the States, but then things went wrong with injuries, and that has slowed down my decision to come to the U.S. If I come there, I want to be on a good team and have the right people around me. I also feel that if I could win the world title that it would definitely help me get the right set up in America.
You have competed against both Pourcel and Townley who have done very well in America; does that give you an indication as to where you would be if you came here to race?
For sure it helps a lot when guys from the GPs go over there and do well, and it does give you a good feeling of where I might be as a racer. But I still know that it will not be easy and I know that the top guys in the U.S. are very good riders.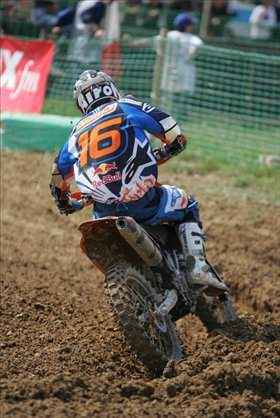 Rattray will be representing South Africa at the 2007 Motocross of Nations

photo: Steve Bruhn

Let's hear about your plans after the World Motocross GPs end. You'll be doing the MXON, right?
For sure I will race the MXoN at Budds Creek; I am really looking forward to that, and hoping for a good result for the South African team. I will race the MX2 class, and (Grant) Langston and (Gareth) Swanapoel will be on the 450s in the other classes. Actually, I would like to race Glen Helen before the MXoN. It is the weekend after the final Grand Prix, so it could be possible. I have spoken to KTM about it already, so we will have to wait to see if we can get it all arranged. I really enjoy the American motocross scene, so I would think that it would be great if I could get to race there. I will do a few international races after that and possibly some supercross races over here in Europe too.
Tyla, you were certainly a favorite to win the World Motocross MX2 Championship this year. What will it take for you to win the title in 2008?
You know, next year Cairoli will be the favorite to win instead of me, and I think that I will prefer that. I am working very hard on a few things, and I believe that it will just be a few small improvements that I need to make to get it done.
Anything you want add?
Just a big thanks to all my sponsors and supporters. Also, I'm really looking forward to traveling to the U.S. in September!