Between the Motos: Dr. Steve Augustine
The Asterisk Mobile Medic Unit is one of the best things to happen to professional racing in the past twenty years. When a rider is injured the last thing he needs is an ambulance driving teenager that just got his medics license calling the shots. Dr. Steve Augustine is one of the doctors that makes sure riders are taken care of at all of the AMA pro motocross and Supercross races during the season. Now, Dr. Augustine is taking things to the next level. We spoke with him about his plans for the future of action sports medicine.
Racer X: Watching how quickly and professionally you guys handled James Stewart in Unadilla when he crashed just reminded me how lucky we are to have you guys here.
Dr. Augustine: Thanks Ping. The whole program has certainly come a long way. When we started in 2000, Dr. Bodnar and I would show up at the races with a medical bag in hand. It was tough then because we didn't have any place to work out of and really nobody knew who we were. Now, we've built a reputation and the riders and industry know who we are and what we're trying to do. It's gotten so big so quickly that people forget that we were putting stitches in riders at Southwick on a lunch table just five years ago and taking care of riders in borrowed motorhomes. It is a great onsite medical program now.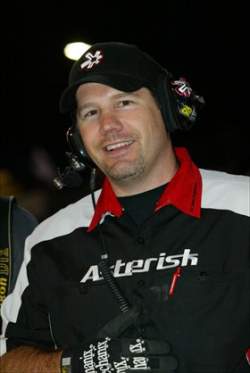 Dr. Steve Augustine

photo: Steve Bruhn

You guys have all done a great job of earning the trust of the riders and industry as a whole.
There are a lot of people that want to get into this industry so it makes it tough to hire people and also to get people inside the sport to trust you initially.
You are looking to implement a program into the amateur motocross scene, and action sports in general, similar to what the Asterisk unit has done with professional motocross. What can you tell us about that?
My ultimate goal is to raise the level of medical care at these events; not only at the pro level but at the amateur level. The next step is to cover the amateur nationals. That said, I created the Action Sports Medicine Foundation (ASMF) in 2003. ASMF is set up to provide onsite medical care to action sports like motocross, surfing, BMX, wakeboarding and skateboarding. We started in the Jacksonville and north-central Florida area where we are based. It is a non-profit organization so the only way we can grow is to increase donations. It is completely free to the athletes. Research is something I like to do so the other side is research based. I am working on some things right now regarding safety equipment and concussion research and that sort of thing. We just don't have anyone doing research on those things in our sport. Anyway, our focus is to take care of the amateur motocross racers.
And you guys are starting all this at Loretta Lynn's, correct?
Yes, that is our debut. We have enough sponsorship that we are going to be at Loretta's in force with three athletic trainers, a doctor and a physician's assistant. We will also be doing the Mini Os this fall. We've done that event before but this is the first time it will be under the ASMF banner. We've got a funmover to use a vehicle and basecamp for our operation. It's not nearly as big and nice as the Asterisk setup but we hope to continue to grow it as we go. We will have athletic trainers at every event in the near future and doctors whenever possible. Ultimately, I would like to be able to cover supermoto, hillclimb, arenacross and all the professional disciplines. That is just going to take some time.
Do you have any major backing as of yet?
We do have Leatt-Brace, which has come on as a title sponsor right now. They have committed to us for five years so that is great. If you look at the budget of running a medical program like we're doing it is unreal; medical equipment, insurance, a driver, expenses total around $300,000. A lot of that money in the past has come out of my wallet. So, Leatt-Brace getting on board is huge.
So, the number of events you attend and your rate of growth depends entirely upon contributions?
That's right. Kawasaki has donated a Mule for us and we have had an ambulance-type vehicle donated but there is still a lot of expense getting our team to the races. Road to Recovery is also helping us out tremendously. They pitched in $5,000 to get us to Loretta's this year. Jacksonville Orthopedic Institute, where Eddie (Casillas) and I work during the week also supports what we're doing.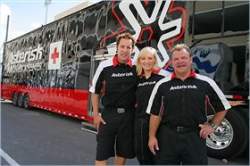 The Asterisk Mobile Medic crew

photo: Matt Ware

What events do you see in the near future if your funding continues to grow?
We want to get involved in X Games and every facet of AMA professional racing. We already have Christine, one of our team members, covering every round of the Dew Action Sports Tour. That is a big step for us as well. Hopefully the rest of the amateur nationals and all of these organizations embrace what we're doing and invite us in because, in the end, everybody wins.
What do riders attending Loretta Lynn's look for if they need help there in Tennessee?
We have our ASMF RV right next to the medical trailer and also a place in the pavilion where riders can go to cool down or get an IV if they need it. Anything we can do, within reason, to help the riders out from a medical standpoint we are going to be doing. We are also going to be providing more educational stuff. We want to be able to educate people about concussions, nutrition, hydration, training issues and all of the things that racers deal with. I think education is key to keeping people healthy.
Do you have a website where people can check you out or donate?
Yes, they can donate directly at the website www.asmfjax.com or they can check out the Jacksonville Orthopedic Institute site at www.joionline.net.
Doc, thanks for everything that you have done and are working on to keep riders in our sport safe.
Absolutely. Thanks for the time, Ping.