5 Minutes With ... Damon Huffman
Damon Huffman has a couple of spots in supercross history. He has a pair of AMA 125cc West Region Championships, ranks high on the all-time 125cc wins list, and will forever be remembered as the first winner of the Rockstar U.S. Open of Supercross, which celebrates it's tenth anniversary this October. (And Damon was the guy on whose back seat Shane Trittler landed in what many consider the most bizarre crash in SX history.)
"Huff-Daddy" retired from pro motocross a couple of years back to focus on raising his family and working in the real estate market, but he didn't stop riding all together. And now that the market is doing poorly, he's using his extra time to work with younger riders hoping to improve their motocross and supercross skills.
Racer X: Damon, it's been longtime-no-hear, but I have heard you've been doing some riding again.
Damon Huffman: Yes I have! I've been riding about three to four times a week, just doing my riding lessons. So, I always try to put in a few fast laps just for the fun of it when I'm out there, but most of the time I'm just out there cruising around demonstrating or doing the best I can with helping others.
Tell me more about the riding lessons.
I call them personal riding lessons. They're one-on-one, or sometimes I might work with two kids at a time. But, I ride with them so I'm able to follow them around the track and watch the whole entire track and I just try to pick up on what they're doing wrong or what they can do better. And we'll start working on those areas right away. I'm able to demonstrate for them or even have them follow me around the track and show them some different lines. The whole visual part of demonstrating for them seems to really help out a lot.
When did you decide you wanted to do this? I've always known you to be very patient and kind of giving with your fans. You were as apt to strike up a conversation with a fan as any mechanic, which I always thought was really cool. It always seemed you kind of had that in you, but I thought you were maybe going to pursue a career that was completely outside of motocross.
Well, I did. I did try real estate for a year, and it was kind of bad timing—right when I really got my license and got involved, the market really turned down here in California. I definitely wasn't enjoying what I was doing—it was totally different for me. When I closed my final deal, I basically just walked away from it. A week later my phone rang, and a local pro out here wanted me to do some coaching for him before the supercross season, and it just picked up from there. I printed up some cards and the word just started spreading. And where I live, north of L.A., there's not another guy out here that does any riding lessons or that has the experience that I have. It's just been picking up and I've been getting a lot of new calls every week. I just schedule them at the local tracks around here.
How much better do you feel knowing that you're going to work, but you're still putting the gear on, opposed to walking in an office with a briefcase.
[Laughs] Well, believe it or not, it was fun to do that whole office thing for a little while. It was a great experience and I learned a lot, but I worked my whole life to build my name and reputation. It feels good to fall back on that, and to give back. The sport has given me everything that I have, and I'm definitely more of an expert in motocross than real estate.
Since you did do the studying and obviously have contacts, if the market ever turns again and you get tired of putting on the gear, you can always go back and do that.
Yes, it definitely is something I can fall back on, and who knows, maybe some day in the future. It is interesting, and when the market is good, you can really make a great living at it.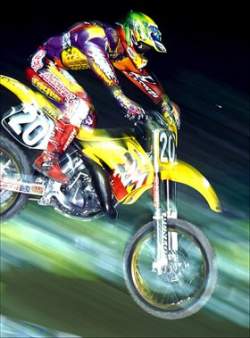 Damon Huffman is back in the saddle giving personal riding lessons in California

This is a weird question coming from a West Virginia laymen: What makes the market necessarily really good or bad in California? Is that possible to explain, or is there too much detail to it?
Basically out here the market is about a 10-year cycle, from what I learned. And right now it's what they call a buyer's market. There are so many homes on the market, and they're just sitting. In the area I live I know there are over 2,200 homes on the market, and they're just sitting there. So the buyer's are able to come in and really negotiate, because they're not getting any other bites. When the market is at its strongest, there are a lot less homes, and the sellers were kind of dictating their selling price. Where we live now, things really got hot for about two years, and now homes are definitely sitting. It's obviously more complicated and more to it.
That does make sense. You always see the exodus where the middle class seems to be moving out of California.
A lot of our neighbors are going to Texas.
Let's switch gears back to motocross. Your old team in Canada, Blackfoot, they're riding Yamahas now. This may have been your first chance to race a Yamaha, right?
I did ride a Yamaha for one year, in 2001, with Motoworld.
Oh, I do remember that. Sorry. Do you keep an eye on what's going on up in Canada, let alone with the AMA circuit?
I'll just kind of check the results for the Canada stuff. All the supercross and motocross, I think I follow every single race either on TV or I go to them live. But I definitely TiVo them and look forward to watching them. When I was racing I really wouldn't watch it because you're doing it every week and you're there. But I'm definitely more of a fan being on the outside, and I love watching the races and just seeing something that was gnarly or something little that the average guy probably can't even see. I know how hard it is and I know how gnarly the tracks and obstacles are. All the time when I'm watching Stewart and Carmichael I'm just like, "Dude, did you see that!" Their speed is really impressive. It's a big difference when they do pan back and show some of the other guys in fourth or fifth.
Let me ask you this: How would you narrow that gap between where Ricky and James are to the other guys. I always see these online debates about the track are too easy or too hard, the bikes are too fast, etc. You were someone who was there, so what would be your first move?
The thing is, it doesn't matter if the track is easy or hard, muddy or dry, Ricky and Stewart are still going to win. Yeah they're on great equipment, but it's something they have inside of them that makes them one little notch ahead of everyone else. It's the same thing that Tiger Woods has in golf. It's just that little something extra that makes them be on the top level of their sport. To narrow it down, it just takes a very special weekend for another rider to get up there. Right now it's very rare that you'll see that happen. But what they have, I'm not really sure. I guess that one time I had it in supercross in the 125 class, where I was just a notch ahead of everyone else. It's just an instinctive intangible quality inside them.
If you were the czar of motocross or supercross, what tweak could you make to tighten that back up?
You know, I don't really think there is a whole lot you can do because it is an individual-type sport and it's the rider on the sport that is doing everything. Motocross is like any other individual sport where it's purely the rider or athlete that takes them to that next level, not just the bike.
Speaking of bikes, you're riding a Suzuki again. That has to be pretty cool for you.
Yeah, I did a little PR work for them early in the year and they gave ma a new 450 to ride.
Do you have the #20 on it?
[Laughs] I still have the warning stickers on it! I'm riding some cool Fox gear, but when I'm at the track, I have nothing to prove. I'm not trying to get faster anymore and I'm not putting in motos. If there is a faster kid out there pinning it, I'm like "Go ahead buddy!" There is still that feeling that creeps in where I'll do a couple laps to see if I still got it, then I will.
You have nothing to prove—you had a solid career, a couple of titles and now a beautiful wife and family. I think that your race is run, but you still can ride fast.
Yeah, I feel I have the speed, just not for a lot of laps in a row. I have different priorities, like changing diapers. I definitely feel that I've accomplished everything that I'm going to accomplish in the sport.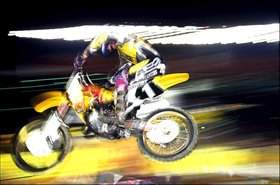 Huffman won back-to-back 125cc Western Regional SX championships in 1994 and '95 riding for Team Suzuki

Maybe your next big accomplishment will be some fast kid out of Canyon Country that turns out to be the next big thing, and you'll have a hand in that.
Or, I've been thinking about running the Lites class in supercross. What do you think about that?
It's not a party unless everyone's invited! If you came out, we can get you with Ramsey. Oh, he already pointed out! Anyway, how are you going to feel if someone snags #20?
I don't know. Some people think the lower the number the better you are, but that's not necessarily the case in our sport.
How can people get in touch with you, Damon?
I still have www.damonhuffman.com, but it hasn't been updated in a long time. But I'm thinking about getting that up and running to have information about my lessons and how to contact me. But for now, my number is 661-904-4804. And that's the best way to reach me right now. I'm available Tuesdays through Saturdays, and I've been getting a lot of positive feedback and it's been fun.
Maybe when I come out I'll call you and you can teach me how to look really cool in a corner.
Oh yeah, everyone needs help in the corners!