Privateer Profile: Mitch Dougherty
Mitch Dougherty won a championship at Loretta Lynn's on a 50. Since that time he has been a Team Green rider and one of the fastest prospects out of upstate New York. He's getting a chance to prove he can ride a big bike at the pro level with the proven Honda support team, Moto XXX.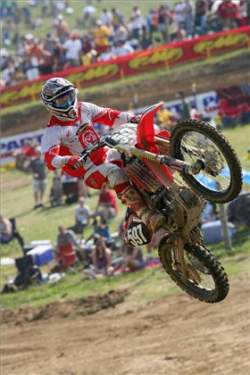 Mitch Dougherty is the newest member of the Moto XXX Honda team

photo: Simon Cudby

Racer X: You spent a year riding your own bikes and racing on your own dime. That's a rough road, isn't it?
Mitch Dougherty: Pretty much. I started out being happy just getting into the main events when I was first starting. I was riding Kawasakis then but Team Green stopped helping me and I wasn't getting any good parts. That wasn't making it easy. This winter Kawi dropped me completely and that's when this Moto XXX deal came together. Mike Kubic at Perfex stepped up to the plate and sponsored the team and that's how I got my deal. It's been good since then.
Do you get along well with everyone on the team?
Yeah, it's really laid back. They want to do good and everything but there isn't a ton of pressure to go out and win. It is my first year so I'm still learning.
Do you like the bikes?
They are the fastest things I've ever ridden. I haven't had any problems at all with them until last weekend at Unadilla when I had a motor blow apart on me. When I landed out of gravity cavity it made a funny noise and then it just grenaded. I was lucky it did it after I landed.
It's times like that you have to be pumped to have a mechanic.
Yeah, I just handed them the bike and walked back to the pits. That beats having to tear it apart when you get home and fix it yourself.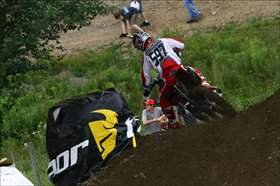 Mitch lost an engine at his hometown race at Unadilla

photo: Matt Ware

Have you been meeting the goals you set for yourself this year?
Not really. My initial goal was to make every main and be in the top-twenty every weekend. I've made almost all the mains except the first two but getting into the top twenty is tough. I've been getting horrible starts and that isn't helping. I keep finishing 22nd and 23rd and right around there.
Where are you from in New York?
Whitesboro. It is a town outside of Utica.
Who do you ride with up there?
I pretty much ride by myself and sometimes with Bobby Kiniry and Paul and Jack Carpenter. We ride at the Stillwell residence, which I saw on Racer X earlier this week. That's where I usually ride.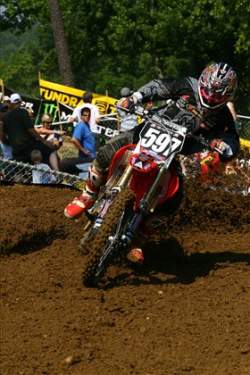 Keep your eye on #597 this weekend in Colorado

photo: Matt Ware

You haven't ridden with your teammates Josh and Kyle much?
I did earlier this year. I stayed a couple weeks and rode with Summey and Kyle. I like Josh a lot. He's a great rider and we get along well. It was nice to ride with him because I always liked his riding style and liked watching him ride.
Have you been to any of the tracks coming up?
Only Steel City. I haven't been to any of the others.
Well, if you like altitude you are going to do great this weekend in Colorado.
I always did well at Mammoth.
So, what's it going to take to break the top twenty?
I've been practicing starts a lot. I am getting better; at Red Bud I felt like I was sitting on the gate watching everyone go. I can't do that. I'm also riding a little slow the first ten minutes of the motos. I need to get my head out of my butt and just race ahead of me right off the start.
Who do you want to say thanks to?
I want to thank the entire Moto XXX team, Mike Kubic at Perfex and my family. My girlfriend right now is a trainer and she has been helping me a lot. She's done a lot for me too.

Mitch Dougherty's sponsors:
Lucky 13