5 Minutes With ... Mike Alessi
American motocross wouldn't be American motocross without Mike Alessi. Yes, he's certainly been caught up in his fair share of controversy during his young career, but then again, Alessi is a sort of throwback to an earlier era of the sport in this nation in that he'll race anyone, anywhere at anytime. A pretty refreshing approach in this day and age where some riders seemingly "hand pick" their racing schedules. Prior to the opening round of the 2007 AMA Toyota Motocross Championship, Mike Alessi took a leap of faith, deciding to participate in the mighty 450cc-based Motocross classification. And with the leap came added maturity and professionalism. This all became quite evident on Sunday July 1 at RedBud when the 19-year-old pulled both holeshots aboard his big orange and black #800 KTM, set sail, led both Ricky Carmichael and James Stewart, and when passed by the superheroes, actually hung tough and kept them in sight (no easy feat). A few days after the Unadilla National — which Alessi very well could have won if not for a little bit of bad luck — Mike Alessi took a break from doing some cycling to talk about his recent rise to power.
Racer X: Mike, what do you have going on today?
Mike Alessi: I just got done doing some road bike riding. I've been working hard this week to get used to the altitude for the National in Denver.
Have you been able to watch the Tour de France at all?
No, not too much. I'd like to, but I've just been to busy getting ready for the races.
I have not been able to attend the last few races, but I was able to watch the Red Bud National on television and was very impressed with your performance there. In your opinion, why did things go so well for you up in Michigan?
I don't really know. I got the holeshot and just got in the zone. I wasn't worried about Ricky and Bubba because I knew they were right there behind me. I just rode hard, looked ahead, and focused. They eventually got around me, but I rode my race. I knew Tim Ferry was coming up behind me later in the moto, but I kept focused and finished third.
Presumably, you had to feel pretty good about the moto you rode…
Yeah, my confidence soared after the first moto because it went so great. In the second moto, I got the holeshot again and led James for over two laps. I also led Ricky Carmichael for almost five laps. They both ended up passing me, but I kind of stuck with them to the end of the moto and was only a few seconds behind at the finish. I mean, I could see them up in front of me. Getting 3-3 there was awesome and getting my first podium in the 450 class was such a great feeling.
Did Stewart or Carmichael say anything to you after the race?
R.C. told me I did a good job and that I rode really good. I was pretty pumped to hear he thought I did a really good job. He also mentioned that he noticed I wasn't looking back during the race. I've been working my hardest at not looking back while I'm racing. And it was awesome to be standing on the podium with R.C. and Bubba. It was R.C.'s last race and it all felt good.
If not for some bad luck, you very well could have won the Unadilla National…
Yeah, after Red Bud I went home and trained and worked hard to get ready for Unadilla. In the first moto I got the holeshot and led for most of the race. Then I came up on three lappers who were in a battle and I couldn't get around them. I then made a mistake and Kevin Windham got me with just two or three laps to go. He gapped me by two or three seconds, but I charged hard the last few laps and came up just a second and a half short of him at the finish.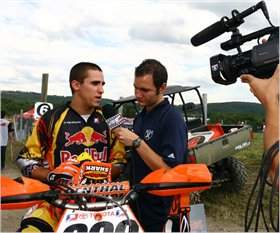 Mike Alessi speaks with Jason Weigandt on the Racer X Motocross Show

You holeshot the second moto, but then experienced a major problem with your goggles. What happened?
Right off the start, in the second turn, a rock hit the plastic piece between the strap and the frame and it broke apart. The goggles were falling off and there was no way I could continue. I pulled in the mechanics' area on the first lap and that really hurt me because I could not gap anyone to build up a lead before I came in to change the goggles. I had to take the bullet right then and there. I lost a good 12 to 20 seconds to everyone. What made it tougher was that it was so early in the race that everyone was close together on the track. Then, as the race went on, I heard Langston went down and that Windham had some problems. I was bummed because I was in front of Kevin Windham at the start of the race. I was disappointed because I thought I might have had a chance to win the overall with a 2-3. It was disappointing. It was just bad luck. To come from 12th or 13th back to sixth, I was pretty happy. I almost got third overall, which is pretty good.
We've heard James Stewart is a question mark for this weekend's National at Lakewood. Have you heard the same thing?
Yeah, I'm not sure if he is racing or not. Whether he races or not, I just want to get good starts and ride well. To win would be awesome. That's a big goal of mine. But I want to be smart, ride hard and get on the podium.
With Ricky pretty much now in retirement, can you see yourself as the guy that might be able to step it up and give James Stewart a run for his money?
I would like to think so. James is out right now, but when he comes back, he'll be fast just like he was before. But I'd like to be the guy up to the challenge of racing with him. When he beats all of us by a minute, it's embarrassing because we all race fast. I mean, without Ricky Carmichael and James Stewart there, the racing is so good. It's way better than the Lites class and it makes the fans want to stick around all day to watch the 450 class because they don't know who will win. With Bubba, I'd like to be the guy to get in there and make him work for it. At least for the first half of the race. When he beats everyone so bad, it's demoralizing.
Are you looking forward to racing together with Carmichael and Stewart one last time at Millville?
I'm looking forward to it, for sure. But now I've heard Carmichael might not race Millville. I've heard he's a question mark there because of his car racing he is doing. I know that is real important to him. If he does race, I look forward to trying to get on the podium with him and Bubba. I'd love to do the same thing I did at Red Bud.
How would you feel about riding on the U.S. Motocross of Nations team at Budds Creek?
I'd love to do it. I've heard R.C. and Bubba will ride the open bikes and Ryan Villopoto will ride the Lites class, but if I were asked to go, I'd love to go. I think the team is settled, though.
I wanted to ask you about the rumor that claimed you were going to Europe in 2008 to ride for the CAS Honda team. Any truth to it?
Not true. Not true. It's completely false. No way am I going to race in Europe. I'm staying right here. I won't be going to Europe.
Your KTM appears to be running very well. Is the bike good?
The bike is getting really good. We recently received David Philippaerts shock with some new settings. (Note: Philippaerts rides for the KTM factory team and is currently fourth in the MX1 World Championship chase). We have also received some other new things from Europe. These thing shave made a big difference in my riding and racing.
Are you looking forward to Lakewood this Sunday?
I am. I'm very positive. I'm doing good and want to keep the same program. I want to go there and ride my best, have fun and put on a good show for the fans. All the fans have been great and have been cheering me on and have stuck behind me. That really means a lot to me.