5 Minutes With ... Mike Brown
Veteran racer Mike Brown produced a consistent day with 4-4 results for third overall at the Grand Prix of Faenza on Sunday. The American racer enjoyed the hard-pack circuit which reminded him of the circuits he grew up on as a kid. Brown is now seventh in the MX1 World Championship points standings. Geoff Meyer spoke with him following the race for MXLarge.com and Racer X Online.
MXLarge.com: Coming to Italy, did you expect to be top three?
Mike Brown: I didn't expect to be here (on the podium). I am good on the hard pack, and I just rode the hardest I can. I want to win, but there is always someone faster. Most of the tracks I have been to in Italy are like this; it was a good track, really fast and good for the racing. I don't know if I can win a GP if I keep riding like I am. There are a lot of different guys winning, I am getting older, but I am doing all I can to win.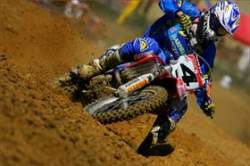 Brown finished on the podium in Italy

photo: Geoff Meyer

Can you win a GP in the future?
There are a lot of good riders out there. Sebastien Pourcel had it dialed all weekend. I think the best guy on the weekend won. I like it hot like this; it's my temperature. Not sure yet what I am doing in 2008. Talking to a few people here, getting used to it again over here in Europe, and it's more relaxed, I want to stay for sure.

How did your weekend start, did you enjoy the circuit on Saturday?
Qualification was good for me on this track. Each practice got better and better, (but) the timed practice I messed around there a little and was getting a little nervous, then right at the end of the qualification I got a good time, which put me fifth, which is the best I have ever done in qualification. The track suited me. I like the hard stuff, and it was a lot like the tracks I grew up on, hard packed and slippery.

In your first moto, you looked comfortable out there. Did it feel that way?
First race was good. I got the good start like normal—it seems like once I shift into third gear I am gone. I felt like I had the good speed, but I got a little tight again. Pourcel passed me and I settled into second place. I backed it down a little. I didn't want to hurt myself on this track—you know, your hand slipping off the handelbars or something. Ken (De Dycker) got me and Josh (Coppins) also. I started feeling good at the end, and closed in on Ken a little. I figured with my condition I could do well in the second moto.

Your second moto your start wasn't as good.
Second moto I was riding okay. I was able to make up some places and finish third overall for the day. It's hard work, that second moto, but I figured my condition and training would get me through. You always want days like today to show you are doing the hard work.