5 Minutes With ... Josh Coppins
Josh Coppins continues to show great form this season. Despite missing out on a podium place in Sweden two weeks ago he came back to nearly his best form to finish with 2-2 results and second overall in Faenza, Italy. While he missed out on winning his 11th Grand Prix, he did make up a bunch of points on Steve Ramon. With a lead of 107 points and just five rounds remaining (and 250 points available) we can start counting the days before the New Zealander is crowned World MX1 Champion. Only an injury or serious mechanical problems can stop the New Zealander now (knock on wood!).
We sat down with Josh after he finished second in the Grand Prix of Faenza and asked him about the weekend and also about his championship challenge.

MX Large.com: How did you feel in Faenza? At first it looked like you were struggling and after Sweden I thought maybe you were feeling the pressure of the championship, was that so?
Josh Coppins: All weekend my times were not the fastest, but they were consistent laps. The track was really wet in qualification and I knew I had to wait for the lines to dry up and then put the foot down. I felt okay, I probably didn't look that great early in the opening moto because I was getting held up. It was frustrating, I couldn't get around them, I couldn't get past, so I had to wait to make a pass. I felt very really good at the end of the opening moto. The disadvantage was that I went really deep into the first one, and I missed out on the overall.

Losing points to Ramon in Sweden, did that worry you at all?
It's not that important (the points situation). I had nearly 90 points on Ramon and he pulled points back on me in Sweden, but that was the first time he pulled points on me, then I got a bunch of points back in Italy. I had a bad day in Sweden and I knew I would get those points back quickly. I wasn't concerned (about losing more points), we did some work on the bike and I felt confident coming into Italy.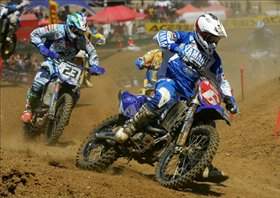 Coppins leads the pack in Faenza

What do you need to do to get back on the top of the podium?
I need to improve my hot laps (Saturday qualification), try and get a better qualification spot, but at the same time I know my condition is good and I know I can do seven or eight laps on a fast speed and the others can only do one lap. I want to win some more GPs. When you race today with somebody like Sebastien (Pourcel) it's good, because you want to win and you're pushing for that.

Did you enjoy the GP of Faenza?
It was nice to race on a circuit like Faenza, something a little different, hard pack and fast. I think the track was awesome, they did a good job.