Kawasaki/Racer X Race Report: Unadilla
This was the race we've all wondered about. What would happen if you removed
Ricky Carmichael
and
James Stewart
from the racing mix? We found out over the course of one weekend at the historic
Unadilla
Valley
Sports
Center
. Both of the big stars didn't race, which ended up causing what motocross fans expected: a big battle between a bunch of riders. It might even add a little motivation to the pack, too. When the checkered flag fell after two wild motos, Sobe No Fear/Samsung Honda's
Kevin Windham
had a 3-1 score and his first AMA/Toyota Motocross overall win in nearly four years. Just a few weeks earlier, terms like "burnout" were swirling around
Windham
, and top finishes were hard to come by. But this was a much different race weekend than the ones before it.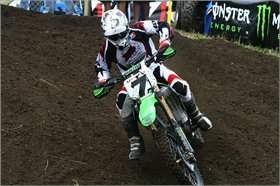 Stewart's weekend didn't last long.

It started when
Carmichael
didn't. For the first time since his professional career began in September of 1996,
Ricky Carmichael
was absent from the starting line of an AMA Motocross National. RC is headed into retirement now, and
Unadilla
was never on his list of tracks to race on in 2007. That opened the door to Stewart. He skipped Saturday practice as usual, but showed up and immediately clocked the fastest lap early in Sunday's qualifying sessions. Then he crashed hard, sliding and then high siding into the ground. Qualifying was red flagged, and Stewart laid on the track, visibly shaken. He barely moved at all, eventually getting strapped to a back board and taken away in an ambulance, talking of back pain. He was out for the day, at least, with the whole racing industry holding their breath and hoping he would be okay.
Not much was known of Stewart's status after that, although word is he did have feeling and movement throughout his body and was flying back to his doctor in
Florida
for more attention.
Then attention shifted to about six other riders in the Motocross class—they were suddenly all potential winners! Just one second separated the top five in qualifying times, and to make matters even more interesting it started raining just minutes before the first moto. Mike Alessi grabbed another MotoTees Holeshot, with a snarling pack right behind him. Soon the race broke into a series of battles: Alessi and Windham out front, Andrew Short and Ivan Tedesco next, then Grant Langston and Tim Ferry. Eventually Ferry got around everyone into third, and then Windham made his move on Alessi. Near the 28-minute mark of the race, Alessi made a mistake and Windham blasted past, enough to take his first moto win since the first moto on this same track two years ago. Alessi was second and Ferry tipped over on the last lap, throwing away third and handing it to Langston.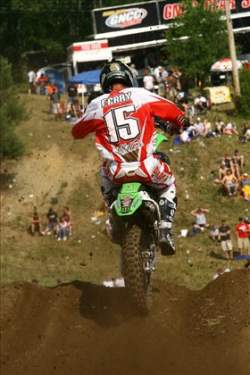 Tim Ferry rallied to win moto two, going 5-1 to finish second overall.

Moto two's holeshot went to
Davi Millsaps
, who started near the front in moto one but faded to seventh. This time Millsaps was game, pulling a small gap over his Honda teammate Short and leading half the moto.
Windham
was in third and content, as Alessi had goggle problems on the very first lap and had to stop in the mechanics' area for a new set. He had started right with
Windham
, but the pit stop ended his bid for a win.
At the halfway mark, Millsaps threw it away, washing out in a simple left-hand turn. Then Ferry went on the attack, passing Windham and Short to take the lead. Windham didn't put up a fight, knowing third was enough for the overall since Ferry took fifth in moto one and Alessi was back in sixth after the goggle troubles. It was a wild day, and Windham emerged the winner. He was happy, but measured his words carefully in the post-race press conference.

"The win is good," said
Windham
. "But so is spending Father's Day with my daughter, and I've spent a lot of weekends by myself in hotels. Lately, I've started to get feelings like I did back in '02, which is basically the worst feeling I've ever had in my life as a racer. I could sense burnout approaching. I'm trying to take a more proactive approach this time. The win is good, but you get to a point in life where other things are important, too."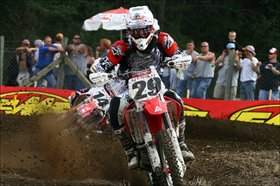 Andrew Short nearly won the second moto, he surely is looking forward to running up front again in his native Colorado next weekend.

As for Ferry, there's no doubt where his motivation is. "I just tipped over in the first moto," said Ferry. "That was about as mad as I have been in between motos for a long time. I told those guys in the truck that I was going to win the second moto."
Will Stewart be back for next weekend's race in Denver? That's not yet known. Amazingly, Carmichael still holds the points lead, and Stewart still sits second, with Ferry third.
The Lites class was supposed to be the predictable one this weekend, but that went out the window as soon as points leader Ryan Villopoto crashed on the first lap of the first moto while trying to pass Ryan Dungey for the lead. Villopoto went back into the pack, while his Monster Energy/Pro Circuit/Kawasaki teammate Ben Townley went around Dungey to take the lead. Villopoto then put his head down and charged back to fourth, trying hard to get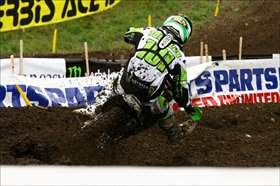 Ben Townley got right back in the hunt.

around
Broc Hepler
, who was back in action after a long layoff with injury (and making his debut with Yamaha). Villopoto ran into the back of Hepler in a corner and crashed again, and when he got up, radiator fluid was pouring from his machine—apparently a rock did damage even before the second crash. RV was out, and Townley took the win and the points lead. Dungey and Hepler were second and third.
Villopoto flat smoked everyone in moto two, winning wire to wire. Townley crashed on the first lap himself and had to rally from the back, getting around Josh Hill, who was strong early. That put him into third, which was enough for the overall, but he went after second-place Dungey anyway to try to score maximum points. They battled to the very last lap, but Dungey held on. His Makita/Suzuki team thought his 2-2 was enough to win the overall, but Townley's 1-3 edged him by a point.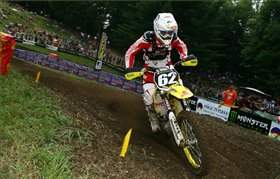 Ryan Dungey came off the injured list to nearly grab his first-ever overall win.

Now Villopoto and Townley are tied for the Lites lead, and the Motocross class could be totally up in the air. We're halfway through the series—you had better stay tuned.