5 Minutes With ... Ivan Tedesco
Suzuki put to rest the rumors that David Vuillemin was going to return to the factory ranks with Makita Suzuki today; it's confirmed that he is going yellow in 2008. In their press release they mentioned that Ivan Tedesco was leaving. We didn't get the rest of the story, but it's been rumored since Hangtown that the former AMA MX Lites and two-time SX Lites champion is going to factory Honda. We didn't want our readers left hanging, and since the cat was out of the bag, we decided to check in with Ivan and see what he had to say this afternoon.
NOTE: Factories like to keep the first official word on a team assignment for press releases, so we didn't expect Tedesco to t ell us everything, but we have to try...

Racer X: Ivan, we just wanted to check in since your name came up on the Makita Suzuki press release about David Vuillemin in 2008. Before we get to that, how's the racing going for you?
Ivan Tedesco: I actually felt pretty good at Budds Creek at my first race back. I needed to get on the track in race conditions to see where I stood and things went okay. I want to forget about RedBud. That was just one of those days I guess. I have been working really hard and look forward to racing this weekend at Unadilla.

I guess it's confirmed then you are making a team switch for 2008. What's up? Can you say officially where you are riding when 2008 starts?
Yes, I have signed a two-year deal with a factory team. I want to leave the press release up to them but I can say that I am very excited and feel like it will be the thing that I need to get my career heading back in the right direction.

We know your supercross season went bad just a few laps into the first Qualifying Practice at Toronto. Do you feel that you have been back to 100 percent for a while or did this become a situation when you ride hurt, break something else, get better, break something again, and you don't catch up?
That's about it. I went to Canada feeling as strong as I have ever felt. After the injury I probably tried to come back too soon and found myself trying to race myself back into shape. I never really caught up and kept having little setbacks. When I crashed practicing for the nationals I just knew that this was not going to be the season that I would put at the top of my resume.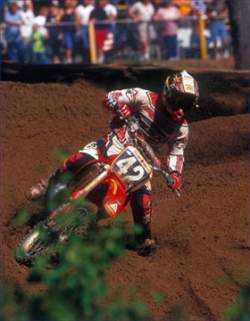 This is what Ivan looked like on a Honda back in 2001

What do you think Roger meant when he said "We are very disappointed that things didn't work out with Ivan?"
I think that he was talking about being disappointed for me with the injuries. Roger knows that I can ride and is as frustrated as I am that things just didn't work out like we all thought that they would.

Were you able to get released so you can ride the U.S. Open on next year's bike?
I did ask to be released one month earlier than my contract states so that I could begin practicing with my new team. I appreciate that Suzuki agreed to my request to be released a little early. I'm not sure what my new team will do regarding the U.S. Open.

Is everything going to be cool at Suzuki for the rest of the summer? We learn of team switching all the time but don't get to talk about it in the open that much - but you have seven nationals to go. Will that be weird?
I honestly think that the news being out will help me. I have known for a while that I was leaving but promised Suzuki that I would not talk about it until they had another rider signed. I have also committed to Suzuki that I would ride as hard as possible and continue to give them everything that I've got for the remainder of my contract and I know that they will continue to support me with all of their efforts.

For the record, was the contract business smooth and are you and DV talking?
Everything was fine. I'm really happy for David. I have had my new deal in place for a while so there is no reason for any hard feelings with David. The press release that Suzuki sent out today was not really clear on a few things. The part about being replaced by David and released early actually sounded like I was being fired. I actually went to them and asked to be released a little early. No biggie. I have received several calls and e-mails today from Suzuki people apologizing for the wording of the release. It's all good. I'm really looking forward to the future but don't want to get ahead of myself. I still have a job to do here and want to put my Suzuki on the box before the season ends.