Tomorrow must be James Stewart day: 7/7/07. That would be a silly play on numbers if not for the fact that the date coincides with the first weekend of MX Life After Ricky. After 149 wins—including the first five nationals in a row this summer—Carmichael is sticking to the plan, skipping Unadilla, and hanging up his #4 plate until at least the X Games. That means next week's race will almost certainly be "BubbaDilla-cious" and the points lead in the premier class of the AMA Toyota Motocross Series will belong to someone other than RC for only the second time since 2001. The last time? When James won Hangtown '06 to open things up.
What Carmichael did in the five races he rode this summer (so far, he is still due at
Millville
) is nothing short of remarkable.
Red Bud
—an amazing event, from the moment we rolled in the front gate at dawn on Saturday to the moment we left early Sunday evening—was the perfect race for him to bow out, though James did all he could to wreck the farewell. The fans were treated to two frantic, exhilarating motos, and everyone went home happy (especially after Carmichael threw what must have been the biggest whip EVER off LaRocco's Leap).
Racer X and Motocross.com were glad to be part of it, as the Speed TV people let us once again tap into their satellite feed. After two years on a less-popular channel, the TV deal has helped turn things for the series, in my opinion, as the AMA Toyota Motocross Championships are featured on Speed TV, just like the AMA MotoGP, AMA Superbike and the AMA Supercross Series (which also has dates on Speed TV).
Also, don't forget our Racer X "Off-Weekend" Motocross Show on Motocross.com, which will go up tomorrow afternoon, hosted by Jason Weigandt and featuring a wrap on thing up to now in the series, plus a glimpse at some of Troy Adamitis' recent footage for The Great Outdoors, his superb series. Look for it tomorrow afternoon on www.motocross.com.
One of the highlights captured by
Wes Williams
and his crew in our pre-race show was
Ryan Dungey
's spectacular crash on Saturday afternoon in practice over the first big ski jump. The Makita Suzuki literally whipped it too hard to the left as he tried to scrub the huge jump, and he was still sideways when his two wheels touched on the lower knuckle of the downhill tabletop.
I just happened to be starting there with Wes as we were filming the first of our Motocross of Nations commercials, and it was one of the scariest moments I have ever been a party to at a motocross race. Ryan lay there, knocked out, for a good three minutes, his body twisted in a way that seemed unnatural and painful.
Fortunately, the AMA crew and the Asterisk Mobile Medics were on the scene quickly, practice was immediately stopped and the title contender took a ride to the hospital. Everything checked out okay, though it was obvious he had some head trauma. So he and his family and team decided that he would sit Sunday out, basically dropping out of the championship. For that decision, this young star—like Broc Hepler—needs to be commended. Here's hoping both are back at Unadilla.
Out front in the Lites class, the Monster Energy/Pro Circuit Kawasaki duo of Ryan Villopoto and Ben Townley were so far out in front of everyone else it was ridiculous—this after Townley almost missed the race with a stomach ailment that had him at a hospital in South Bend, IN, for much of Saturday evening. (J.H. "Rudy" Leale must have actually enjoyed being so close to the ghost of Knute Rockne and all those other Notre Dame greats!)
Speaking of Notre Dame, what the Fightin' Irish are to college football in stature and history—and in success in their golden years—is what Pro Circuit has become in the Lites class outdoors. If you're a kid coming up through the ranks, how could you not want to play there?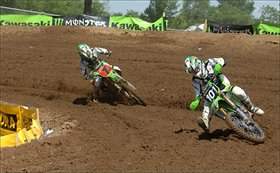 Ben rode hard after a long night at the hospital, leading much of the second moto
So what was wrong with Townley? It was lingering bruise, apparently, from a crash earlier in the week. He didn't decide to race until after he spent a long time on his exercise bike on Sunday morning, working up a sweat to make sure he wasn't going to get all weird during the race.
Red Bud is known for its crazy, fun-loving, all-American (and some Canadian) fans. They were loud, funny and enthusiastic all weekend long—especially the guys right across from the pit gate who basically held a weekend-long rave near LaRocco's Leap.
Kevin Windham and Chaplain Steve Hudson decided to venture out into the camping area on Saturday afternoon following practice, and Racer X contributing shooter Carl Stone went along as their muscle (okay, cameraman).
"The fans could not believe he was there just hanging with them and talking to them," said "CStone" later on. "Kevin even made his own 'Beer Hat' to match one of the guys there, and then proceeded to play that bean-bag game with them for about 15 minutes or so. Kevin sure is great with people and he sure seemed to be having a good time."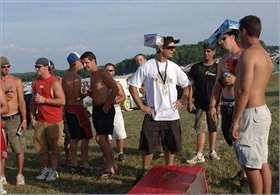 One of these guys is one of the best in the world at tossing bean bags; the other races dirt bikes
CStone was quick to add, "Even though he was wearing the Beer Hat, K-Dub was only drinking water with protein in it!" In all honestly, the way he rode Sunday, a cold beer might have helped.…
Mike Alessi had what may have been a breakthrough race. He and his father talked all weekend long about getting a whole new suspension setup, and it seemed to do wonders for the one-time Wonder Boy of the AMA circuit. Mike even nailed both holeshots, which means I owe him my Supercross: The Game board game!
What was cool was that Alessi had a little something for both RC and Stewart as they came through each time, and they showed him some tough love right away. But Alessi seemed to soak up every second he was around them—even in the press conference. Suddenly, skies are looking blue again for #800 …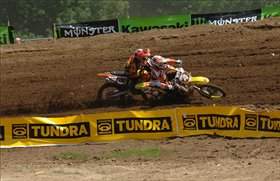 Mike got a rude welcome from RC out front, but he enjoyed every second of it
… And #801 didn't do bad either! Here's a nod to
Jeff Alessi
, who may have had his own breakthrough race at
Red Bud
. When was the last time a pair of brothers finished in the top-ten of the premier class in an AMA Motocross National? It must have been
Bob and Billy Grossi
, way, WAY back in the day. Anyone got an idea, please send it to:
Letters@racerxill.com
.
You know what would be a cool four-man heat in the Moto X competition in the upcoming X Games? The Alessi brothers vs. the Pourcel brothers. Winners take all!
Mike Alessi jumped six spots on the Racer X/Toyota Power Rankings, which was quite a surprise to me, as well as to one of the riders he passed, as we found out in a note from Steve Matthes:
"Just thought I would drop a note to remind all of you voters on the Racer X/Toyota Power Rankings that the riders read it and will hold you responsible. I got a call from some guy named Tim Ferry and he wanted to know if I worked for Racer X and if I was responsible for the votes. It seems that Mike Alessi passed him in this poll and it's caused him great emotional distress. He agrees that Mike rode great and beat him straight up, but he doesn't think you people should move him up just for one race. This is not the first time I have gotten complaints, as Nick Wey has also told me he's not happy with his ranking. I implore all of you to realize that with great power comes great responsibility and besides, if the riders ever realize that they just have to scroll and read the small print for your names, you might all get some packages that are ticking."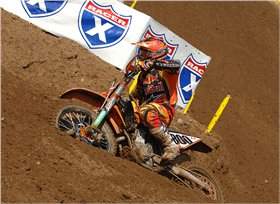 One good race and people are believing the hype again already!
Have you spotted those ESPN commercials starring RC? It looks like they were filmed at his Florida SX track, then they added in drawings of people and grandstands and the finish line and all. Certainly a good time to be featuring that man in the ads!
Just got a call from an old friend—Damon Huffman—who was on his way to Lancaster in 105-degree heat to give a personal riding lesson. Damon and his wife, Heidi, have two boys, he's enjoying the life of a retired racer, and he's also enjoying doing some riding on the bikes his old friends. Look for an interview with the two-time AMA 125cc Supercross Champion next week.
Every month you're bound to spot Travis Pastrana in a non-MX magazine, and this month it's the August 2007 issue of Men's Journal. Flip to Page 44 to learn some fun things about Travis' crib.
P.S. Pastrana is also featured on the cover of last month's
Penthouse
(at least his name). Spotted at the convenience store. Seriously.
Let me turn this over to Ping…
The latest silly-season rumors have David Vuillemin going to factory Suzuki for 2008. They need a rider that lives in Southern California so they can get the bugs worked out on their brand new 450. There is also talk of Davi Milsaps negotiating with Suzuki as well. If you haven't seen the new Suzuki, it really is a good-looking machine. And it's the first bike to be released with electronic fuel injection. It doesn't have an electric start, as some people thought, but it does look a lot like Suzuki's 2007 250F and that bike is phenomenal.
I asked Honda's Dave Chase if their new CRF450R would have EFI this year, to which he replied, "We don't know yet." Sweet cover, Dave. The bikes are probably sitting on a dock in Long Beach right now but you aren't sure what type of features they will have? Oh well, Honda has always been secretive about their stuff—and it's usually really good stuff. We will all know soon when the bikes and teams are introduced at the annual Honda dealer show.
Jeremy McGrath has been doing some testing for the Supermoto event in the upcoming X Games. Jeremy rode with Chad Reed earlier this week and again with us at Apex Cart Track in Perris to shoot this very cool video by Simon Cudby. Check it out. Jeremy had another car race last weekend in North Carolina where he ended up 11th after running eighth the entire race.

"I was in between gears on the restart," said Jeremy. "When it went green everyone accelerated and then checked up again. I shifted up when we started to go and then when they slowed I was in too high of a gear. Plus I bumped the wall at the beginning of the race and bent my front end up a bit. It's hard when you have to just show up and race without doing a lot of practicing." Jeremy is still working on getting a car in California to do some testing/practicing in.
The annual Pikes Peak International Hillclimb is coming up soon, and one of the guys trying to break the time record for bikes is former national motocross and Supermoto champion Micky Dymond. Micky loves the event and has partnered with BMW this year to help them develop an off-road motorcycle while building him a machine that could win Pikes Peak. Apparently, Dymond and some of the other top riders are averaging speeds between 80 and 120 mph on the climb that takes just over ten minutes. The event takes place just outside of Colorado Springs, and it is a week-long party that draws cars, bikes, buggies, unicycles and just about anything else you can drive up a winding mountain road. It sounds nuts to me.
I checked in with Nick Wey this week to see how he was feeling. The initial reports from his neurologists are that Nick should sit out through the summer. He wasn't very happy about that report and is going to get a couple other opinions next week. He was playing Yahtzee! with his wife and daughter when I called so it sounds like his activities are pretty low-impact right now. Get well soon, buddy.
Also….. After he was MIA last week in Red Bud, rumors started flying about SoBe/Samsung/No Fear rider Billy Laninovich. I spoke with Billy yesterday to find out what really happened. "I just haven't had a good season," said Billy. "I've been living in Florida with the Stewarts and practicing my butt off and doing the work. That is just making it even more frustrating that I'm not doing well. If I was slacking off and getting bad results I would expect it. This is just really frustrating."

So, according to Billy, he and the team agreed that he would benefit from a few weeks off. Billy is now back in California and trying to figure out why he hasn't been able to put up the results he's capable of. There was also a big rumor going around about a scuffle that he and his teammate
Josh Grant
got into recently.
"That whole thing got blown out of proportion. I called Josh and apologized and the whole thing is over and done. So much stuff got made up that wasn't even true."
So Billy will sit out Unadilla and get back to work at the Thunder Valley National in Denver, Colorado, on the 22nd of July. As far as his plans are concerned for next year, Billy doesn't have anything set in stone. He is currently talking with several different teams but he will not return to the Factory Connection camp in 2008. Also important to note that by not scoring 100 points this season, Billy retains his Lites class eligibility for another three years. I, for one, hope that a change of scenery suits Billy well. He is one of the most talented riders on the track and a genuinely nice guy.
That's all I've got. I'm headed to fabulous Detroit this weekend for round four of the AMA Supermoto series. Check it out if you are in the area.
Good luck, Ping!
Red Bud once again hosted the Legends of Motocross Tour, which Rob Buydos helped organize and Chris Mosher helped get a lot of amazing bikes up there. We put together a Racer X Film to show you a few highlights, including Todd DeHoop on a screaming 1988 RM125, and Mike LaRocco on a '95 Kawasaki KX500. But the real highlight had to be watching Ricky Carmichael whipping his RM250 like an old kidney belt.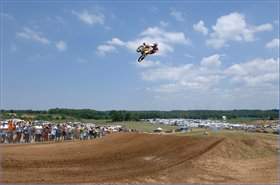 RC whips his RM around for the RB faithful
Funny note from
Chris Smith
:
"During the vintage bike dealio (that RC was there for, just hanging out) on Saturday after practice, Mosher wins 3 plaques and Best of Show for his XR75, one of the 5 sweet vintage bikes he brought. He asks me, 'Do you ride?' I say, 'Of course! 2006 YZ250F (yellow of course) and I rode here 5 hours on my Bandit!' (Ok, my chest did jut out just a bit there). He says, 'Pick which bike you wanna ride, I need help getting them back to the privateer pits.' I nearly died, but manage to stutter, 'I'll ride the 83 CR480, uuaaagggghhhhh!'
"Then Chuck Sun rolls up and HE wants to ride that bike (he's riding it Sunday in the Ride of Legends). Mosher tells me this and I say, 'Uh, I got no problem giving it up to the former national champ.' So I rode around on the sweet 87 CR250 with 10 hours on it (10.5 after I got done, my route back was NOT direct), then took the XR75 back also.
"The next day I helped again with the bikes and was up on the starting line assisting Tom Carson with the '87 CR, my buddies are straining through the crowd, saying, 'Is that Smith? No way!' It was pretty cool."
Check out our new online feature "In Staging," which we put together with the help of MXResultz. We'll be featuring a new amateur racer each week, so show them some support by checking out their profile.
Credit out to privateer
Justin Sipes
(the brother of SoBe No Fear/Samsung Honda's Ryan), who was racing the Motocross class at
Red Bud
. Justin got an awesome start in the second moto and was battling for a top-ten spot when his bike started smoking badly. Considering how dangerous it is to race a bike that could cut out on a track with jumps as big as a national track, it was good to see Justin finally park it before something really bad happened. Eventually, he pushed his bike back to the pits, with the help of his big bro, who was there in support of his brother and his team. Look for Justin and Ryan back on track soon, probably at
Unadilla
.
Team Honda's Tommy Hahn crashed out of practice at Budds Creek and ended up with a bruised sternum and a bruised heart. Yes, a bruised heart. But heart Tommy has, because he was back at Red Bud and rode well, going 5-7 for sixth overall. Yes, Tommy showed heart, just as Townley showed guts for coming back from the hospital to put in a solid ride at Red Bud.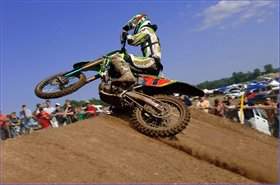 The Leatt-Brace is becoming the standard now, not the exception
Dating back to the
Budds Creek
race a few weeks ago, history was made during the phenomenal second moto battle in the Lites class between
Jason Lawrence
,
Ryan Dungey
and
Josh Grant
. Rumor had it that Grant's Leatt-Brace had fallen off during the moto, so we asked him about it at
Red Bud
for the Racer X Webcast on Motocross.com. Turns out it did happen, as he and Lawrence collided in a corner, Lawrence's elbow hit the clip on J-Grant's brace, knocking it loose. You can actually see the result of this on the Speed coverage of the Lites show, as Lawrence hits Grant from the left side, and when they come back into view, Grant's brace is hanging off. Grant actually passed Lawrence back but eventually dropped off the pace.
"I felt naked riding without it," said Grant, which means the neck brace has become as common to the riders as knee braces (most pros won't even ride a bike without wearing those).
One last note: There's a Loretta Lynn's Warm Up at Gatorback Cycle Park this weekend. This event is open to all racers. Practice on Saturday. Racing Sunday will be 1 p.m. Twenty-minute motos. For more information www.unlimitedsportsmx.com or 813-470-7498.