Welcome to the Shift Number Cruncher. Happy Fourth of July, folks. As the nation takes the day off to celebrate Independence Day we're going to keep this one short and sweet so we can maybe get out to the lake ourselves. We've been waiting to do this one for a while and to be honest I was beginning to worry if I was going to get to run it. You see, we usually wait to crunch a specific rider's number until they bust out with a big race. This week's number is actually one of the most recognized numbers in our growing sport. When you think of popular motocross numbers, the first ones that come to mind are #4, #7, #199… then it gets a little fuzzy. But in my opinion, there is another three-digit number that has struck fear into amateur and pro motocross racers for over a decade. This number may have been looked upon with a scowl here and there, but it was always looked upon with respect of the skills of the rider wearing it. This number has taken a bit of a beating over the past couple seasons but last weekend it returned to its usual form at the front of the pack. It you haven't guessed by now, I am talking about the #800 of Mike Alessi.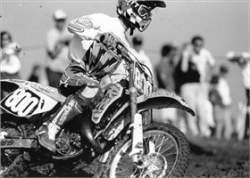 Greg Rand
photo: Jim Talkington
Once upon a time there was a bear of a motocross racer that was scratching his way to the top of the sport. Ask anybody in the Ohio region who is one of the most underrated and naturally talented riders to ever come from that area, and most of them will probably answer,
Gregory "Golden" Rand
. I met Greg and his family on the way to Loretta Lynn's from Ponca City. Their motor home had broken down and they were stranded on the side of the road. So we picked them up and began a friendship that lasted for almost ten years. The only thorn in our friendship was that he ran my beloved #77 when he was Suzuki's top amateur. He was a lot bigger than me and a good bit faster so I usually had to take it with a grain of salt and run an "X" beside mine. Greg made his pro debut at the steel City National running #800. He was cut down by a slew of injuries and never quite made it. He currently lives in Ohio with his family building houses, and he was hanging out at the DMXS party back at the Atlanta SX last year. Man, I need to give him a call!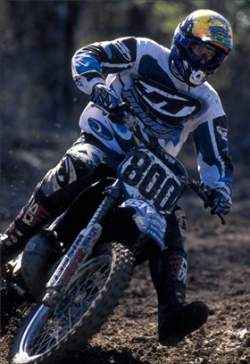 Gene Naumec

photo: Paul Buckley

Gene Naumec is the most popular for two things. First off, he remains one of the biggest motocross racers of all-time. He was around 6'3, 220 pounds when he was 18 years old and this made him a 500cc specialist. Secondly, he gained popularity when he and Jeremy McGrath got into fisticuffs over a certain misunderstanding on the dance floor of The Coliseum one year after the Daytona Supercross. Suffice to say, Mean Gene made his point. (DC's note: I think Gene was the first rider to hammer through the Ten Commandments at Loretta Lynn's supercross-style, rather than jumping two and three at a time.)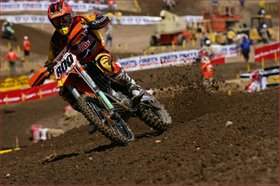 photo: Simon Cudby
Crow is a dish best served cold, and Mike has had to eat a buffet of it over the past two years. It's hard to imagine what it was like for a rider that won everything in his career from 50cc machines all the way to the Four-Stroke classes to suddenly face repeated defeat at the hands of an old rival like
Ryan Villopoto
. Mike has been fighting bike problems, crashes, and had even begun to lose his once invincible holeshot prowess when he showed up to
Red Bud
ready to man-up. Hey man, ain't nobody going to beat
James Stewart
and
Ricky Carmichael
. But
Mike Alessi
gave it a hell of a shot! Each drop of the gate saw #800 round the first corner a bike length and a half ahead of the pack with his sleeves shoved past his elbows. From there he rode hard and led the 8th and 9th Wonders of the World around the rough and challenging
Red Bud
track for two laps. He didn't even back off when RC gave him a forearm shiver when he went past!
The story of the most notorious #800 of all began back in 1993 when Tony signed Mike up to race the World Mini Grand Prix. Patty Moorewood of the NMA told him that he could not have a top ten number so he asked if he could race with #80. Again he was turned down because Michael Blose already had that number. So, Tony requested #800 and that was the story of it!
Okay, that's all I have for this week. I want to wish all of you a happy Fourth of July. Make sure and place those firecrackers on a flat surface, light the wick, and get away fast!