Okay, we're trying it again: Racer X and Motocross.com are bringing you the Speed TV transmission of the first set of motos at Red Bud, live this Sunday afternoon, 1 p.m. EDT, and it's free! That means people all over the world can watch the fifth round of the AMA Toyota Motocross Championship, presented by FMF. Please spread the word! It's your last chance to see Ricky Carmichael before he drives off the circuit for at least the next six weeks. It's our way of trying to move motocross forward.
After the first motos conclude, we will be switching over to our regular Racer X audio webcast on Motocross.com, and you can watch Speed TV's coverage of the second Red Bud moto at 6 p.m. EDT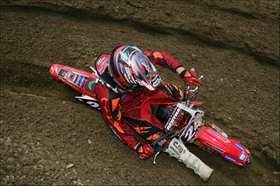 Can Josh Grant take round two of the Monster Triple Crown?
photo: Simon Cudby
We also be posting the Racer X Motocross Show on Motocross.com tomorrow night, featuring exclusive highlights, interviews, and timed practice footage from
Red Bud
.
Wes Williams
and
Rob Swiatek
will be filming all afternoon,
Weege
will host, and it should be a good time.
What does Carmichael leaving the series mean? Obviously, it puts James Stewart in the driver's seat for this championship, but I have a feeling the Monster Energy Kawasaki rider will go after this weekend as if the entire championship were on the line. He has taken two motos from RC, and he led pretty much the entire afternoon at Budds Creek before Carmichael made that dramatic pass at the end for his fourth straight overall win. Stewart's a proud, fast man—you know he wants to beat the GOAT for at least one overall before he's gone.
This weekend marks the second leg of the Monster Energy/Kawasaki Triple Crown of Motocross. RC won the first leg at High Point in the AMA Motocross class; SoBe No Fear/Samsung Honda rider Josh Grant topped the Lites class. With RC likely sitting out the last leg at Steel City come late August, Grant is the one with the best chance of sweeping up the bonuses—all he has to do it beat Villopoto, Townley, Dungey, and Lawrence and everyone else at Red Bud and Steel City. If he does, Monster and Kawasaki should give him both bonuses!
Nick Wey will miss his home state national
photo: Simon Cudby
One rider who won't be racing this weekend in MDK/Xyience Honda rider
Nick Wey
. As we reported here earlier this week, he banged his head hard in a practice crash, and doctors had him spend the night at the hospital to keep their eye on his head trauma. Here's hoping for a safe and speedy recovery for NYK.
Speaking of concussions, we've been checking in on Broc Hepler for months now, but we noticed on Transworld's site Broc's first mention of when the Yamaha factory rider and his family are hoping will be back on the racetrack: Unadilla. Good luck, Broc, we can't wait for you to show up and put yourself right up there in the mix.
It also sounds like the gang at Red Bud have been working overtime to pull off another Red Bud! Classic. Racer X's Dave Brozik tracked down a very busy Amy Ritchie for this Before the Motos preview.
We asked Amy if her brother Tim had really knocked out LaRocco's Leap as some folks were guessing. "It's somewhat revised, but still the Leap!" she told us. Right on!
Okay, according to Wes Williams, Austin Stroupe has signed with Monster Energy/Pro Circuit Kawasaki for 2008. We mentioned this before, but Wes felt that not enough people made a big deal about it, so….
Also, the word out of North Carolina is that Gibbs Racing is pretty much right there on a deal for 450s for Josh Hansen, putting him back on the same color he rode in 2004. And the team will be 450s only for the first year.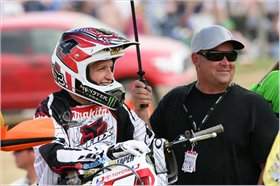 This is RC's last trip to Michigan
photo: Simon Cudby
Who's place is he taking? We're pretty much positive
Ben Townley
is moving to Team Honda and a 450-outdoors, 250F-indoors deal for '08, then full-time open class in '09.
Christophe Pourcel, the MX2 World Champion from France, is also signed, sealed and delivered to Pro Circuit—and that may be hurting him in 2007. More on that later.
Back to Stroupe: I'm not sure what the hell happened at Mammoth Mountain with him and Aron Harvey, but they both need to put that stuff behind them as soon as possible. Mammoth wasn't an AMA race, but I'm sure that both Ryan Holliday of AMA Sports and AMA Pro's Steve Whitelock saw the Final Lap video and read all of the reports. And MX Sports will be keeping a close eye on them both at Loretta Lynn's, along with the kid who sucker-punched Stroupe—if he's not in jail.
Tyler Bowers won't be making his debut at Red Bud after all. According to WMG's Jimmy Button, "The AMA had more than 100 entries for Red Bud, which is the maximum. Since Tyler has never raced a national or SX and has zero points he was the first to lose his entry to the race. It is in the rulebook, and although it sucks, Tyler is in for Unadilla. Once he scores points at Unadilla his entries for the rest of the nationals will be fine. Nobody F'd up and it was just a case of first to go on the totem pole. In any case just gives Tyler more time to be ready for Unadilla."
Lites points leader Ryan Villopoto has been hanging out in Michigan with his friend Nick Wey this summer for a change of pace, and MXReplay.com caught up with him practicing in this video (Windows Media).
It's never too early to start thinking about who's going to be a threat at the Motocross of Nations, and by the looks of the highlights over on Freecaster.com of the Bulgarian GP, Italy's Tony Cairoli is definitely way out in front of everyone in the MX2 class, and Josh Coppins has a stranglehold on the main MX1 class. Check out the five-minute clip there and you will see a sweet Cairoli pass on Tommy Searle and scrub over the finish line jump, plus Mike Brown battling with Sebastien Pourcel (Christophe's older brother). And also check out the very hard-pack and fast track.
Earlier this week, we posted an interview by
Geoff Meyer
of C. Pourcel, the reigning MX2 World Champion who is already signed to the Monster Energy/Pro Circuit Kawasaki team for 2008. Pourcel has been struggling, as Cairoli has won all but a single round of the championship this year. But it was what the Frenchman had to say about racing for his country at the MXoN in September that generated some mail to us:
"I don't know about the Motocross of Nations. The men from the French Federation asked me about it, and I made a proposal to him. I don't know, if they take my proposal, then I go. I don't want to go for nothing, my team pays for everything and it's not good to go there for the pleasure. What I can do on my bike and if I can beat them American riders or not, it is okay for me."
Pourcel is not the first person to clash with the French federation. Back in 1989, when Jean-Michel Bayle let it be known he was moving here, the federation caused some problems for him getting a release, which led JMB to apply for an AMA license and race with American flags on his Honda in the 250cc World Championships. He also wore the name "PAT" across the top of his helmet in honor of French moto-journalist Pat Bouland, who defended Bayle's ambitions to come to America and win (which of course he did).
Pourcel's clash is different, of course, but many feel his problems on the track with Cairoli stem from the fact that he's already thinking about America '08—and his Pro Circuit ride.
So two of the Italians look very fast (Cairoli and David Philappaerts) and New Zealand will have a strong duo with Coppins and Ben Townley, but each team is missing that third rider. France has the Pourcel brothers and hopefully David Vuillemin, and Australia already has Chad Reed, Brett Metcalfe and Michael Byrne here, plus they could ship in Dan Reardon, who gave Chad a nice challenge awhile back. Belgium is always fast, though with Everts in retirement, they won't be the same team. And England's got good speed with Billy Mackenzie and the impressive young Tommy Searle. South Africa will have Grant Langston, Tyla Rattray and maybe Gareth Swanepoel…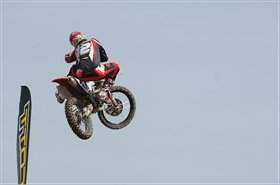 DV12 practices his Vive le France salute
photo: Carl Stone
Add it all up, and Team USA—with three solid riders—must be the heavy favorite. After watching
Budds Creek
last weekend, with RC and Stewart on the other side of the track from everyone else, and Villopoto absolutely dominant on that track, the chances for three in a row at the MXoN for the Yanks look pretty good. But
Cairoli
vs. Villopoto
vs. Townley
will be spectacular!
And just so the Racer X Canada crew doesn't think I forgot about them, if JSR, Klatt and Lange, or maybe Blair Morgan in there somewhere, shows up with their boisterous fans in tow, this could be the year our neighbors up north crack the top five. That would be almost as cool as another Team USA win!
By the way, we mentioned Jake Moss, the Aussie kid who plans on following that well-trodden path here soon. Moss is landing here on Monday and will be testing all week with teams in the hopes of landing a 2008 deal as a Lites SX/MX racer.
And speaking of Canada, it was really no surprise that Vancouver was dropped from the supercross schedule:
DATE - LOCATION – VENUE
January 5 – Anaheim, Calif. – Angel Stadium
January 12 – Phoenix, Ariz. – Chase Field
January 19 – Anaheim, Calif. – Angel Stadium
January 26 – San Francisco, Calif. – AT&T Park
February 2 – Anaheim, Calif. – Angel Stadium
February 9 – San Diego, Calif. – Qualcomm Stadium
February 16 – Houston, Texas – Reliant Stadium
February 23 – Atlanta, Ga. – Georgia Dome
March 1 – Indianapolis, Ind. – RCA Dome
March 7 – Daytona Beach, Fla. – Daytona Int'l Speedway
March 15 – Minneapolis, Minn. – Metrodome
March 29 – Toronto, Canada – Rogers Centre
April 5 – Irving, Texas – Texas Stadium
April 12 – Detroit, Mich. – Ford Field
April 19 – St. Louis, Mo. – Edward Jones Dome
April 26 – Seattle, Wash., Qwest Field
May 3 – Las Vegas, Nev. – Sam Boyd Stadium
The December races are gone for now, and Toronto has been moved into the middle of the domestic AMA schedule. But there will still be two different series, as Toronto will only count for World Supercross points, and Daytona will only be good for AMA Supercross points. And the name Amp'd Mobile is still attached to the series, though the company filed for Chapter 11 bankruptcy protection.
But it sounds like Live Nation and the FIM are planning on going overseas again in December of 2008. My personal opinion is that 17 SX races is enough in a very crowded schedule. With the AMA Toyota Motocross Series, the X Games, the MXoN, the U.S. Open of Supercross, Paris-Bercy, Jeremy McGrath's SX (when it returns), and whatever else ESPN may have up its sleeve (an April "Moto-X" race at the new stadium in San Diego?), the schedule is just too long for riders and mechanics and industry personnel.
That said, if they book a race in Australia in December, I am so going!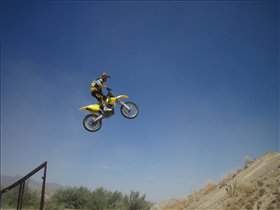 Jendro's first ramp launch was successful
photo: Courtesy of Jendro
And speaking of supercross, Live Nation's motorsports
director Todd Jendro
is doing amateur day at
Red Bud
as you read this. Jendro's ridden
Red Bud
many times before, having come up through the local and Pro-Am ranks racing in Illinois, Michigan and Indiana. But last weekend did mark a first for him: his first time on the FMX ramps at OGIO!
"I spent the week with Andy Bell from OGIO at their foam pits trying backflips and hit the FMX ramps for my first time!" reported Jendro, admitting he took a whole bunch of passes on it, jumping off the side at the last second before finally sacking up and launching. He was embarrassed by his trick here, but I told him that he should be stoked—Dead Sailors are underrated anyway!
Good thing the FMX girl from Australia wasn't there to show Todd up! Her name is "Scary" Mary Perkins and she's an Australian freestyle motocross who popped up on the whole page of AOL this week.
Here's a note
Billy Ursic
got this week:
I just wanted to send a quick note about your "Brotherly Love" bench racing from a while back. I enjoyed the piece and wanted to extend a "thank you" for mentioning the Stone bros. I no longer own a dirt bike and when I go to work every day, it's hard to believe that my life once revolved around motocross. I'm sure the Heddens' appreciated it as well.
Sincerely,
Doug Stone
Our adopted fan David Bulmer has apparently survived the kidnap-and-ransom-for-beer-money scheme of Rupert X Pellett. Rupert invited AYearInMX.com to spend ANightInOhio with him and his band of merrymakers.
And here's a note from my old friend Harold Silbaugh:
"I see you guys took good care of the Privateer Spectator and then after you got him warmed up sent him along to be totally ruined by Mr. Pellet. Nice going. When he gets back to jolly old England he's going to have a bit of a slant on what the U.S. is really like. If he ever goes back. We hosted him for an evening between Gettysburg and Southwick. I think he's more at home with shots and nine-irons than he was with our four kids, but he was very appreciative of everything the RXI crew has done to help him live his dream. See y'all at the MXoN."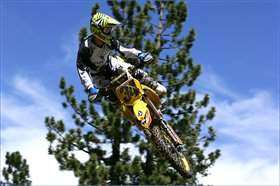 photo: Shannon Cudby

Ricky Carmichael and Travis Pastrana are up for ESPY awards. Here is the link: www.espys.tv. Get in there and vote for the moto guys!
"Tell me and I forget; Show me and I remember; involve me and I understand."
That Chinese proverb comes from Robert Wilson, who has the website www.jumpstartyourmeeting.com. Wilson is a motivational writer/humorist who was an editor for DMA (Direct Marketing Association) and a reporter for the Atlanta Business Chronicle, not to mention a Racer X reader.
A car-stereo shop in Minneapolis lifted and slammed (is that actually possible at the same time?) a mule and they are calling it the "Whoop Monster."
Not sure if it's for the actual Whoop Monster and we are going to see it at Millville, but it sure is cool!
Racer X reader Chris Carnicella sent this one: "Maybe you and your staff can expand on this unbelievable stat. RC has a total of 148 wins between MX and SX and the entire Pro Circuit team only has 130 wins and RC had a lot of those wins. It amazes me that one individual rider can out perform arguably the best team (Pro Circuit) in this sport. There has to be some interesting statistics if you dig into this!"
We didn't have time to check that out, but if that is accurate, wow, that's ridiculous.
Now here's a word from Weege regarding a milestone in the Can-Am GNCC series.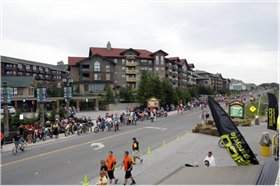 The Snowshoe Village
photo: Steve Bruhn
The first-ever Snowshoe GNCC went off last weekend without a hitch, including some unique elements like a GP-style start in the middle of the ski resort's village, and some of the gnarliest trails anyone had seen on the tour in years. Of course that all played into the hands of Red Bull KTM's
David Knight
, who won the race by nearly 10 whole minutes! The series is now on summer break and Knighter is carrying a solid points lead over Am-Pro Yamaha's
Charlie Mullins
and
Barry Hawk
.
The XC2 Lites class was topped by Am-Pro Yamaha's Thad DuVall, who turns out broke his thumb on the last lap of the race, and will spend part of the summer in a cast. And the second place finisher, West Virginia's Ryan Echols, had his bike stolen from a bike shop yesterday, but he was planning on putting his Yamaha contingency money towards the payments of his bike. If you have any information and you want to help Echols out, e-mail us at info@gnccracing.com.
Here's a few words from Ping:
If you live in southern California and you are looking for a new place to ride, check out Milestone MX Park in Riverside (www.milestonemx.com). The 55-acre park has a motocross track, vet track, kids' track, separate quad track (Glen Helen, you reading this?) and is in the process of including a drag strip and R/C car tracks. The dirt is soft and sandy and unlike anything else south of Marysville's E Street track. It is awesome to see a riding area open in a time of massive land closures and noise litigation. It is a fun track too.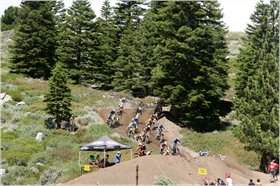 Mammoth Mountain is quite a spectacle
photo: Shannon Cudby
The Mammoth Motocross went off last weekend without a hitch and there were a few big winners. The minibike division was pretty much dominated by
Eli Tomac
. Eli has been steadily working his way to the top of the mini class and it looks like he has finally arrived. The Tomac family has a huge ranch in Durango, CO, and I swear I am going to make it up there someday to do some riding. I think Eli's dad might have some cool mountain bike trails around there too. Anyhoo, Eli was the big winner in the mini classes.
Ben Lamay
won three championships in the intermediate (B) classes at Mammoth. Ben hasn't done as well as he wanted to so far this year, but things were definitely clicking for the quick Alaskan rider in Mammoth. In the pro division,
Nico Izzi
grabbed a 250 championship for Suzuki while
Ryan Hughes
won the 450 and open classes. It sounds like it was good racing and it is always a good time up in the Sierra Nevada mountains.
I bumped into
Damon Huffman
this week at a local motocross track. The two-time 125 supercross winner has been out of the industry since his retirement two years ago. He started working in the real-estate business until that industry fell apart last summer. Since then, Huff Daddy has been working with riders during the week and golfing on his time off.
"The riding school thing wasn't something I planned at all," Damon told me. "I was helping a local pro kid up near Valencia and then a few people heard about it, and before I knew it I had a handful of people that I was helping out. Suzuki gave me a bike to ride and go out and do laps with my riders. It's cool because I get to ride and it keeps me in the industry. I'm realizing that I miss it, and it's good to be back on a bike."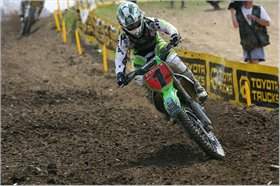 RV is enjoying the east coast
photo: Simon Cudby
As DC mentioned,
Ryan Villopoto
has been staying at Nick's house in Dewitt, MI, for the past few weeks. He is loving the tracks and the weather back there and says that right now he doesn't ever want to come back to California. I'll bet he changes his tune when there's two feet of snow there in January. He is also seeing the results of staying back there. He's been there since right after
Southwick
, and do you remember how big of a shellacking he put on the field at
Budds Creek
? I've got my loot on RV51 for this weekend.
And don't forget to check out our new Racer X Films Motocross.com feature, Rider of the Week. Privateer Craig Dube (pronounced "Doobie") is this week's rider, and Travis Stewart was the shooter who put it together.
Thanks, Ping.
"An under-rotated double backflip" has drastically changed the life of Stephen Murray and his family. Murray was injured last weekend at the Dew Action Sports Tour, breaking his neck. According to a post from his friends, his family are from England and California and they are having to relocate to Baltimore, where he is currently staying at the University Hospital. For more on this tragedy, go to this MySpace page.
Thanks for reading Racerhead, and don't forget to watch the Racer X Motocross Show on Motocross.com tomorrow night, then Red Bud! Live! On Sunday. See you at the races.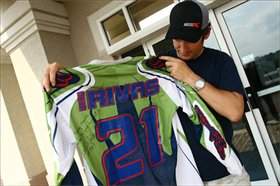 DC got an autographed Manuel Rivas jersey
photo: Matt Ware
Red Bud is a good track for both Kelly Smith (47)and Andrew McFarlane
photo: Simon Cudby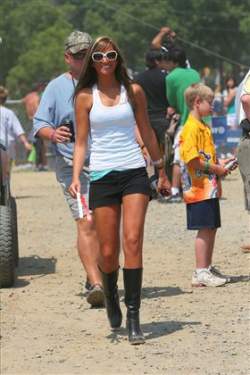 See you at the races
photo: Zak Lowery