Obviously, last week, Ricky Carmichael wasn't pleased with the preparation or the speed of the track at Budds Creek. He pretty much went off in the press conference, sending some big ripples through the motocross world. (Imagine how pissed he would have been had he actually lost!) Since then we've heard from a bunch of different folks about track maintenance, including the Budds Creek track manager's take, plus John Ayers, who pretty much heads up the NPG on-site. Is it too rough? Is it too fast? Why is it setting up differently? And of course, why not blame all of this on Steve Whitelock since, well, that's just what people like do in every situation?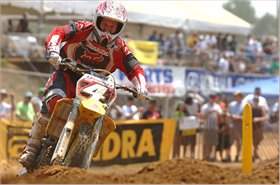 The GOAT was unplugged at Budds Creek
photo: Carl Stone
This afternoon, with
Budds Creek
in the rearview mirror by five days, I called RC to see if he had any ideas. He was testing his car at New Smyrna, FL, and he was with his friends
Scott Taylor
and
Anthony Paggio
, whom he also let have it with two barrels after his lens popped out in the first moto. He told me he knew he was being a little childish and selfish afterward, that it had been a long day with a lot going on, and he was sorry that he came off a little strong (okay, a
lot
strong) and that he had gone too far. But he still thought the track needed adjustments for the Motocross des Nations coming up in September.
"I think the biggest thing we need to do we need to do is get the track to develop more lines," said the ten-time winner of Budds Creek (other nations must cringe when they read that). "That will help with the passing, which of course will help with the racing. It wouldn't be so much follow-the-leader.
"We also need to slow it down a little bit," said Carmichael. "That way if someone goes down or gets get off, they won't be going so damn fast and really, really ruin themselves."
I brought Andrew the track manager's comments up, about the timed training having a negative effect on the amount of lines that develop in practice. Because every lap counts from the moment they hit the track, everyone goes for the best berm and they ride single-file instead of racing around with someone because they are constantly trying to lower their best times.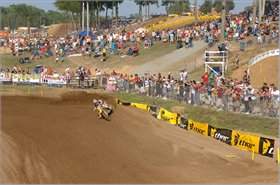 Budds Creek was like a different track this year
photo: Carl Stone
To that, RC pointed to
High Point
: "In all of the turns, there was a couple of good ruts, and you could pass—I got by James in a turn, actually, and you didn't have any hay bales there. I think it's more about track preparation. Do I believe hay bales would work? Yes, I do. But if they prepare it right, that wouldn't be necessary. Mt. Morris is similar dirt, and you had numerous ruts there.
"I don't think they disked deep enough at Budds," he continued. "There was like 3 inches of fluff on top, then we're down to the hard-pack, so we didn't dig in. I really think there needs to be more dirt hauled in, like they do at Red Bud. I mean, I was walking the track back at Hangtown, and I could not believe how much sand was brought in, and look how good the track was—Hangtown has gotten better over time."
So how would Ricky slow the track down? "I don't think that jumps are the main thing. What we need to do is let it get a little bit rougher and make some tighter turns so it's not going so fast. The best way to do it is incorporate more turns, more ruts, more lines. That sweeping turn after the first turn at Budds Creek was just insane. It was too much, and then they went and smoothed out the outside so we were like road racers at that point! That used to be a great off-camber section, but their gate is there now.
"Actually, that start—they've got to change that. They've got to change the angle, maybe put some banking out there. I always give up the first spot at the des Nations because I'd rather give the other person a better chance at winning than myself, and I can tell you right now I'm not excited about starting out there on the outside! They should angle the gate a little better or change the first turn, because there could be carnage."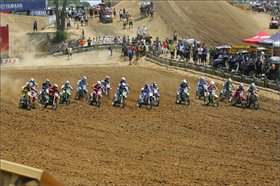 The Budds Creek start earned universally bad reviews—even from the guys who got good starts!
photo: Zak Lowery
As for what happened with his goggles and his tirade against Paggio, RC said he called Anthony on the way to the airport to apologize and tell his longtime friend they were good. He also said they were joking today about Oakley being sold: "Damn, one lens pops out and they have to sell the whole company!"
So where does it all leave us? RC is right about the track being fast, but there were a lot of things at play there. Last November, Youthstream's Greg Atkins came to Budds Creek and directed promoter Jonathan Beasley on the changes he would make, and that included taking out the off-camber section, plus the technical section where the old start used to be. It brought lap times way down and speed way up.
Next, because there was so much time spent on Friday afternoon and evening discussing changes that needed to be made, per Youthstream, for the MXdN, they didn't start watering or disking the track until almost 8:30 p.m. With a full schedule of WMA and national practice, it was impossible to make up that work on Saturday night. So the track did not get disked or watered enough.
In my personal opinion, this should have been thought of not as a walkthrough for the MXdN, but rather what it really was: the fourth round of the 2007 AMA Toyota Motocross Championship presented by FMF. We have had excellent tracks and excellent racing up to this point, but then things kind of fell apart at Budds Creek. Fortunately, we're going to Red Bud next, and everyone can pretty much count on a home run there.
Ryan seemed to like the track a lot
photo: Carl Stone
I also think that, in the end,
Steve Whitelock
is once again getting a bad rap. Overall, the track earned some pretty different reviews, including one from
Ryan Villopoto
, who said he liked the track, and more, as you are about to read. But Ricky's unexpected comments overwhelmed all that—when the GOAT speaks up, the world listens. (
Ben Townley
too.) So
Ping
checked in with a few of his dirt-bike-racing friends to see what they thought.
Nick Wey: "I wasn't feeling it. I didn't do there good, and that never helps. But I was surprised that it wasn't dug deeper and watered better. Usually, the first practice is super muddy and the lines develop throughout the day. I had a hard time getting dirty in practice this time. It needed more corners in it, for sure. It was a little quick. I didn't think it was that bad though."
Troy Adams: "It was definitely smoother than usual and much more hard-packed. The second moto was a little better because it got some bumps going, but it still wasn't like it has been in the past.… The new layout was better for spectators, but it was too fast. It was wide open. It used to be more technical. The start is also really unfair if you don't have a good gate pick. There was a rise in the middle of the track that was hard to see on TV, but it was there."
Ryan Morais: "I thought it was alright. This was my first time going there, though. It was fast and smooth and one-lined, for sure. The start wasn't fair to anyone that had a pick worse than tenth. They just need to move the turn marker in a bit and level the straight. The track was really hard to pass on. I had fun riding it, but it sucked to race on because it was so fast and one-lined. You couldn't make any passes."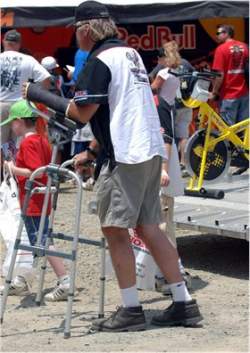 Jonathan was there, but he was hurting from his ATV accident of a couple weeks back

photo: Carl Stone

Jason Thomas: "Budds Creek has always been my favorite track. I had my best finish ever there last year. I agree with a lot of the things RC said, but maybe Jonathan Beasley's injury was a factor in the track prep, I don't know, but it was much harder and had less topsoil. The hard ground kept any good lines from forming and made the racing surface really slick. It has always been a little one-lined, but this year was bad. I would catch guys really quick and then struggle to get around them…. The start was single file this year too. I had to look 90 degrees to the left to even see the first turn, and the guy on the inside had ten extra feet to his left. It was made to give the pole-sitter a big advantage. I don't know if that's how they do it in Europe, but it's not fair for everyone."
David Vuillemin (on Mototalk): "I love Budds Creek, I love Beasley (I like him a lot because he traveled to Europe and saw a bunch of GPs) but they messed up this year with the track. Around the track was great, new fences etc. and maybe it took away from dialing in the track. It's better that happened for the Nationals than the MXDN. I am sure it will be great in September."
Okay, back to RC. I asked him about what looked like a near-death experience when he clipped the hay bale in the first moto and almost cartwheeled on the tabletop (and caught by the Speed TV cameras, Racer X Films, and this very cool photo by Jason Rearick!).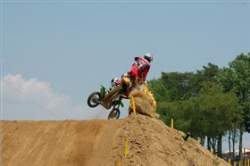 Ricky's day (and maybe career) almost ended right here
photo: Jason Rearick
"Oh man, that was so scary. I did that, and it was like, Damn, I just got so lucky. That was not fun at all. The only thing I was thinking was, Here we go, time to tuck and roll—that was what was going through my mind—and then I landed it okay, turned right, and that's when I got my lens knocked out! I was like, Well, this race just ain't meant for me. I was so scared.…"
By the way, Oakley sold for about $2 billion, and Oakley's 57-year-old founder and chairman, Jim Jannard, may get $1.3 billion for his 44.4 million shares.
Moving right along, thanks for all the props we got last week for bringing you the live Speed TV coverage on the internet before the network aired most of the fantastic second moto themselves. Director Chris Bond, producers B.J. Smith and Mike McCune and their whole crew, and even Bryan Drebber and Jeff Emig (though we need to remind Fro that the feed might not necessarily end right when they sign off!).
We will again be bringing live coverage from Red Bud next Sunday—the first motos will be live and free on www.motocross.com. Also, please don't forget to check out last week's wrap-up show, as Wes Williams and the boys were pretty much right there for every inch of both the RC-Stewart battles, and the second-moto Lites three-way between J-Law, J-Grant, and Ryan Dungey.
And if you missed this Jason Weigandt's hilarious "Behind the Motocross" piece on the 2007 Motocross des Nations, you have to take five minutes and watch it.
Also, don't forget to tune in tomorrow for the "off-weekend" Racer X Motocross Show on Motocross.com. This one features more from Budds Creek, an interview with Mike Alessi, and just a bunch of cool moto stuff.

Looking ahead to Red Bud, this will not only mark the second round of the Monster Energy/Kawasaki Triple Crown of Motocross, but also the second leg of the Legends Tour. And it looks like a couple of very special guests will be out there, including Mark "The Bomber" Barnett, who joined us on the Racer X Webcast of Budds Creek over on Motocross.com, and possibly Johnny O'Mara on THE Mugen Honda.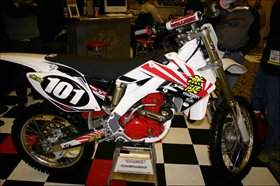 Mugen Honda
photo: DC
Also, there's been a lot of talk about whether or not the Throttle Jockey Mugen replica we featured a few issues ago is real or not. On July 1 you can find out for yourself at
Red Bud
. Come by the Racer X booth to see the T.J. Mugen in person.
Matt and Robert Davis
will be hanging around to answer questions and partake in some good old fashioned bench racing. Please visit
www.throttlejockey.com
to purchase your own set of Mugen graphics for your CRF 250 or 450.
TFS has a pretty good take on what happened at Budds Creek too. Check out his words here.
Carey Hart's rig driver probably had a worse week that Jonathan Beasley—the rig full of bikes burned to the ground! Here's some video.
And speaking of trucking, here's a note from our art director, David Langran: "Last weekend I qualified for Loretta Lynn's at my regional at Glen Helen. Once the reality had set in that I had actually made it, I then started to go over the logistics in my head of how I was actually going to get my bike and all my gear to Tennessee (something I had been putting off until I knew I had qualified). If anyone in Southern California heading to Loretta Lynn's has room for an RMZ450 and a gear bag in their rig and would be willing to take it to Tennessee for me, please e-mail me at langers@racerxill.com. Thanks!"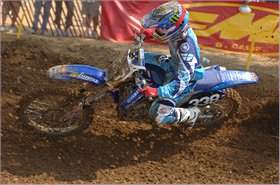 YoT's Jason Lawrence finished a career best third at Budds
photo: Carl Stone
Boost Mobile/Yamaha of Troy's
Kyle Cunningham
suffered a broken collarbone at
Southwick
, and we got this update from his mom,
Lee Ann
: "Kyle has an 8-9 inch plate and I think 6 screws in his collarbone. The doctor says he should be back on the bike in about four weeks or so. If you know Kyle, you know that he won't give up until he has to and I don't expect that this will keep him down for long. He has already started the therapy exercises that he was given, so…things are looking up."
Dear Racer X,
I am an avid reader of your magazine. I am a web developer by trade and ride a CRF250R 2007. I noticed there are no sites out there where riders can help other riders grow in the sport of MX. So I put together www.motocrosstips.net so that riders can help each other out. I have had trouble getting people to know about it though. If no-one knows it exists – it won't get used. I have no problem making good riders you recommend moderators on the site. If you never ask, you will never know.
Best Regards,
Paul
The New York Times previews Jeremy Stenberg's return to competition at the Dew Tour—and the increasing dangers of the sport.
If you missed our live online coverage of Budds Creek, as well as Speed TV's same-day coverage, the AMA Motocross race will air on Tuesday, June 26, at 3 p.m., followed by a re-airing of the Lites coverage from Southwick that same night at 9 p.m., followed by AMA Motocross Lites at 10 p.m.
Supercross is not going back to Orlando in 2008, and some other schedule changes will make life on the road in supercross a little simpler – at least for now. Minneapolis will return on the schedule to replace Orlando. Other changes include canceling the "Moondirt" venue in Vancouver, and World Supercross, for one year at least, can take December off. Toronto is moving to the regular schedule for 2008, like maybe the weekend after Detroit, so teams don't have to go to Canada before Christmas. That means no supercross in Canada in December 2007 – a month off!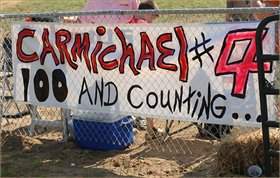 That says it all...
photo: Carl Stone
So, does this mean no more separate world and AMA supercross championships? Maybe they will just find the right name and hand out one trophy. The changes appear to be opening the door for the "globalization of supercross" that was talked about at the supercross banquet in May. The '08-'09 season may see the series travel east to Asia or Australia.
AMA Arenacross is going to get better for the riders who want to use the series to pick up their AMA supercross license endorsement. The 450s are going away in the premier "AX" class, so everyone is on 250Fs, both the "Lites" guys and "AX." This is so the aspiring pros don't have to race main events on 450s against guys like Brock Sellards and Danny Smith to earn a chance to race their first Anaheim on a Lites team. No, 450s are not such a big deal indoors. The Bercy Supercross in Paris has been 250F-only for a few years, and no one seemed to complain or care.
The Rockstar U.S. Open my have some changes too. Don't be surprised if you see a top Lites guy on his 250F going for the big check with the 450 guys. It's not a done deal yet, but the Rockstar U.S. Open may just go back to one premier class, a "run what you brung" free-for-all with 450s and 250s mixed.
We were bench racing with Heather Graham (FMF rider-support director and the sister of Brad Graham) about her brother racing the MX1 World Championships, and she said this: "I talked to him Saturday after they did the timed practice, and he said it was just really different from here. He said you have to make up all your time in the corners, because it's all up- and downhills. I think from first place to 35, there was only a four-second difference in times. I think Brad was 2.8 seconds off of first, so they were all really close."
Heck, some races here in the States, RC is four seconds faster than third place!
More from Ping, and another take on RC:
I think RC needs to take a little vacation. The GOAT seemed really worn out after Southwick, repeatedly saying that he had bitten off more than he could chew and that his workload is wearing on him. Then, at Budds Creek, he snapped. He got hit with a rock in moto one and popped his lens out. It's rare and unfortunate, but it sometimes happens. Even if his longtime friend and goggle rep, Anthony Paggio, put the lens in improperly (I'm not saying he did!), he certainly didn't do it on purpose.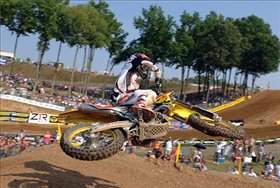 The RC scrub
photo: Carl Stone
After yanking his goggles off and throwing them into the mechanics' area in a huff, RC came by the next lap and made an obscene finger gesture toward Paggio and
Scott Taylor
, who were standing in the mechanics' area. Then, at the press conference, Ricky basically told
Budds Creek
owner
Jonathan Beasley
that his track should be mowed to the ground, subdivided, and sold to a cheap home builder in the area.
Don't get me wrong, RC definitely had a point about poor soil conditions, lack of soil, short lap times, unfair start, and a less-technical track design. Most riders agreed with his points. But I haven't seen Ricky chew someone's ass off like that ever before. It seemed a little out of character for him. Is he sleep-deprived from the new kids? Does he have too many irons in the fire? Does he still have dirt in his eyes from Bubba's roost? My guess is yes, yes, and yes.
It sounds like the Jeremy McGrath Invitational might not happen in 2007. The race was scheduled for this fall in San Diego's Petco Park (not the Home Depot Center like last year), but it sounds like it might be canceled altogether now. Monster Energy was trying to buy the rights to the entire event, but with the limited time between now and the December date that it was going to be scheduled, they aren't sure they can make it happen. This is a major bummer for riders that planned on racing the event, because it was one of the best paydays of the year. The race will go on eventually, though, according to MC. I spoke with him about it this week.
"If it doesn't happen this year, it's just because we don't have enough time to do it right," McGrath said. "With all the car stuff going on, it has consumed a lot of my time. And we don't want to just throw it together at the last minute just to have a race. I want it to be cool and special to the riders and fans. We have a multi-year deal with WMG [Wasserman Media Group] to put the race on, so it will be back, just maybe not this year."
Jeremy said they should know for sure by the first of next week.
Speaking of McGrath, the seven-time supercross champion won the Vet Pro class at the Mammoth Motocross last weekend during the vet weekend. He also has a second child on the way! Congrats, Jeremy and Kim!
What happened to Martin Davalos and Zach Osborne? The KTM riders were both missing at Budds Creek. I called up team manager Kurt Nicoll to find out why.
"Martin crashed at High Point and got a bit of a concussion," he explained. "He didn't think it was that bad, but he got some tests done anyway and everything came up negative on the scans. He went to Southwick but was having some blurred vision and dizziness when he was riding. You obviously can't ride with that going on, so he's taking some time off. He will probably be back at Red Bud. Osborne currently has … some conditioning problems. He was only lasting about ten minutes into the motos, so we got him set up on a new diet and training program. The doctors said that it would be best if he took a few weeks to get things sorted out and get strong before he returns. He should be back at Red Bud or Unadilla."
Those in the Salt Lake City area should be sure to check out the Miller Motorsports Park this weekend. AMA Superbike is in town in conjunction with AMA Supermoto. The Supermoto event is Saturday and there is road racing action both days. Check www.amaproracing.com for complete schedules for both events.
One of the biggest industry off-road rides takes place every summer in the Rocky Mountains. The Colorado 500 takes Parts Unlimited and Thor dealers on some of the most incredible off-road rides in the country. This August they will be joined by Thor riders Chad Reed and Jeremy McGrath. That is going to be one fast trail ride.
That it's from Ping.
A friend e-mailed me and told me to keep an eye out for Jake Moss from Australia. He is dominating the 250Fs down there, winning by large margins, and two weekends ago at their last round, he ran lap times with in one-third of a second of Factory Connection Honda-bound Daniel Reardon, who was on the 450. Should be over here next year as well.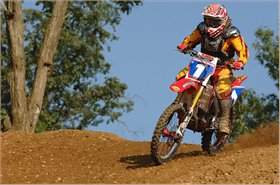 Jessica Patterson is perfect thus far in the WMA series
photo: Carl Stone
Finally, on a sad note, some friends of a fallen rider named
Jerico Littrell
(#799) are trying to help out his wife and 1-year-old baby girl with the medical expenses and general bills. You can get the full story of Littrell's fatal accident and how you can help, please visit:
www.prayersforjerico.com
.
"I know you probably get a lot of messages about fallen riders, but this is truly a special case," wrote a friend of Littrell's. "Jerico was the sole provider for his family and now his wife has been left not only with the loss of her husband and father of their little girl, but also has all the medical bills and general expenses. They were a young couple just starting out on their own and had their whole life ahead of them…."
Thank you for reading Racerhead, and see you at Red Bud next week.