5 Minutes with ... Ryan Villopoto
The current national champion in the Lites class of AMA Toyota Motocross hasn't won an overall yet this season. But don't let the lack of overalls throw you off; Ryan Villopoto still has an eight-point lead in the championship and is focused on getting his first win and extending his points lead. I caught up with Ryan while he was back in Michigan preparing for the race in Budds Creek this weekend.
Racer X: Ryan, after wrapping up the Supercross title so early you had plenty of time to get ready for the nationals. Did you feel ready when Hangtown rolled around?
Ryan Villopoto: Yeah, I did. I came into that opener ready to win. I got the first moto win even with a crash. Then I should have made some setup changes between motos but I decided to stay with what I had and it was the wrong choice. It could have been better.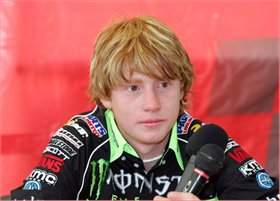 Ryan's first overall win of '07 isn't too far away

Were you surprised at how quick Ben Townley was?
No, everybody is surprised at Townley but I don't know why—he's won an MX2 World championship. He's one of the best guys in the sport and now he's able to ride. Last year he was hurt and we didn't get to see it.
I think most of us judged him by his race at Red Bud last year because that's really the only time he had raced here in the U.S. He is clearly faster this year than he was then.
He was good this year in Supercross and that's not even his thing, so I knew he would be fast.
You're leading points but you haven't won an overall yet. Is that bothering you at all?
Yeah, I want to win an overall. The times I could have won the overall I haven't put the second moto together. At Southwick I had just passed Ben and I think that could have been my race. It was only 15 minutes in but I felt good and the track was fun. Then it fell apart in one turn.
Were you bummed that they flattened the track out?
I think they need to fix the really bad stuff but not the whole straightaways. They got a little carried away last weekend.
You've had several tip-overs this year; two at Hangtown and one at Southwick. What are those about?
Hangtown is just slick. They put a bunch of water down on that clay and then give us one lap to figure out where there's traction. That was my fault there. In Southwick I went and told the AMA that they needed to be aggressive with the blue flags because it's sand and it's pretty one-lined. They said they had it covered but they didn't. I came up on a lapper pretty fast around the tree turn where it is really one-lined and the lapper just blew the turn up and threw sand all over the place. You know how it is there when you're right on someone like that. I just went into the turn blind and pushed my front end.
You've been staying in Michigan with Nick Wey for a while. How is it out there?
It's good. It's a lot better than California, that's for sure! You actually get to see some trees and stuff. Nick's track is good and we went to some other guy's track yesterday that is one of the best backyard tracks I've ever ridden.
Who's is it?
Some guy. Nick calls him Napoleon.
Is he a small, angry French man?
[Laughs] I don't know. Nick just calls him that.
What is Nick's place like?
It's cool here. It's like a subdivision but with really big lots. We've been doing some bass fishing.
Sweet. Do you like the track this weekend (Budds Creek)?
Yeah, it's a good track. It should be good because he's got to get it ready for the Des Nations. Last year it was good, so we'll see how it is.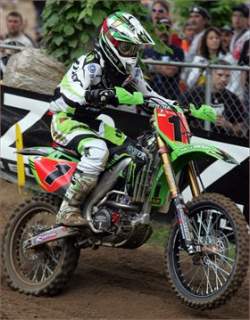 Looking ahead, RV is riding the Eastern Region SX Lites series in '08.

So, what's it going to take to keep that number one plate?
Well, if nothing else I could just keep going 1-2 until the end of the season and just hold onto an eight-point lead till the end of the year! That wouldn't look very good though. No, I want to get some overalls.
Forget looking good; that plate is all that matters.
Yeah, I just need to be consistent and I'll be alright.
So, you are with Pro Circuit again next year in the lites class?
Yeah, I signed for another year.
And I heard you are going to give up the number one plate and ride the East Coast SX so that you can get a look at all the east coast tracks. Is that right?
That's what we are planning on.
Think Payton will let you ride any 450 stuff on the west coast?
No way! Come on, you know that guy. Actually, you can't even do that anymore; it's in the rulebook.
Oh, sorry, I'm not studied up. All right, good luck this weekend. Keep yourself upright, would ya?
I'll try. Later, Ping.