5 Minutes with ... Josh Coppins
Josh Coppins is putting himself in a very strong position to be the next World MX1 champion and add to the New Zealand legacy of Shayne King and Ben Townley as a living legend in his homeland. Taking victory at the Grand Prix of France last weekend, Coppins opened up a 90 point lead in the championship. And going into the Grand Prix of Bulgaria this coming weekend, he could make that more than 100 points. If he can do that it's cruise control for the last part of he season as he takes that last step towards his boyhood dream. We sat down with the Rinaldi Yamaha rider and asked him about what is going right and what is going wrong in his quest for glory.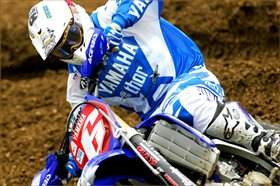 Josh Coppins is well on his way to becoming a world champion

Racer X: Josh, in France you didn't look that comfortable, you seemed to be fighting the bike a little. Was that the case?
Josh Coppins: First heat I was happy how I rode, but the second heat a couple of small things weren't right and we need to work on them. I am not saying I could have beaten Steve, but I could have ridden a little more comfortable if we sorted those things. This weekend wasn't that easy for me. Every week in Italy we are making changes suspension wise.The engine is pretty cool, we are not making any changes there, but just some changes in suspension. It's not that I have a problem, it could just be better at some tracks. I am not looking ahead enough probably. I am not looking at what the tracks are going to do. I am more working on previous races and so far we have been to a lot of different tracks. This is the first time we rode really hard pack.

In an article in a Belgian newspaper Joel Smets said you are not riding as well as in 2006. What do you think, is that true?
It's a possibility, but to my defense I have not ridden as well as last year, but last year I was always chasing. I was also pushing that little bit extra to keep with Stefan. Now I am working on a championship, working on getting the overall situation to get as many points as possible, I am not working on trying to beat Stefan this year. Anything other than a GP win is disappointing. I am good enough to win races, but to keep that level for 15 rounds, that is the hard thing.

You are always the last guy standing when it comes to being consistent this year. How do you sum up the season so far?
Week in and week out I am racing different guys. In France it was Ramon, in Japan it was Mackenzie and Brown, in Portugal it was Strijbos, Germany was Philippaerts. It is like these guys can go quick one week, but they can't recover enough for the next Grand Prix. Ramon and Philippaerts are coming on strong. Ramon wasn't so aggressive in France, he just rode really well, he was going for his passes and he had better lines than me. He is good at the moment and he is racing all the Belgian and Dutch championship races, so it will be interesting to see how long he can last. Philippaerts is up and down, but he is also strong.

Going into France I thought you might be able to move 100 points ahead of Kevin and Steve due in part to Kevin's injury. How do you feel about the points race?
I've got a 90-point lead and that is pretty impressive. I mean it's hard to sometimes sit down and think - I am going to be world champion, I have been working so long for this. At the same time I am just saying lets get some more GP wins, I want to get my GP win tally up to 15 or 20 GP wins; I think I have about eight or nine GP wins so far. I mean I couldn't have dreamt 15 years ago that I was going to be in this position, not at all, but I have worked hard for it and it's not easy.

Pushing as hard as when you were chasing Stefan, or Smets, or Pichon, are you pushing all the time like you did against those guys?
It's a little hard, in France I might have been able to fight a little harder and go 1-1, but I know I have to race the following weekend in Bulgaria and I will be taking on another guy and I will need to be fitter and stronger. I have only ridden Bulgaria once, and I was on the podium. It's all about winning the championship, I don't have to push every race, it's not really needed at the moment.