5 Minutes with ... Dan Reardon
There's a pretty long list of Australian riders that have proven to be capable racers here in the US. Beginning in the 1980s, we've seen Leisk, Ashkenazi, Byrne, Reed, Anderson, Brett Metcalfe, and Andrew McFarlane all reach podiums here. Get ready to add Daniel Reardon's name to that list in 2008. Reardon is in California all week to test with several teams and told me that he will race here next year even if he has to do it on his own. I'm guessing he won't have to do that. I met him out at a local practice spot his first day in town to get to know the next Aussie coming stateside.
Racer X: Tell us a little bit about yourself.
Daniel Reardon: I'm 21 years old. I'm from Brisbane, Australia. I've been racing since I was seven so it's been a bit. But the majority of that has been just cruising. Up until I was about 14 I just raced for fun. I had no idea I would ever come over here and race. I was never really a top junior racer. I had no titles or anything, I was a third or fourth place guy usually. I went senior (pro) at around 16 or 17 years old and I did some of the nationals. I just did the ones that were local to me. Money and things like that were issues. I was working part time and going to school. I finished school through grade twelve so I was busy with that. I finally got a sponsor that helped me out a bit and at 18 I did the whole series. That was kind of a turning point for me. I finished second in the supercross series and fifth in the outdoor series and then got injured. The next year, in 2005, I came back and won the lites supercross series. I was hurt during the motocross series, though. Then I stepped up to the 450 and won the supercross series the first year and finished second in motocross. Things are starting to work out now. I had a trainer back home for the past five years and we got a little more specific with it. I suppose I had a direction that I wanted to go. This year I won the supercross series again and I am currently leading the motocross series, so things are going well.
Do you prefer one, supercross or motocross, over the other?
Not really. I like the technical aspect of supercross with all the jumps. But I like the hard work ethic required of outdoor motocross. A lot of people can ride an outdoor track pretty good but it's the hard work that makes the difference at the end of two long 30-minute motos. It determines your fitness and a lot of that other stuff comes into it, which is good. I like training hard.
Australia and France are the only two places that have good supercross programs outside of the US. Is the series doing well down there?
Yeah, it's pretty good. It's a bit short at the moment. Back in 2004 we had a big outside sponsor and it went 10 rounds. That was pretty good. Usually it's around five or six rounds. It isn't that long. But I have a supercross track at my house and a few of my friends have tracks, so we get to ride it a bit.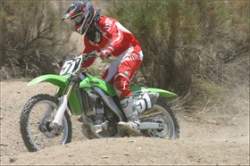 Reardon is trying out with some American teams for a possible deal for 2008

photo: Ping

Is there any Australian rider in particular that you followed or looked up to when you where growing up?
Yeah, there are quite a few Australian riders here at the moment. Reed, I suppose, was the first guy to really open those doors up for us. That was really good I suppose. He really made it happen. Sponsors started looking more to Australia for talent and that's good because there is a lot of talent in Australia, we just need to get out there and give it a good old go. I suppose Reed was the guy I followed most. McFarlane lived pretty close to me back in the day. Metcalfe and the rest of them I never got to race though. They were just a bit older than me.
Was the US always your goal or did you consider going to Europe and racing the GPs?
Supercross was the main thing. I wanted to be able to do both because I do enjoy them both so much. I just hope to get on a good team and give it a go.
Is the U.S. series still the premier place to race in the world?
Definitely. People look to the U.S. first. The teams in Australia still talk with the teams in the States quite often and it seems like there's a decent chance of getting a tryout with a team here if you're doing well down in Australia.
You're here for a week or so; what teams are you meeting with?
Kawasaki is the first team we are going to test with. I've had a great relationship with them back at home and it would be great to continue that here. I'm also going to meet with Honda, Suzuki and the Joe Gibbs team while I'm here. I've been riding 450s at home for the past couple years so it will be a little different jumping back on the smaller bike. It should be good though.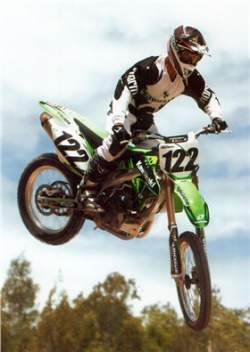 Reardon is a Kawasaki rider back home in Australia

photo: Courtesy of Reardon

So, you are trying out for a Lites ride or are you considering the 450 teams as well?
Yeah, I'm talking with both. I think the preference is for a 450. I feel more comfortable on them, but I can get used to the 250 quickly. I'm really looking forward to riding over here a bit.
So you are coming in 2008 no matter what?
I plan to come here no matter what. Whether I get a ride or not I'm coming over. If I have to buy a bike and battle around for a year then that's what I'll do. I'm just trying to talk with some teams and make it a bit easier on myself.
What else do you do back home when you aren't racing?
Back home my life is pretty boring outside of motocross. I do the usual training things like cycling, mountain biking, wake boarding, boxing or whatever else. I always like to be doing something. I can't stand to be sitting around my house. Even if it's just going out and getting loose in the ute in the wet (Ed. note- that means romping his truck in the mud) or whatever.
You just had a championship round back home and Reed came down to race. How did that go?
It was the fourth round of our series back home. It was good that he came over. I didn't really have any expectations of how I would do. It would be silly for me to have expectations I suppose because I've never raced him and he is a world class rider. For me, nothing changed. I just went out and did what I could and the weekend turned out pretty good. I holeshot both motos and led for fifteen to twenty minutes both times out and it was exciting. He got me toward the end but I gave it all I got I suppose. I hope it's just the start of better things to happen. It was good. He might do another round later this winter so that would be neat.
Did the two of you talk?
No, I didn't talk to him at all.
I heard there was some contact in one of the motos that he wasn't too happy about.
It was just racing. It was nothing. Especially if you're a racer you wouldn't even think anything of it. He tried to pass me around the outside and I already had the line. He just didn't have anywhere to go so he went off the track. It was nothing but I heard he got a little upset about it.
You came over last year to do Glen Helen but hurt your ankle just before the race.
I was riding out of the back of the Kawasaki semi and I just bruised my heel really bad a couple days before the race. I could have rolled around but it wouldn't have done me any justice so I just sat it out. I also had a supercross race that I had to fly back home for straight away. That was my main focus at the time.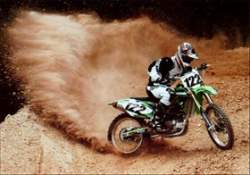 photo: Courtesy of Reardon

Where do you think you would have fit in?
It's hard to say. It's such a different atmosphere. I would hope I could be in the top ten but, you know, I just can't say.
Have you been to a supercross here in the U.S.?
No, not yet. I'm really looking forward to that. I suppose the tracks and stadiums here are a bit bigger than what we've got back at home. I'm anxious to have a look at one of those.
Good talking with you, Dan. Best of luck this week and we'll see you this fall.
Thanks. Yeah, I should be back out here in September to start getting ready so I'm really looking forward to it.