Privateer Profile: Gavin Gracyk
Riders come and go, and in 2007 we're seeing the sudden reemergence of a very fast former Team Green amateur standout, Gavin Gracyk. This Blissfield, Ohio, resident pretty much just showed up at Hangtown, and put in two top-20 finishes in the AMA Motocross class, good for 18th overall. He improved that at High Point, going 12-12 for 11th overall on a privateer Honda CRF450R, backed by Championship Powersports and Cycra. He had top-ten lap times all weekend long at High Point, and Gracyk is one to keep your eye on throughout the rest of the series. Over the past year Gavin has been through a lot, and it's awesome to see him doing so well. So make sure to show Gavin and his sponsors some support by clicking on the links below.
Racer X: Gavin, it's been a while, man. How have you been doing?
Gavin Gracyk: Oh, I've just been riding and training and working hard this year. I just want to get out there and see how I can do. I'm having fun right now.
I can't even remember the last pro national that I saw you at prior to Hangtown.
The last time I was at a national was probably the end of 2005. I did Steel City, and it didn't go too well. I was sick that weekend, and I was just coming off of the Canadian nationals, where I finished second. Last year I switched to Factory Connection, but then I hurt my shoulder prior to the season. I had a place down in Georgia that I was staying at during the winter, and I kind of turned down a Suzuki deal. I was also going through a tough time in life. I had a girl that I've been with for over three years, she was my fiancée, and she passed away on me in October. So I'm doing everything in loving memory of her, Nikkalee Boatman. She was one of those special girls, and I felt like I was in a tunnel and didn't know what was going on. So that kind of threw me for a loop, and I didn't really want to deal with anything.
I'm terribly sorry to hear that, Gavin.
Thanks, Billy, I really appreciate that. So from there, I ended up getting a bike in the middle of March. The guys from Cycra hooked me up with Championship Powersports, so I started riding a Honda, and here we are. I'm having fun!
This whole time, you've still been living in Ohio?
Yeah, I came back because my dad has ALS, which is a Lou Gehrig's Disease, Amyotrophic Lateral Sclerosis, and he can't do anything. It's pretty much taken his whole body. He's very immobile, so I'm just dealing with a bunch of things in life. So now I'm focused on riding and training hard, and everything is going pretty good right now.
Have you ever thought about quitting motocross?
No, not really. I told myself this year that I'm going to do what I can do. If it all comes together and I get a ride, then I'll keep doing it. I know I have the potential. But if I don't get something, then I might think about doing something else. It's just too hard to do on your own. I've always loved racing, and I've always had somewhat of a talent for it. I've won four titles at Loretta Lynn's, and I was pretty competitive up in Canada. And it seems that a lot of the guys out there racing now are guys I grew up racing with. I ran into a couple of ACL injuries and some shoulder injuries, but now I'm healthy and feel great. I have a good trainer, and my dad has been helping me a lot. The Lord is just showing me favor right now, and things are clicking.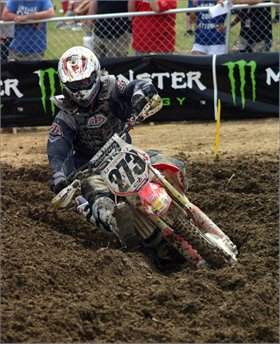 Gracyk finished 11th overall in the Motocross class at High Point

photo: Ryan Longstreth

It seems you haven't lost any speed at all. If anything, it seems you've gotten a bit faster.
Yeah, and I'm not even happy with where I'm at. I'm learning all the time and studying, and I think I found a couple tricks. I want to keep climbing the ladder. I made a few personal goals at the start of the season, and it'll make me feel good if I meet those.
At Hangtown you finished 18th overall, and 11th at High Point. Are those above or below your expectations?
You know, everybody around me seems real surprised, but for myself, I want to do better. I'm not even close to where I want to be, and if I could get a few more tools that will make my job easier. Things are going to get better.
So how are you getting to the races right now?
I'm just trying to scrounge up money to pay for entry fees right now—I'm only paid up through Budds Creek right now. But Cycra is helping me out and making sure my bikes get to the track. Dave Derosier is helping out as my mechanic. He's out of Massachusetts, and I'm actually going to head up there and stay with him for Southwick. He's doing a great job so far, and I'm very lucky to have him helping me.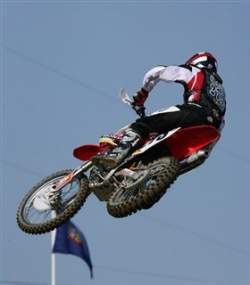 Keep your eyes on #273

photo: Simon Cudby

So you're driving to the races?
Well, I had some friends get me and Dave plane tickets for Hangtown, and then Dave and I both drove to High Point, because I'm only about two hours from there. I'm then going up to his place to stay the next few weeks, and then we'll just be taking a van to most of the east coast races.
Are you planning on racing all of the nationals?
Yeah, I want to do all 12 of them. I want to be in the top 10 at the end of the season. I'm 18 down from Vuillemin right now, so I have to utilize every minute of those 35-minute motos.
Aside from nationals, you also have some good indoor experience as well.
Yeah, I rode for the Richmond Kawasaki arenacross team in the past and I had some podiums, so I'm no stranger to racing indoors. I tried to race a few supercrosses before, but I didn't have everything prepared. You have to be 100 percent ready to attempt supercross, but I hope to get that opportunity one day.
It's good to see you back, Gavin, and I really do wish you the best this season. In closing, you have anyone you want to thank?
First of all, I want to say thanks to Brock Sellards and Kelly Smith and their families. Last year when I stayed in Georgia, those are the guys that helped me get through some rough times, and it meant a lot to me. So thanks, guys. And I'd also like to thank every one of my sponsors.
Gavin Gracyk's sponsors:
www.championshippowersports.com
Soar Academy