Between the Motos: Randy Lawrence
In professional motocross racing there are only a handful of trainers that understand fitness as it relates to our sport. There are even fewer that understand the mechanics of a bike and how it should work with a rider. Randy Lawrence, trainer to current national champion Ryan Villopoto and veteran privateer standout Nick Wey, is one of those trainers. Randy spent a decade working as a factory mechanic for Yamaha and Kawasaki. He has won races with Jeremy McGrath (and two titles with MC), Ezra Lusk, Doug Dubach and even me, once upon a time. He also spent several years racing mountain bikes professionally and that is where he got his passion for fitness. I talked with RL during one of his practice sessions with Ryan this week.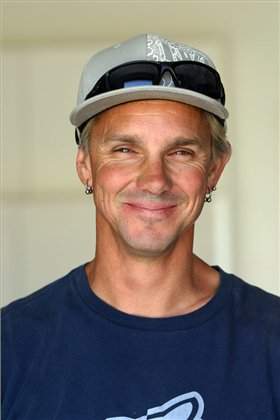 Randy Lawrence

Racer X: RL, how are things with your guys?
Randy Lawrence: Basically, we prepared for the nationals as best we could. Obviously, Nick had a thumb injury at Houston and missed most of the Supercross season. We really just did what we could to get ready for the nationals. He's still riding with quite a bit of pain and not much strength. Hangtown was kind of discouraging for him. We regrouped during the week and he did a little better at High Point.
He's just going to have to work into some good results, isn't he?
Yeah, not so much physically, as far as his fitness; because we've been doing a lot of bicycle work to keep him in shape. But he can't push really hard on the bike yet because he doesn't have the strength in his hand that he needs. He's getting better all the time but he has been frustrated. I'm just trying to keep him motivated and hopefully his hand keeps improving.
Ryan has a small lead in the series but it looks like it's going to be a tough for him—there's some new fast guys in the class, plus Josh Grant is coming back around.
We do what we can to prepare for what we know is coming. Obviously he was very successful in Supercross this year and he worked very hard for that. We definitely did our homework for the nationals and he came out swinging. He got into the lead at Hangtown and then tipped over. He was still able to get up and win. Townley was really strong in the second moto and when Ryan fell again in that moto it made it hard to catch him. It was a little frustrating to not be able to run Townley down but we knew coming in he was going to be fast. He's on a good bike and a good program; he's a world champion that has raced and ridden with Stefan Everts and some other great riders. We never discounted Ben or his program.
Some might think Townley is a rookie over here but he actually has a world title and a Supercross title, similar to what Ryan has.
Yeah, he's the real deal. We are actually pretty stoked with where we are at in the series. Ryan has a first and three second-place finishes. We are just going to put our heads down and make improvements where we can. We have an eight-point lead but that isn't anything in a series this long. We have a couple things to work on and we are just going to focus on going out and winning races. His fitness is good. He has a good base so we can work hard during the week and keep the intensity up.
I know the incident with Jason Lawrence has been done to death but Ryan took some criticism from Ricky Carmichael and Jeff Emig for letting Lawrence "pull him" into that scuffle. What do you make of that?
Ryan's professional career has been successful so far. And when you are the guy in the hot seat you are going to be the target. Sometimes it's with one rider and sometimes it's with several. Last year it was the Alessi family and I think we handled it very well. There were a few flare-ups but I think we kept our calm and tried to make the AMA do the regulating. With Jason, he came out in SX riding really well. He made a habit of pulling in with Ryan on the track during practice but he isn't fair about it—he won't ever let Ryan ride behind him. Then he comes in a little hot into turns and chops Ryan off. There's enough to deal with on a track without having to worry about another rider messing with you. And Jason has done that all year. I tried to tell Ryan to just do his own thing all year. And we've really just let a lot of his (Jason's) stuff go and looked the other way.
You guys went to the AMA between practices and told the AMA what was going on. They told Lawrence that he had to stay away from Ryan during practice or he would be disqualified. But he didn't let it go, did he?
We went to the AMA in Las Vegas after the first practice. We had some issues with him there. They said they'd keep an eye on him but nothing was ever done. And Townley had problems with him in Sacramento also. I was pretty surprised when I was watching the second practice when Lawrence pulled right up next to Ryan on the start line. If I was told to stay away from someone or I was going to be disqualified I would take it pretty seriously. Ryan did a start and Jason took off right with him. So, Ryan turned around and did another start and Jason kept going, so I thought things were going to be fine. Then Lawrence pulled in and took off right as Ryan came by. Obviously, things just went really bad after that.
These kids are 18 years old and they are aggressive. They are gnarly kids. We tried to get the AMA to get a handle on the situation and they didn't. I'm not saying that what Ryan did was the right thing but you can only take so much before you snap, I don't care who you are. We don't care if Jason rides around Ryan in practice as long as he doesn't get in the way of what we are out there trying to do. It was a stressful way to start the season.
Is there any tension in the Pro Circuit truck? There is a power struggle shaping up between Ben and Ryan since neither of them is going to accept second place.
No, we haven't seen any of that. They have always gotten along well since Ben first came over. With Ben being hurt last year it was never an issue. He's offered for us to come out and ride with him and we've offered the same. I mean, they don't hang out together or go to dinner but they get along well. I don't see Ben as the type to start something. They are both the guys to beat right now and both of them want to win the title fair and square. They both want to win heads-up. The guy that deals with the little things that come with a competitive series like this is probably going to be the guy that comes out with a number one plate.
Good luck in Southwick to both your guys, Randy.
Thanks Ping.