5 Minutes with ... Josh Grant
Winning your first national has to be one of the sweetest. Josh Grant's first overall at High Point hadn't sunk in yet when he talked about the day in press, but there would be time for that. Grant has had his share of chances. He has a reputation for great starts and getting in good positions early in a race, but he seemed to be riding on the edge and just a half a click away from putting it together. These just take time, and for Josh Grant, this weekend was his time and he knew it. Either this is true, or he is sneaking in a commercial for The Great Outdoors on us. After doing the podium, TV, and a press conference that was on the Racer X post race show on Motocross.com, we sat with Josh for one more time to ask what really happened with his first national win:
Racer X: Good ride Josh. A year ago we saw Ryan V. win his first national here and now he's defending that title. Is it possible this win might end up the same way for you?
Josh Grant: I hope so! I felt really good all weekend. I just put every race together. I felt so comfortable on this track last year. Even coming into this year I was watching some of the Great Outdoors movie and got some motivation from it. Starting with Saturday practice I wanted to show everyone that I was here to race.
What got you going?
I don't know. Something in those movies, The Great Outdoors and On the Pipe. Something in there clicks and gets me pumped up for anything.
I had a friend that tried studying race TV coverage of Southwick and riding his butt off on sand at home to try and qualify for the national, but after he signed up and rode Southwick he was all 'Wow, this is NOTHING like on TV, it's way harder!' What do you think?
[Laughs] Yeah, at least I can relate. It is. I know!
When did it click for you that this one is yours, first moto when you held the lead the whole time, or the second moto?
No, I think on practice Saturday. Honestly. I felt it. I felt like this is my weekend. The way I felt in practice, I was hitting my lines really well. My bike setup was awesome. My team guys had a really good setup. We did a lot of testing last week. Saturday was just the day it clicked for me. I was excited about the weekend.
You have had those races where you get the start and the lead, and something happens. What happens in those races anyway?
I don't know! Bad luck I guess. Stuff. I have to figure that out and start winning I guess.
How were you as far as weak points on this track?
There were a few corners that I struggled with and that was about it. When Townley passed me, then Villopoto, I saw their lines so I switched mine to their lines and I had no issues. For this track, the lines changed constantly so even following those guys helped get me the overall. If I would have kept my same lines, I probably would have been passed by Dungey too.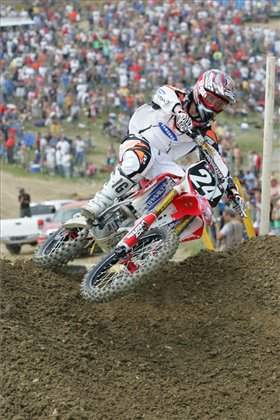 Josh felt strong all weekend

Are you ready to mix it up with those guys all summer Dungey, Villopoto, and Townley?
Yeah! I think I am 13 points behind Villopoto and five behind Townley.
How is Townley doing? Did you expect him to be as fast as he is?
Definitely not! I don't know because I had not seen him ride or race. I just knew he was a GP champion and those guys are really good outdoors. I watched his style when I was behind him in that second moto. He rides like Everts a lot. He stands up. He is really, really smooth and gets all the power to the ground. You can tell he knows how to keep a lot of momentum going.
So is Ben going to have you guys watching videos to make sure you do the same things?
Yeah. I will watch the videos, and learn off everyone. In these ruts Ben had an advantage. He rode them really well.
Has winning your first national overall sunk in yet?
No. Not yet. I guarantee it will on the way home.
In 1997, Damon Bradshaw was seen leaving the pits about where your semi is now, just pinned in his rental car and I don't think he ever let off. You got any ideas?
I think I saw some mud at the bottom of the pits.
We better cut it off there. Good job and see you in two weeks at Southwick, Josh.
Thanks, Steve. Who is that messing with me on Mototalk?