Kawasaki/Racer X Race Report: Hangtown
It seemed like almost everything you could have ever expected and more took place during the wild weekend that was called the Honda Hangtown Classic presented by MDK Motorsports. The action at this year's opener started on Saturday and didn't cease until Sunday, and a lot of fans headed home happy after witnessing great racing in both classes.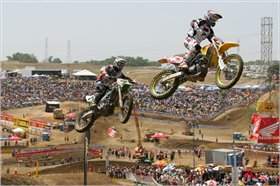 RC and Stewart battled hard in moto one
The races delivered as hoped. The Lites class featured a dynamic story line featuring several contenders, some surprises, and a tie on top of the series standings, with Ben Townley and
Ryan Villopoto
trading 1-2 and 2-1 moto scores, and Townley notching his first AMA/Toyota Motocross Championship win. The Motocross class featured a knock-down drag-out duel between
Ricky Carmichael
and
James Stewart
in moto one, which went right down to the last few corners of the race. Stewart got the edge in that one, but
Carmichael
bounced back with a resounding moto two win, giving the part-time motocrosser and part-time stock car driver the victory.
Considering Carmichael hasn't raced on a dirt bike since early March, it was almost possible to think he wouldn't be a contender to win the race at Hangtown. But then again, Carmichael is the seven-time and defending AMA Motocross Champion and by far the winningest AMA Motocrosser of all time. If he's there, he's a contender, and he proved it by going back and forth with Stewart on lap times in the AMA's new timed qualifying session. Then after Stewart slipped early in the fist moto, he found himself in the early lead. Before long Stewart was back up to second, but Carmichael was fleeing and would be tough to catch.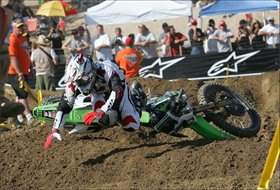 This second-moto crash took Stewart out of contention for the overall win
Even a mid-race crash by
Carmichael
didn't take him out of the lead, as Stewart rolled up to the downed Makita/Suzuki rider but didn't seem 100 percent intent on taking the lead at that time. Only late in the race did Stewart start attacking, and the duo put on a great show for the last ten minutes of the race.
Carmichael
made a few mistakes, and then Stewart swept in and made the pass on an uphill left-hand turn. Carmichael of course never gave up and even made a run for a pass on the last lap while Stewart was dealing with lapped traffic, but then Carmichael hit the lappers himself and wasn't able to get around.
The stage was set for a second-moto showdown for the overall, but it never really materialized. Honda's Davi Millsaps grabbed the holeshot, and Carmichael got around him on the second lap. Stewart passed Millsaps, too, but he wasn't able to make a run at RC this time, and after a few mistakes, the race for the win was over. Then, late in the moto, Stewart crashed in a back section, and the damage was done. Millsaps cruised past to move into second, and then Stewart had to deal with his teammate Tim Ferry. Stewart, struggling with front brake problems due to the crash, yielded to his teammate Ferry and had to settle for a disappointing fourth in the moto. His 1-4 scores held up for second overall ahead of Ferry's 3-3. But Carmichael's 2-1 ride was the real story, reinforcing again why he is the series' champion. He maintains the fact that he won't be racing the whole series this year, though.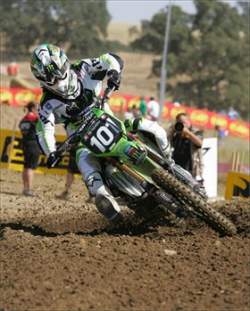 Monster Energy/Pro Circuit Kawasaki's Ben Townley took his first AMA National win at Hangtown
The Lites class featured an incredible battle in the first moto.
Josh Grant
grabbed the holeshot on his Sobe No Fear/Samsung Mobile Honda. Grant needed momentum after a frustrating supercross season, and he got it by running in the lead early. Meanwhile Townley and his teammate
Brett Metcalfe
went down on the first lap, but Townley's crash was minor and he stayed in the hunt. Villopoto chased Grant down to take the lead, but he washed out in a turn and dropped back to fourth. Then it was on. Grant, Villopoto, Townley and
Ryan Dungey
battled it out for the final few laps of the moto. Townley held the lead for a brief time, but Villopoto eventually stormed past to take the win. Dungey was third ahead of Grant, while
Jason Lawrence
managed fifth after getting a horrible start.
Lawrence
was penalized with the 40
th
gate pick in both motos due to his run ins with
Ryan Villopoto
on Saturday, and it was almost impossible to start inside the top 15 considering that. He ended the day in sixth overall.
In moto two Villopoto got out front again only to fall again, putting Townley in the number-one spot. RV1 made a run at Townley and started closing the gap, but this time his charge didn't last. At the halfway point, Townley seemed to find his rhythm, pulling away from Villopoto and making it look easy.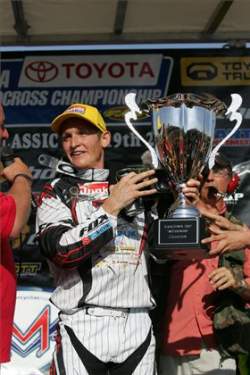 The GOAT is back!
The second moto was a different story," said Villopoto. "I fell over again after the step up, and Ben got past me. I got back to where I could see him, but then I was watching him inch away. I tried to do something about it, but I think he was riding the track better than me. I started making mistakes and making bad line selections, and he got away from me."
"We made a couple of changes to the bike," said Townley. "I talked to (Pro Circuit suspension technician) Bones and he helped me. I had to concentrate on my riding. The first race, I got caught up riding how those guys ride, and that doesn't work for me. Once I got into my own rhythm in the second race, it was like a whole different Ben Townley out there."
Indeed it was, as the second-moto edition of Ben Townley notched his first AMA Motocross win. New talent keeps coming to the forefront of the sport, but out front in the big class, it's still the same old story.