5 Minutes with ... Jake Weimer
Nineteen-year-old Jake Weimer impressed more than a few of the 35,000 fans present last Saturday night in Las Vegas' Sam Boyd Stadium by placing second overall in the Dave Coombs Sr. East/West Shootout. Coming off a fourth-place finish in the 2007 AMA Amp'd Mobile West Region SX Series, Weimer not only put a fine exclamation mark on his stadium season, but gained confidence and momentum that will help his cause as the motocross circus now heads for the great outdoors. Having missed a large section of the '06 outdoor tour due to injuries sustained in a car accident, Weimer enters this summer both healthy and fully prepared. Racer X tracked the SoBe No Fear/Samsung Honda rider down to get his take on Las Vegas as well as the forthcoming Hangtown Motocross Classic.
Racer X: Jake, what are you up to today?
Jake Weimer: I am actually on my way home from Glen Helen. I was just practicing out there to get ready for Hangtown.
Were there a lot of people out there riding?
Yeah, there were a bunch of guys out there. It was good. Chad Reed was there and so were Nick Wey, Josh Grant, Billy Laninovich, Ryan Villopoto and Tommy Hahn — just all kinds of guys. So I went out and did a 20-minute warm-up ride, then went back out and did two 35-minute motos.
Will you ride the Prequel race at Glen Helen this weekend?
No, I'm going to go up to Northern California tonight. I'm going up there to ride all next week before going to Hangtown.
Have you ridden the Hangtown track before?
Last year I wasn't there. The year before, I rode it as an amateur. That's the only time I had ridden it. I've been up there to watch and I know it can get hot. And for California, the track can get rough and rutty and I like that, so it should be good. I'm excited and ready to go. My body is 100 percent, and as of now, I have zero injuries to speak of. I'm real healthy and I'm as ready as I'll ever be.
You're coming off an excellent second place finish in the East/West Shootout. Did you leave town pleased with the result?
Yeah, the result was good. In fact, I was a little bit surprised with it because the beginning of my day was really rough and I was pretty bummed out before the night show. But I ended up riding well and was happy.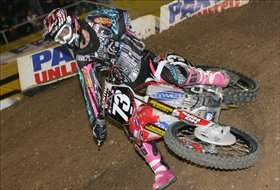 Jake rode a smooth main event

photo: Simon Cudby

Why the rough start to the day?
I don't really know… I've kind of had a cold and wasn't feeling that good and I wasn't breathing well. In practice I was tight and not comfortable on the bike at all. But when race time came and the gate fell, I forgot everything and just raced. I guess that's why I was so surprised: I was so uncomfortable in practice, but then a couple of laps into the main event I felt so comfortable. On the bike, I felt like I could do whatever I wanted. After the race a number of people asked me if I was nervous while running in second and I told them, "No, I felt real calm.'" It was a good night for me.
You placed fourth overall in the West Region, consistently inside the top seven and even picked up a podium at San Francisco. Were you pleased with your season?
Uhm, you know I can't say I was unhappy with it. It was pretty good. Obviously, looking back there were some things I wish would have gone differently and maybe I could have done better overall, but yeah, I was happy. I learned a lot this year. I'm focused on the outdoors now, but I learned a lot in supercross this year and I'll go into 2008 prepared and knowing a lot more. And like you said, I got my first podium in San Francisco and that was cool. Other than a few mistakes, it was a good season.
And now it's onto the nationals…
For sure! Last year in the outdoors, with all that went on with me, I was just not healthy. This year I have a real positive attitude towards the outdoors and want to get off to a good start. At Hangtown, I want to ride two solid 35-minute motos and try and get into the top seven, I want to get off to a good start.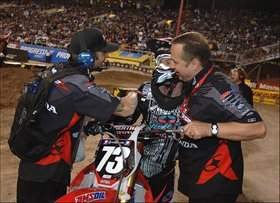 The celebration begins

photo: Carl Stone

How do you feel about the tough East Coast tracks such as Mt. Morris and Southwick that show up at the beginning of the schedule?
You know, I've never been to either. Those two tracks will be brand new to me. I've only seen them on TV. I'm excited, in general, for the outdoors, though. The team has done a lot of testing. I'm excited and it's going to be fun.
If things go your way, what are you hoping to achieve by the season end at Glen Helen in September?
It would be nice to finish in the top five. Overall, I'd be really happy with that. I guess we'll see. As of right now, I know I have trained hard, I'm healthy and I'm confident from coming out of Las Vegas with such a good result.
Okay, Jake. Thanks and good luck at Hangtown. We'll see you up there.
Sounds great. Thank you.