5 Minutes with ... Billy Laninovich
The 2007 AMA East Region Supercross season is one Billy Laninovich would much rather forget. Having prepared diligently with trainer Jeff Spencer, as well as spending months riding and training with James Stewart in Florida, the Californian had his sits firmly affixed on a championship. But come the opening round of the East Region in the Georgia Dome, it all seemed to come unraveled. A 12th place finish in Atlanta followed by a 14th in St. Louis put him right back on his boot heels and he ended up chasing it from that point forward. Things took a turn for the better with two top fives at Daytona and Orlando, then it all came unglued again.
When all was said and done, the Sobe No Fear/Samsung/Honda rider found himself sixth in points and disappointed. But at least there is the outdoor series to make amends. Sitting before his rider locker in the Sam Boyd Stadium pits, we talked to Billy about both his supercross season and his hopes and goals for the Nationals.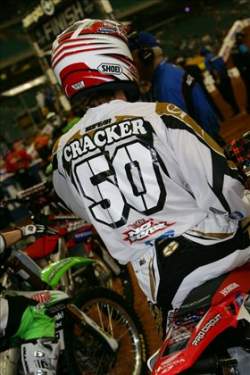 Billy Cracker

Racer X: Billy, how did you feel about your 2007 supercross season?
Billy Laninovich: My supercross season? Well, it didn't go as planned. I was hoping to win a supercross championship. I don't know… I struggled this year. It was just a bad year for me.
Did you just get off to a bad start and things kind of snowballed?
Well, I had a couple problems the first couple rounds. We figured that out. Then I had a couple good finishes. Then I had some bad luck, I guess, a couple crashes and stuff. I put myself in a bad position in a number of main events with bad starts and stuff. And when you do that, it's hard to come back up.
When things don't go to plan, do you find yourself getting more desperate and chasing it?
Yeah, you do. I get frustrated with myself because I know what I'm capable of doing and stuff. And this year I didn't do anything of what I'm capable of doing. I just take it as a bad season. Now, I'm looking forward to outdoors. Actually, I have not ridden any supercross since Dallas. I've just been riding all outdoors. I mean I went to Detroit (the last East Region round) without any supercross practice and did fairly well. Then after that race, I just went right back to practicing outdoors and doing outdoor testing and stuff like that to get prepared.
You spent a lot of time with James Stewart, didn't you?
I was back there from the beginning of the series until Dallas. And I'm going back out there next Saturday to just prepare for outdoors.
Do you guys ride together a lot?
Yeah, we do everything together. We do our riding together. We've been working out together and stuff. We pretty much do everything. It's like our own little team. Me, Eric [Sorby] and James. We ride pit bikes together and everything. Every time he is on the track, I'm on the track. We always do our motos together and we'll go out to the gym.
Do you like Hangtown?
You know, not really. But I always seem to do pretty well there. I think I've gotten a couple top fives the last couple years. I' looking forward to it. I didn't do anything in supercross, so I got to do something in the outdoors. It's a whole new season.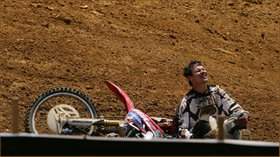 Billy is shown here right after he tore his ACL at Budds Creek last year

What happened at Budds Creek last year when you got hurt?
I was actually in second for a while, then I went back to third and then I went back to second. [Ryan] Villopoto got around me and then I was chasing him around for a while and then fell in a corner and I couldn't get my bike started and went back to like eighth or ninth. Then I started to work my way back up and me [Grant] Langston came together and then that's when I tore my ACL.
What is your plan of attack for this summer?
I want to be top five. I want to get some podiums. I have not had a podium in a long time. I had a good chance a few times before I got hurt last year. So I think if I can just take what I had last year and just build on it then I think I can out my Honda up there.
Do you think you can with the outdoor title?
I don't know…. We'll see.
Can you race with Villopoto?
I don't know. That kid is going fast. He's riding good. There are a lot of good guys out there. I think that if I just keep my head down and if I just train and ride, that's all I can do. I can only do the best that I can do. I did everything possible that I could do this year in supercross and I did worse. I mean I did way more than I had ever done. Being at James' house before the season, I thought I was going to be really good. I don't know. I just struggled. This was a really bad year. So now we'll go out and work outdoors and go from there.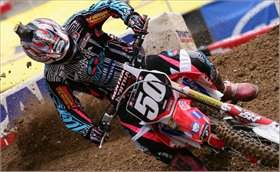 Lano is looking forward to the AMA Toyota Nationals

Who do you see having to fight for the championship?
Well, [Ben] Townley is probably going to be good. I think Jason Lawrence will probably ride pretty good—he's a good outdoor rider. Villopoto will probably be the guy to beat. He was last year. I guess we'll see.
Okay, Bill. Best of luck in the nationals.
Thanks a lot, Eric. I appreciate it.