Things To Do In...Las Vegas
There are so many obvious things to do in Las Vegas that this one is kind of redundant. See, it's all right there for the partaking. But remember (or better yet, beware) what happens it Vegas doesn't always stay in Vegas…
Hart & Huntington Tattoo Shop
This place is always humming with activity when supercross comes to town, as half of the Racer X staff can attest. It's in The Palms Casino, but be warned: If you have an image of Carey Hart as a tattooed, rock-star egomaniac, you're really going to be disappointed. He's one of the nicest people you'll ever meet.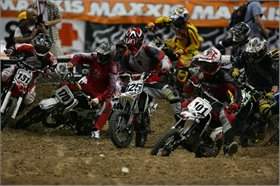 Mini Moto Action tonight at the Orleans Arena!

photo: Simon Cudby

Minimoto SX
Tonight, at the Orleans Arena! This event is an absolute blast, and with Ping going for the title, there are sure to be some tears.
www.minimotosx.com
Hoover Dam Tour
Drag your butt out of bed tomorrow morning before heading out to Sam Boyd Stadium and see a big concrete slice of Americana!
Red Rock Canyon National Conservation Area.
If manmade damns aren't your thing, here's a big, beautiful chunk of heaven: Website
TRIQ
Carey Hart's deal, once more—this guy has it all going on! This supercross after-party is at the new Planet Hollywood (formerly Aladdin). There will be more hot girls and supercross folks in this bar by 1 a.m. Sunday than anyplace in Vegas. Trust us on that.
www.triqlv.com
Rehab at the Hard Rock
Sunday afternoon, starting at noon. Get a spot in the pool, sit back, and enjoy the scenery. This is where the Red Bull folks will be, and most of the supercross industry!
www.rehablv.com
Other suggestions:
Check out the skydiving place and learn to fly.
See the fountains at Bellagio (big points with the lady)
Check out the pretty tigers at Caesar's Palace and stand on the landing where both the Metz and Evel Knievel flipped, though only Metzger did it on purpose.
Ride the Coaster at New York, New York.
Finally, the Circle Bar at the Hard Rock. Any time, day or night (but here's a big hint: Buy your drinks at the sidebars, as there's much less of a wait)
Rain at The Palms. The roof is on fire…literally.
Studio 54 at MGM
The club at the top of Mandalay Bay. Careful though; a Crown and Coke will run you $35.
If you happen to visit or partake in any of the aforementioned venues or activities, avoid eye contact with the casino carpet on your way back to the room. If these places of debauchery have landed you back at your hotel as the sun is cresting, make like a ninja to the closest elevator. If Chaplin Hudson, Doc Bodnar, or Mrs. Villopoto greet you when the door opens, tell them you were mugged, drugged, and robbed. Aside from the missing bruises, you will be telling the truth.
Go carefully.

Is AMA motocross coming to your neck of the woods? Have a suggestion for our "Things To Do In..." feature? Email it to letters@racerxill.com.