5 Minutes with ... Giuseppe Luongo
Earlier this month TFS flew to Spain for the second FIM Grand Prix of 2007, where he met with AMA Pro Racing's Steve Whitelock, Action Group's Giuseppe Luongo, and the FIM's Wolfgang Srb about their vision of the future of global motocross racing. His first report featured his discussion with Whitelock about two-strokes, sound issues, and the "350" proposal gathering steam. Here's Part 2, which is based on his conversations with Mr. Luongo.
Sometimes when you get surprising news, you can't help but to go back and ask again! This was the case at Bellpuig, Spain, when the FIM's GP Commission, with the AMA's Steve Whitelock in attendance as a guest, found common ground on three key things to approach manufacturers on to make racing better – engine displacement, noise and saving the two-stroke.
The end result seemingly opens a new era of cooperation between the FIM and AMA. The host of a second meeting to break the news to media afterwards was Youthstream's president Giuseppe Luongo. FIM motocross president Wolfgang Srb and Whitelock outlined the details of a proposal on reducing the size and power of 450s, managing noise, and keeping the two-strokes alive for budding amateurs, all to be submitted to seven largest OEMs.
Can this be real? Racer X had a chance to go back for more the day following this announcement to ask the obvious question. Did I really hear that stuff? Between the motos (literally) at the Spanish GP, we sat for a few minutes in the principal's office, actually Youthsream's conference room, to get Luongo's side of this fast-moving story: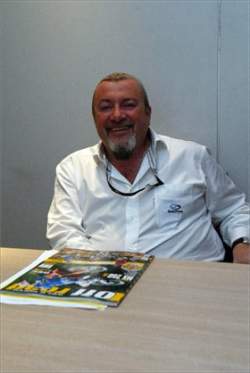 Giuseppe Luongo is very happy with how the meetings went

Racer X: Can we talk about how it is that the FIM and AMA are here working on things this weekend? Did I really hear that stuff yesterday?
Giuseppe Luongo: I think we all came together this time and it is good. Before there was a wall that people stayed on both sides of. It's not that they were not trying to work on things, but it was still there. Today we started to have a very open dialogue. We started talking about our problems, about the AMA's problems, about the future of our sport, and about the two-strokes that we need for the younger riders. We have the same problems.
Today the market is global. Today we are stronger and more credible with the industry. The industry is our partner, but the goal of industry is to sell bikes. The goal of FIM/AMA racing and us at Youthstream is to make a great race. Normally the two things go together. But don't forget the manufacturer's final point is to sell bikes, and our final point is to make the sport great. For this sometimes, it is important to have the federation make rules that go in the right direction. The manufacturers sometimes want to go in a different direction. Maybe they want to make a cheap bike, or a special product, or maybe they only want to make four-strokes because they forgot something. There are many things.
So for us to work together, it's to help the manufacturers sell more, but at the same time make sure that at every level from the beginning riders, that people can race and there will be bikes. We see really no reason to not be together on this. It is easy easier to work together than be against each other.
When you compare notes on ideas and ask "what did you do with this?" You put the knowledge together it is better.
Yesterday in our meeting with media we said it was a historical moment. The most important thing for me is not that we reach exactly 350ccs what—surely we will reach what is the best for all of us. The more important thing is, all of us, we understand it is very good to work together and work in the same direction.

Was there a specific goal for the weekend?
We wanted to invite Steve Whitelock to come on an off weekend and see the world championship, and to talk in general on points of common interest. The will on our side was to sit together and go from there. It looks like everything came together at the right moment, the right things. It was good. Steve was free this weekend and the meeting with MSMA was already there. I think all of us were prepared to do better.

On a scale of 1 to 10, how would you score the weekend on these meetings based on what you expected?
I can say 10, really. Everything came natural, you know? It's really a success. This is very positive. You remember in the past many times there were problems, with the Motocross of Nations for the American team. Americans talked about all the different rules, the noise, the practical things. You have to spend a lot of time testing a different bike. Now it is practical. Manufacturers can make bikes now more for anywhere, more standard. Everyone will be stronger. With the new dialogue between FIM and AMA, people can talk right away.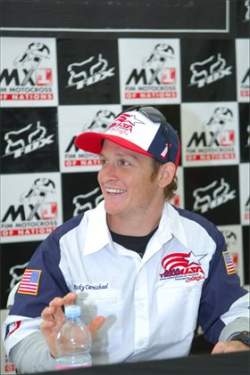 RC has helped the MXdN grow over the years

photo: Steve Bruhn

Is this something the Motocross of Nations helped bring together? It's the one time each year we are in the same place.
Yes and no. Yes because that is the race that linked us together. Thank you to the Motocross of Nations and all the people who understand this event, and to the media that want to open the door and see what is on the other side. The two world were separated.
The Motocross of Nations is our Olympic Games and more and more I see this is something that is huge. This is the only race where the whole world comes together. This coming together does happen thanks to a lot of work by the FIM, the AMA and even the rider. Don't forget the work Ricky Carmichael did. It was fantastic. He is a great star. His is competitive on the track because he wants to win, but off the track he helped very much. All these things together, they make a moment like this happen. I think now we will work well together and you will see the benefit in the racing.

When the MSMA takes the recommendations of the GP Commission to the manufacturers, what is going to happen? Will change be well received?
I think they are in line with us on principal. They know we are right about the noise and about too much power on the 450s. There will be pressure here and there, but we see the general picture and I think they will come back with a proposal that is good for all of us. They feel this is a serious problem that we have to work on worldwide. I think there will be a serious commitment on their side. I don't know if they will say 350cc or 400 or what or some other proposal. We don't say "we want 350cc." We say we want a bike that is very good for motocross. It's light handling with the right power so the rider can race it, not so the rider just hangs on. We have the problem with noise and it's our problem and your problem.

It seems ironic that an issue like track deterioration in American supercross leads to talk of reducing bike sizes, but no one solves it there and here we are talking about it in Spain….
The synergy is important. These are problems that have to be arranged between the FIM and Japan. To work together, it's very good. This way they have to address the problem. The dialog now is very good. Sometimes the team wants one thing but they don't see everything, and not everyone sees the influence of what happens on the young riders. For the manufacturers, I am sure they made a good decide to build four-strokes. For marketing maybe they decide to build a four-stroke only. Maybe this is a good decision for their market, but for our world, we have difficulties. There are 50s, 65s, then 85 until 125. This is difficult to bring in four-strokes here.
To go from an 85 to a 250, it's unbelievable. The 250F of today is like the 250 two-stroke of yesterday. It's a very powerful bike. So for this we have to push things in the right way. We say to Honda, "You want to make a four-stroke, do it, but we don't kill the rest." This is important work that the FIM and AMA are doing.
When we discuss with the manufacturers, we never discuss with them their marketing choices. If Honda decides to have only a four-stroke, they have their reasons. It is not up to us to say you made a wrong decision. But we have to see the big picture.