Toyota/Racer X Power Rankings
15 down and one to go in the 2007 Amp'd Mobile AMA Supercross Series, and Monster Energy Kawasaki's
James Stewart
has finally earned every number one vote from our panel. Clinching two championships in one night looks to have been the deciding factor. Second place in our rankings again belongs to
Ricky Carmichael
.
Chad Reed
's sixth-place finish in Seattle dropped him from second to third, moving RC up a position.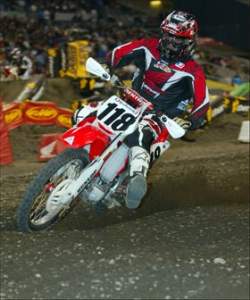 Honda's Davi Millsaps went from 18th to 8th in one week!
photo: Steve Bruhn
The biggest jump this week came from Team Honda's
Davi Millsaps
. After his second-place finish in Seattle, Millsaps jumped 10 spots to eighth overall.
There's one more race to go for riders to make a push, and it'll be interesting seeing the Lites riders battle it out in the Dave Coombs Sr. East/West Shootout in Las Vegas.
| | | | | | |
| --- | --- | --- | --- | --- | --- |
| | | PTS | # | RIDER | SPONSOR |
| 1. | | 650 | 7 | StewartJames (26) | Monster Energy Kawasaki |
| 2. | +1 | 597 | 4 | CarmichaelRicky | Makita Suzuki |
| 3. | -1 | 584 | 22 | ReedChad | San Manuel Band of Mission Indians Yamaha |
| 4. | +1 | 555 | 51 | VillopotoRyan | Monster Energy/Pro Circuit Kawasaki |
| 5. | -1 | 544 | 15 | FerryTim | Monster Energy Kawasaki |
| 6. | | 490 | 101 | TownleyBen | Monster Energy Pro Circuit Kawasaki |
| 7. | | 463 | 14 | WindhamKevin | Sobe No Fear/Samsung Mobile Honda |
| 8. | +10 | 435 | 118 | MillsapsDavi | Factory Honda |
| 9. | -1 | 419 | 62 | DungeyRyan | Makita Suzuki |
| 10. | +1 | 382 | 12 | VuilleminDavid | MDK Motorsports Honda |
| 11. | +1 | 379 | 9 | TedescoIvan | Makita Suzuki |
| 12. | -3 | 337 | 116 | MoraisRyan | Yamaha of Troy Yamaha |
| 13. | | 322 | 29 | ShortAndrew | Factory Honda |
| 14. | -4 | 302 | 105 | LangeDarcy | Monster Energy Pro Circuit Kawasaki |
| 15. | -1 | 292 | 338 | LawrenceJason | Yamaha of Troy Yamaha |
| 16. | +1 | 230 | 26 | ByrneMichael | Rockstar Suzuki |
| 17. | -2 | 212 | 8 | LangstonGrant | Factory Yamaha |
| 18. | -2 | 179 | 121 | JessemanBranden | Motoworldracing.com Yamaha |
| 19. | new | 145 | 58 | HillJoshua | Factory Yamaha |
| 20. | -1 | 126 | 13 | VossHeath | Privateer Honda |
| 21. | +1 | 106 | 11 | PrestonTravis | Sobe No Fear/Samsung Mobile Honda |
| 22. | -1 | 103 | 24 | GrantJosh | Sobe No Fear/Samsung Mobile Honda |
| 23. | +2 | 95 | 37 | CarpenterPaul | Cernic's Kawasaki |
| 24. | | 83 | 52 | HahnTommy | Factory Honda |
| 25. | -5 | 64 | 800 | AlessiMike | Red Bull KTM |
Total number of votes 26
Linda Ardehali, Vince Arimitsu, John Ayers, Jason Berry, John Bodnar, Chris Bond, Andy Bowyer, Erv Braun, Paul Buckley, Dave Castillo, David Clabaugh, Davey Coombs, Steve Cox, Simon Cudby, Jeff Emig, Mike Farber, Jason Fleming, Steve Giberson, Jason Hooper, Frank Hoppen, Steven Hudson, Chris Hultner, David Izer, Eric Johnson, Jeff Kardas, Jim Kimball, Scotty LaLonde, Stephan Legrand, Brian Leib, Mario Marini, Nick McCabe, David Pingree, Dave Prater, Pat Schutte, Alan Selk, BJ Smith, Bryan Stealey, Denny Stephenson, Carl Stone, Michael Stusiak, Jean Turner, Billy Ursic, Scott Wallenberg, Matt Ware, Jason Weigandt, Billy Wood, Brad Zimmerman