5 Minutes with ... Michael Willard
With supercross feeling a little monotonous over the last few weeks, Ohio's Michael Willard created some buzz (literally) in Seattle—with help from the folks on several moto forums—by racing a KTM 125 two-stroke in the Lites class. A thread started by Rupert X on the message board asking a racer to step forward and compete on a two-stoke developed into quite the wager. In fact, since Willard made the main, he is owed close to $3,000 ($1,000 of which came from Rick Hamer-Jackson, aka Hammertime). We checked in with Willard to find out if he's keeping that two-stroke around for the Canadian Nationals.
Racer X: Michael, what's going on?
Michael Willard: Just hanging out here in the sunshine, man!
Are you?
Yeah. It's nice out here today.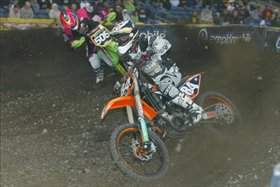 Michael Willard placed 15th in Seattle on a KTM125 two-stroke!

photo: Steve Bruhn

Counting all of the money you made on the weekend?
Not yet. In Vegas I will be!
How was that KTM 125 working in Seattle?
It was all right, I guess. It was kind of scary sometimes, because with all the ruts and stuff I couldn't keep my momentum up in the corners. It was like stop-and-go and I had to clutch the hell outta the thing.
So we won't see you racing a 125 up here in Canada?
I don't know. The bike I was on was pretty fast. I want to ride it outdoors a couple of times. I doubt it. Maybe at Walton, if I win [the MX2 East championship], I will whip it out. That would be cool.
Did you spend much time on the 125 before you raced it in Seattle?
No. I went and rode Elsinore for a little bit on the outdoor track on Monday. Tuesday, I went to go ride supercross and after ten or fifteen laps, the head gasket blew on it. I finally got most of the jumps down and then the bike screwed up. On Wednesday, I went to this supercross track; it's called Scott Road. [Josh] Hansen and [Jason] Lawrence were out there too. It's sandy, so I could rail the corners. I was doing really well out there.
I never rode my race bike and my practice bike had a different piston, carburetor and the power valve was adjusted and it had good gas, but my race bike had a full-blown motor and everything. Like, sometimes I would come out of the corners, hit the clutch and it would wheelie. It was super fast.
How were your starts?
They were all right. They weren't horrible; it wasn't like I was ten feet behind. In my qualifier, I had a good jump but I was on the inside and got pinched off a little bit.
What was the biggest disadvantage of racing a two-stroke 125 against the 250Fs?
On a four-stroke you can rely on the power when you come out of the corner, but on the 125, you gotta work a little harder.
[Loud noises interrupt our conversation]
Where are you right now?
I'm getting a bed liner put in my truck.
Are you using some of Hammertime's money for that?
Yeah, actually, I am!
How much money have you collected so far from the Mototalk deal?
Just a $1,000 from Hammertime; I guess they said they're going to pay me in Vegas. I heard on the weekend that the pot was $3,700, and then I got on the internet last night, and I don't know if I read it wrong, but someone said the money has been posted up and it was only $2,900. I was going to post and say, "Whoa, I thought it was thirty-seven!" Maybe some sucker is not paying up.
Is that what motivated you to race the two-stroke? The money?
Yeah, that and everyone thought you couldn't make it on a 125. So I said, "Let's do it!" KTM has a kick-ass 125, so I figured I'm light and I gave it a shot.
I can still remember the first time I saw you ride; you were on a KTM 125 in the spring of `05 at Gopher Dunes, dragging the handlebars through the berms!
Yeah, dude, that was the last time I rode one!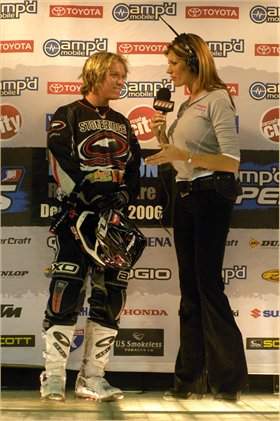 Mike talks to Erin Bates

photo: Allison Kennedy

Did KTM give you some good support with the bike?
Oh, hell yeah. They hooked it up with like an `03 race bottom end, an `07 cylinder, cleaned it up and put it on the dyno and adjusted the power valve and got the carburetion good; FMF hooked it up with a new pipe and shorty silencer; Alpina wheels—I guess they are supposed to be lighter; Pirelli got us some lighter tires so it was as light as possible.
It created a lot of hype on the internet. Did you have many people stopping by your pits in Seattle?
Tons of people. I rode out to practice and there were a couple guys out from Suzuki and when I rode through the crowd they were all clapping.
I saw a photo taken of you after you qualified and you looked pretty stoked.
As soon as I jumped over the finish line jump, I looked over by the start to see how many guys had already crossed the finish. I counted eight and thought maybe I got ninth and then I looked over to the tower to Casey Lytle and he gave me the thumbs-up!
I would have loved to hear that sound.…
Oh, man. On the parade lap I was stopping on the triples and just revving it up!
Other than Seattle, what have you been up to for the past few months?
I went home [Ohio] after San Diego and just hung out for a little and relaxed. Then I went down to Florida for Orlando and did some outdoor riding on the 250Fs. Then I went home and rode for a couple of weeks and then headed out here [Murrieta] last Saturday to get ready for Seattle. This week, I'm going to do some outdoor riding and maybe one day of supercross. I'm getting ready for Canada and I'm going to do Hangtown too.
You've had some decent results in SX this year, finishing thirteenth at San Francisco and making just about every main event.
Not too bad. Supercross is a confidence thing, I think. I just wanted to ease into it and make as many main events as I could. I feel that I rode better at the World rounds than I did at any rounds down here. I'm not sure if that was just because I was in good old Canada or what.
What is your deal with KTM in the States, as far as supercross goes?
Nothing, really. I'm with KTM Canada. My goal is to be down here next year or the following year. I really want to ride for KTM; they help me out so much with motors, suspension and I help them out with testing if they need another opinion. R and D KTM is helping me out a lot with suspension and the factory team too. I would say I have as good as ride as a factory guy, but I'm not paid any cash.
What do you have to do get a spot on the KTM factory team?
Start kicking some ass!