Things To Do In...Seattle
Only two rounds remaining in the Amp'd Mobile AMA Supercross Seris, and we just may have a wrap on the championship this weekend in Seattle. Racer X online reader Brett Wise, who calls Seattle home, helped us out with this week's Things To Do In… feature. He's a local who is really proud of his city, and here are some of his recommendations:
Teatro Zinzanni
www.zinzanni.org
-A combination of comedy, cabaret, opera, and cirque acts, this is one of Seattle's most unique experiences. Located in a large circus tent just east of downtown, this show/dinner combination makes for a great evening. Along with the show, you also get a five course meal with the price of admission. A must see for any Seattle visitor.
Experience Music Project
www.emplive.org
-The pet project of Northwest icon Paul Allen, the Experience Music Project is a highly informational trip through the past, present, and future of pop music. Housing over 75,000 items, it is like no other museum in the nation. The Northwest Passage section highlights the history of music in the Northwest, from the early Jazz musicians to Jimi Hendrix to Nirvana. A handheld electronic wand serves as your tour guide, narrating for each section and exhibit as the user walks through the museum.
Pike Place Market/Seattle Waterfront
www.pikeplacemarket.org
-You have undoubtedly seen the fish being thrown around during the commercials of Seahawks or Mariners games on T.V., but the Market is much more than flying fish. Numerous small shops call the Market home, selling anything from homemade crafts to specialty seafood which can be flash frozen and shipped anywhere in the country. This weekend is the Centennial Celebration for the market, and there is sure to be extra events going on for the celebration.
-The Seattle Waterfront is another trademark of Seattle, and continues the theme of Pike Place. Small shops take up residence in between the large restaurants such as Red Robin and Seattle native Ivar's, home of the best claim chowder outside of Maine. You can also take an Argosy cruise, which takes you around Puget Sound where you will find some of the best views of the city.
Seattle Underground Tour
www.undergroundtour.com
-Located in historic Pioneer Square, the Underground Tour is a guided tour highlighting the rich Seattle history. The subterranean passages that tour goers pass through were once the main roadways and first floor storefronts of downtown Seattle. Wear comfortable shoes, as there will be a good amount of walking, along with some staircases to traverse!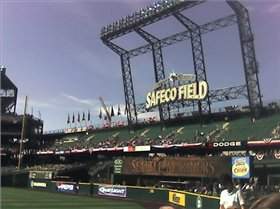 Mariners vs. Royals

Seattle Mariners vs. Kansas City Royals
www.seattlemariners.com
-Safeco Field is regarded as one of the best ballparks in Major League Baseball, and sits across the street from Qwest Field. If it is not raining, the roof will be open and the sun will be shining. The Kidd Valley Garlic Fries are a crowd favorite.
Renton Motorcycles Fan Appreciation Night
www.rentonmotorcycles.com
-With James Stewart, Ryan Villopoto, and Chad Reed scheduled to appear and sign autographs, this is the place to be on Friday night. The autograph sessions start at 6 P.M., but you will want to get there early to be at the head of the line. There will also be a silent auction put on by MX For Children, which will have signed gear, Supercross tickets, and other unique items you won't want to miss out on. This will also be your last chance to buy raffle tickets for the 2007 Suzuki RMZ-250. For more information on the auction or raffle, check out www.mxforchildren.org.
Seattle Space Needle
At 605 feet tall, this is one of the most recognizable landmarks in the world. It is also one of the main tourist attractions, so don't leave Seattle without taking a tour.
www.spaceneedle.com
Get coffee and check your e-mail—here's a list of Seattle coffee shops that offer free wi-fi: http://seattle.wifimug.org/
The Factory Honda SX team is going to be at South Sound Honda in Tacoma on Friday before the SX from 5-8:00 PM. The store is located on the west side of I-5 just north of Exit 127 in South Tacoma/ Lakewood. Any questions can be directed to (253) 582-2288, or www.hondabike.com.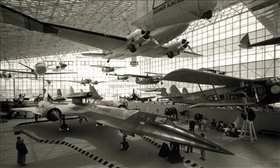 Boeing Museum of Flight
From DC: The
Boeing Museum of Flight
is amazing. It's got 54 authentic, prototype aircraft from the last 100 years, and some of the stuff is just mind-blowing. Make sure you check it out!
Pikes Place market is a huge open market area with plenty of fresh seafood as well as a variety of stores including the very first Starbucks.
http://www.seattletravel.com/pikesplacemarket.html
And finally, Ping: Well, that dude from WA pretty much summed it up but remember you can always... Lose a limb in Seattle! Hop on a fishing boat and head to the open sea where you and as many friends as you like can swing around large sticks with shiny hooks dangling from them all day. Catch salmon and halibut on these day tours just be sure to keep your fingers off the hooks.