Hello, everyone, and welcome to the Rev Up. Ah, Seattle. Home of the "Famous Four," which includes guitar god Jimi Hendrix, grunge captain Kurt Cobain, silver screen star Frances Farmer, and the incredible Bruce Lee. Seattle is synominous with music, coffee, and rain,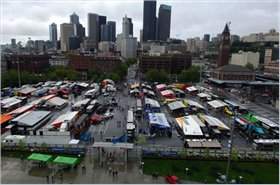 One of the coolest cities in America
but this weekend it will play host to a very interesting round of the 2007 Amp's Mobile AMA Supercross Series. One of the interesting elements of this weekend's contest is that it will mark a return to action for the West Region Lites class who has been dormant since February 17th. What have those crazy kids been up to during their time off? It seems some have been working harder and staying more focused than others.
Meanwhile, in the Supercross division,
James Stewart
has the opportunity to snatch up his first AMA title in the premiere division, which is a feat that has thus far eluded him since he joined the class in 2005. He can put a nail in the coffin with a 9th place and he could probably do that riding with one arm behind his head doing the sprinkler for all 20 laps. So, with that in mind let's break down the two classes a little further and get Revved Up for a great weekend in Seattle.
Lites class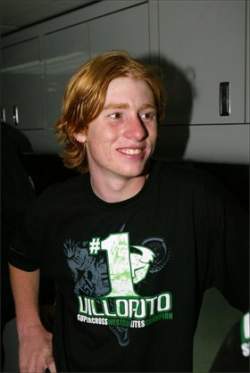 It's all just a victory lap for this guy
There has been a big shake up in the points with these boys.
Josh Hill
got his points removed for the fuel thing back at Anaheim, but now has them back and that plants him back in third place in the standings. This makes things interesting as only 20 points separates 3rd through 8th in the standings. And sitting 8th in the standing is Star Racing/Lucas Oil Yamaha's Matthew Lemoine, who will surely be on the charge and looking to turn some heads.
Josh Hansen
needs to throw down as well, as his "season" only has two races remaining. He say's he is all healthy and ready to ride to his potential, hopefully that is the case. And, damn, is
Josh Grant
going to finally show up or not? So far J-Grant has left an awful lot on the table and he really needs to rally in these last two races so he can come into the outdoor nationals with some steam. Grant is an awesome talent, he just needs to get it done.
Then, of course there is
J-Law
. Whatever the hell he did at Starwest was just another mark on his already questionable track record as a professional. Hey, I love attitude, personality, and all of that "youthful exuberance" noise. And as a man that's made some mistakes in his life, I am sympathetic to a dude screwing up once in a while. Although, there isn't any room in my cheering section for blatant disrespect for your peers and the sport in general. Cut that shit in half,
Jason Lawrence
, because you are a bad man on a motocross bike and a lot of people want to like you, myself included. Quit letting us down.
Meanwhile, it will be good to watch RV Park charge again. I guarantee you he didn't get any slower, even if he's been riding outdoors for two months now…
I think I just heard a groan come up from Tallahassee.
Supercross class
This will most likely be a weekend that James Stewart will never forget for the rest of his days. For all intents and purposes, he was supposed to win the title in 2005. He was expected to win the title last year as well, but as we all know, there were two things that left him in the cold: crashes and one Ricky Carmichael. With both of those elements now (halfway) removed from his program, he is in the driver's seat to finally claim what he was born to be, the AMA Supercross Champion. Of course, he still has to go out there and finish 20 laps and be in the top nine.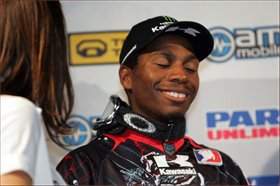 The world is yours
The chance for disaster is still there. But hey, James has done it right this year. He righted the ship after Vancouver and has ridden pretty clean and smart all the way to this weekend. He is doing it right and come-from-behind rides like we saw in Indy and St. Louis proves he has earned it. Well done, James.
Behind him there seems to be a battle shaping up with
Timmy Ferry
and
Chad Reed
. While Reed only has two more chances to race with these boys in 2007, Ferry will be looking to carry some momentum into the outdoor nationals. Nobody can count out
Red Dog
. And for 12 laps last week, he looked like he was going to beat #22 for 2nd.
Another man who needs to get on the stick is
Ivan Tedesco
. Ivan has caught the dreaded sophomore jinx and just hasn't been up to snuff this year. He can grip it and rip it, so here's to hoping we see some fire from Ivan The Terrible.
It should be another good weekend of supercross ladies gentlemen. Let's hope the rain stays away and we get to see some good battles in both classes.
Thanks for reading, see you next week.