5 Minutes with ... Darrell Saldana
Darrell Saldana is the head of the MDK/Lucas Oils/Yamaha Race Team, which has really stepped up their program in 2007. They've dedicated a large portion of their program to Wonder Warthog Racing. Together they have supported over 30 privateers during the Amp'd Mobile Supercross Series, and the idea all got started with Darrell Saldana and Scott Kandel. We caught up with Mr. Saldana following the Detroit Supercross.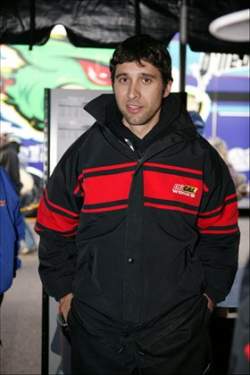 MDK/Lucas Oil/Yamaha team owner Darrell Saldana

photo: Steve Bruhn

Racer X: Darrell, we saw you at the Detroit SX and we learned that you got a few new riders under the Wonder Warthog Racing awning.
Darrell Saldana: Yes, we actually will be providing support for four additional riders. We got a call at Dallas by a rider named Josh Tarantino. He has been doing the series by himself and wasn't really up to speed and aware of our program. So he came over and asked if we could maybe help him out at Detroit, and he wanted to get his foot in the door for next year. So we said absolutely, and we picked him up. He's #159 in the Lites class. Our truck driver, Jeff Tomlinson, who is from Iowa, knew a local rider with a similar story, Teddy Maier. So we brought him in for Detroit as well. I then got a call from Brian O'Rourke from Team Faith, and he said they ran out of funds and the transport they had for the East coast couldn't get Kevin and Keith Johnson to the final two west coast races. So we got those guys at Detroit as well.
How many riders do you have in the truck right now?
Well, since the east coast just ended, we dropped all of their stuff after that race. It was an emotional day, seeing all of these guys go that have worked so hard. But we're looking forward to seeing the west coast guys, and the number of riders we have is 32 and counting.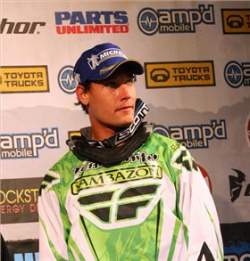 Kevin Johnson is one of the newest recruits

photo: Matt Ware

We're almost done with the 2007 SX season, so looking back, how was your maiden voyage with this new venture?It went fantastic. I've been running the team for three years now, and the stage I was at with my team—we were a sub-factory satellite team. I didn't even consider ourselves a true satellite team, although we had Yamaha support. So the plan this year was to try and bolster some aspect of the program, either in the infrastructure or the riders. So this year we invested in the infrastructure with plans of building the riders in the future. We had this idea to help out a lot of these privateers, and we joined up with the Wonder Warthog guys and developed this transportation program.
So overall from a success standpoint, if I look at overall results on the track, we took a step back. But the big picture was we knew that was going to happen, because we took those dollars away from the riders and put them into the infrastructure. But judging from our strategic plan, everything went as planned. We would've liked to have gotten a little better results, but they'll come.
Overall, the main objective was to get to the races, help out a large number of riders so they would be able to really feel the help, and the most important thing was to be able to field the program so that it was organized and not chaotic. If you rate the team on that scale, I think it was an A plus. I felt we put on a good show for our sponsors, provided a tremendous amount of support to a large number of riders, and we had good cohesion with all of our riders.
Give us some more background about yourself, Darrell. You mentioned that you've owned the team for the past three years, but what about before then. Tell us how you got started in the sport.
I actually was a fan of motocross as a young boy growing up in Houston, Texas, but both my mom and dad came from an engineering background, and they're both have more of a relaxed personality. So sports weren't high on the list of activities I was allowed to participate in. But I had a lot of friends who rode and we would sneak around and ride, but I never got to the point where I could race. I went to college and kind of forgot about racing, and then I got a job and started to work. Once I made some money and turned 30, I met a friend here in California who was an old-school racer, and he invited me riding out in Palmdale. I pretty much hooked and rode every day for one year straight. It was fun riding, but what I found out quickly is that it wasn't the best time for me to learn, and I broke my shoulder a few times.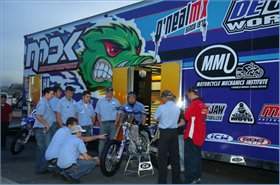 Students of the Motorcycle Mechanics Institute get hands-on experience with the team
photo: Steve Bruhn
My wife was telling me I was crazy, but then in December of '02 I had a good friend of mine that was a managing partner of the Synergy Honda road racing team. But lo and behold they were having issues finding sponsorship dollars to make the team work. So this particular owner had had enough, and he just didn't want to continued with the team. My friend then came to me and told me that there was a good opportunity there, to buy out the team and to bring everything over to motocross and supercross. So that's basically what we did. We purchased the team and brought it over to the AMA Supercross Series. We didn't put it all together till the second or third Anaheim. We showed up, opened up our façade and basically said we're looking for a few riders. We don't have any dollars to pay salaries, but if a rider needs help getting their stuff transported, come aboard.
So we had Kelly Smith, Brian Mason and Zeb Armstrong come aboard right there, and we slowly added a few more along the way, including James Povolny and Scott Davis. So it was kind of similar to our program this year. We help the guys who really need the help. Our whole concept is to help the privateers get around. So this year we designed the program so we had the focus of the factory-supported team in the front, and as an additional bonus we have the transportation program.
So that was in '03, and Kelly Smith finished fourth that year in the Eastern Regional supercross series, and did really well in the outdoors. There was a time period there which it was a make-it-or-break-it decision, and I made a choice which kind of made it break. It was right around
Budds Creek
when Kelly was getting propositioned by Kawasaki for the 2004 season. I had first dips to sign him, and I passed. I didn't know where I was going to go, and I didn't want to have someone signed up and then have to fold. So, I passed on signing him, and Yamaha of Troy picked him up. So it made me kind of a lame duck owner. So we folded the ship for that year and sat back to regroup.
In 2005 Brian Mason called up said that their MXPrivateer.net team had folded, so he asked if there was anything I could do. So I thought about it and tried to come up with some kind of model that would work. So I bought a trailer and had a small team with Mason, Jiri Dostal and
Jake Marsack
. In 2006 I went back to Mike Guerra and picked up some Yamaha support, and then this year we're on to this new program.
What is your title with the team?
Our team is kind of a strange team, because we haven't gotten to the point where we're actually making any dollars. So I'm basically the team owner and team manager. But all of us help out, and I lean on as many people as I possibly can. I don't really have a motorcycle racing background, so I don't step into positions where I don't think I'm qualified. As far as motorcycles and parts and transportation, I refer all of that over to Jeff Tomlinson, who is our driver. I'm the jack of all trades, and I try to get involved wherever I can. At the end of the day, I feel I'm responsible for most everything, though.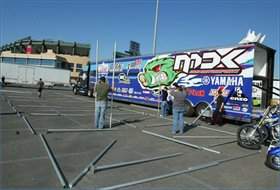 Team work

photo: Steve Bruhn

Looking ahead, do you see this team being back in the Amp'd Mobile SX Series in 2008?
Absolutely. I've been with Lucas Oil for awhile. I met Brent Calhoun in 2003, and in 2005 he was lucky enough to get them to bite on coming into motocross, and they now have the Star Racing team and our team. I see them being back with us next year, and we're looking to come back bigger and better and to keep the same sponsors. The tentative plan is to be back with Yamaha, and our objective for next year is to field two high quality 450 riders, and then have two Lites internship positions. We then want the Hog Haven Transportation program in the back. The goal is to sit down with Yamaha and to have it be a completely Yamaha-supported program, even the Hog Haven riders, so that we'll have a better ability to be able to transition a rider in the back that is doing well to the front. That was the whole objective, but it's difficult when the riders are on different brands of bikes with conflicting sponsors. We would like to have more continuity throughout the team as we move forward, which will results in more support. Our big vision is to be the entry point for the supercross series.
Looking throughout the series, you had a few riders that did get lured away from your team by a better offer.
Yes, we were able to demote some guys, and promote others. We demoted Brady Sheren, and on the west coast we promoted Adam Chatfield. We could've done a few more along the season, but it would require changing motorcycles, and some didn't want to go through that. But we had Jake Marsack move on to Tamer Kawasaki, Tyler Bright went to the Pro30.com team, and Kyle Tobin was promoted to the Factory Suzuki team in Australia.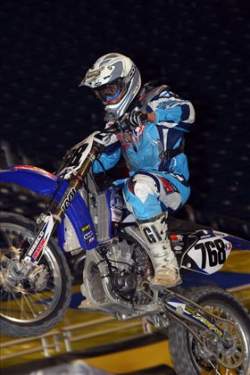 Keith R. Johnson

photo: Matt Ware

Will we see your team outdoors?
I'd love to go racing outdoors. But what you're going to find is that there are a lot of high-quality racers that don't have a way to get to the track. But for our program, since we're a not-for-profit team, I think there will be a lot of riders disenfranchised with the outdoor nationals, and they'll pull out. But next year maybe we can get something put together if sponsors can dedicate some dollars to do it.
Darrell, I was a privateer rider at one point, and it's not easy at all. What you're doing for these riders goes above and beyond, and I think everyone in the sport is really glad you guys are here.
We really appreciate that. I hope we're here for a long time. We want to help the sport get bigger, and it's good to be here.